Blender is a great kitchen tool for cooking any kind of food.
Blenders come in many different types, from simple handhelds to powerful commercial machines. A wide variety of blender brands are also available on the market.
There is no doubt that Ninja blenders are among the best on the market.
Despite being really simple and easy to use, their products offer excellent features. People who own Ninja blenders usually have good things to say about the device, but some seem to have had problems.
The most common problem is Ninja blender is blinking red. So a common question people have why is my Ninja blender blinking red?
Therefore, we'll find a solution to this challenge in this guide. So let's have a deep dive into this guide to fix this issue.
Why Is My Ninja Blender Blinking Red?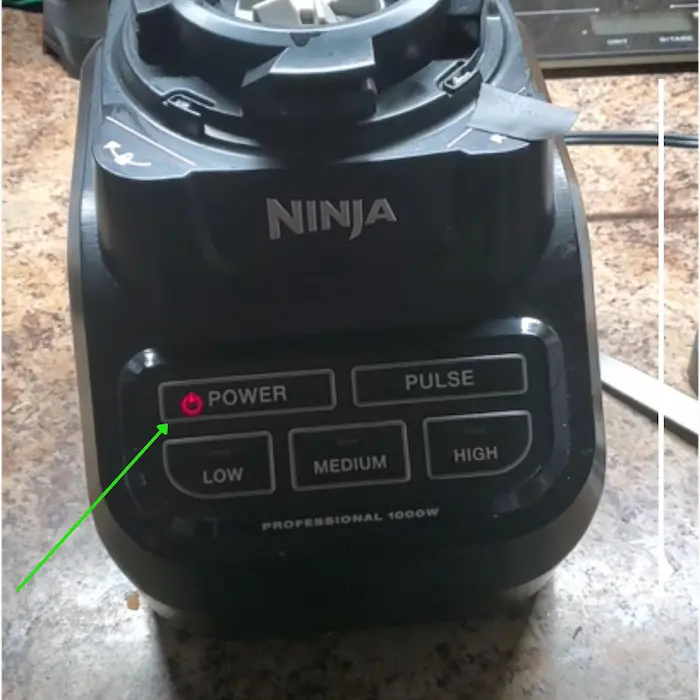 There are a number of reasons why the ninja blender power button blinking red. Immediately diagnose the problem if your power light flashes to prevent further damage.
When your Ninja blender's Power light blinks red, it means that it isn't assembled properly. Unfortunately, this means that one or more parts of the appliance are not secure, making it unsafe for you to use.
Therefore, your Ninja blender will do two things. First of all, the Power light will blink to notify you that there is a problem.
Furthermore, even when you plug the blender into the wall socket, it will not run at all.
If you again ask me why is my ninja blender power button blinking red, stay with me. The following section explains how to troubleshoot them if your Ninja blender blinking red light. So let's take a closer look.
The Arrows Are Not Aligned Correctly
The first thing you should check when blinking red light on ninja blender is that the arrow on both sides of the pitcher is aligned properly.
Unless these arrows are lining up correctly, your Ninja blender power light may be blinking due to a variety of issues.
Your Ninja blender will not start if the power light flashes red. If you wish to use the pitcher again, you will have to check that the arrows on both halves are properly aligned.
The Lid Is Not Properly Seated
Secondly, if the lid has become unseated or loose while the blender is running, the power will be shut off for safety reasons, resulting in the power light blinking.
Whenever the power light flashes red, you should reseat the lid tightly on top of both halves of the pitcher as soon as possible!
If your blending container is seated securely in the blender base, you should hear a loud click when you place it back on top.
If you don't hear a click sound, you may have to reseat the lid a few times.
The Blender Not Properly Seated In The Base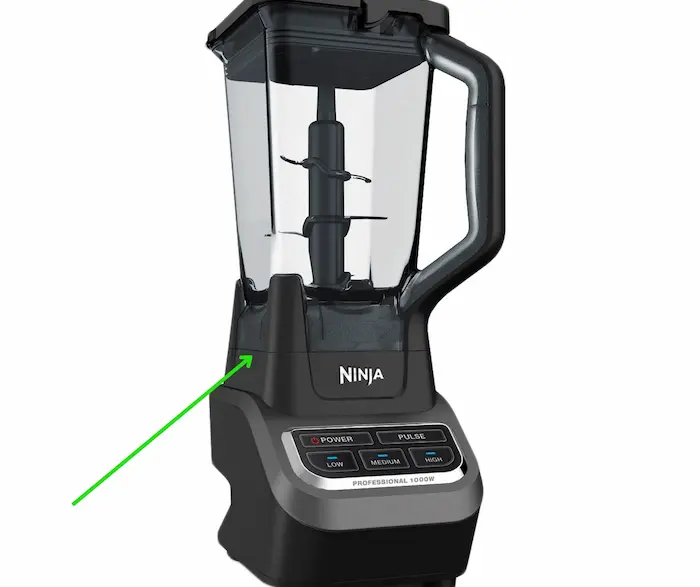 If you again ask me why is the red light blinking on my ninja blender and you're wondering what to do about it, it may be because one part of the container isn't snapped in all the way.
It should be easy and firmly snapped into the Ninja pitcher base. The front should face you when you click or snap the pitcher into place. The power light may flash red if you haven't cracked your blender pitcher in all the way. Should this occur, double-check and make sure it's properly snapped in.
Ensure everything is seated completely on both sides of the joint before reusing. It is also important to ensure that none of the parts seem leaning or crooked, as this can lead to other problems like blade damage.
Overheating Ninja Blender
In case your Ninja blender overheats, the power light will flash red to indicate that it needs to cool down.
You may also see smoke coming from the pitcher's base when this occurs, so you know your Ninja blender is overheating when you see it.
While it's overheating, it can burn you or damage other parts of the unit if you continue using it. Therefore, as soon as you notice that it is overheating during use, let it rest for at least 30 minutes before trying again.
There Is A Need To Clean The Blender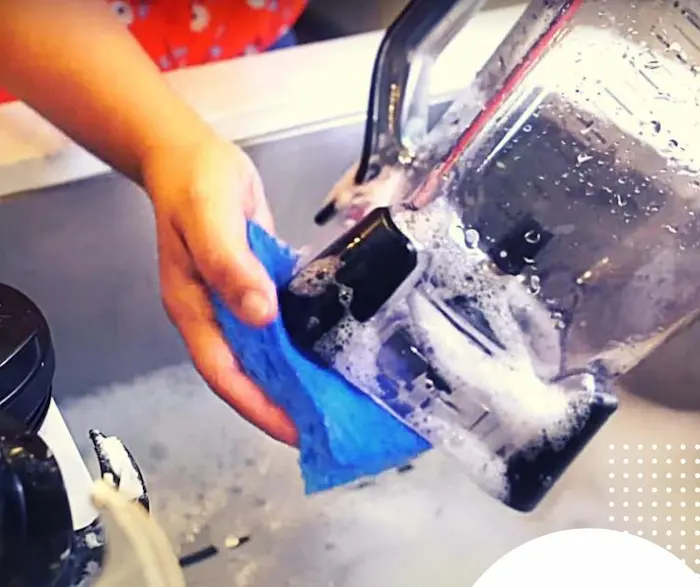 Last but not least, the power light on your ninja professional blender blinking red power light if something is lodged inside the appliance.
Check where each part meets together and underneath the pitcher by removing both parts. If you see any stuck items, such as food scraps or other objects, remove them carefully so that your Ninja blender can function properly again.
Until your appliance has been cleaned, it is important not to run it because if you do, further damage might occur that will require professional assistance. It is therefore important to clean your Ninja blender properly after use.
Right now, you know why is my Ninja blender blinking red. If you won't find these issues and still your ninja blender red blinking light, what do you do? Don't worry! Let's take a closer look at the below section or watch the following videos.
Still Ninja Blender Blinking Red Light?
Sometimes, even after following all these tips, the power light still flashes, and you cannot get it to stop.
In this case, I recommend unplugging your Ninja blender for ten minutes, then reconnecting it.
In case still no solution is found, check out the following suggestions.
Check The Back Assembly
It is also recommended that you check the plastic back assembly of the Ninja blender if still the ninja 1500 watt blender blinking red. There are two stickup tabs on the assembly, one at the top and one at the bottom. This piece on most models runs down the handle.
However, the bottom plastic tab can sometimes get out of place, making it impossible to press down properly.
This results in no signals being sent to the machine. Ensure there is a tight enough connection between the tab and the clip by placing it securely.
Check The Button
There is also a possibility that your button has broken, which could cause the issue. Strangely enough, some users have reported that simply placing a piece of paper in the button fixed the problem.
It is, more specifically, the place where the lid clicks that have a small gap. Then, using a screwdriver, you can push down the button.
Finally, you simply need to insert a small piece of the paper roll to push down the lid's button.
The Device Is Faulty
In the event that you have tried everything we have covered so far, it is likely that you have a faulty device. However, before proceeding, we recommend you align the blender with the arrow.
If the problem persists, you may need to replace it or get it repaired. Either way, you're gonna have to spend some money.
Help From A Professional
Last but not least, you can get in touch with Ninja's customer support team. Depending on what they find, they may ask for the unit to be sent for further inspection.
Try your best to cooperate as much as possible. In the event that the device is still under warranty, they should be able to replace it with a newer model.
Alternatively, you can contact a verified professional to inspect your blender. If there is a problem with the blender, he should be able to fix it. In this case, however, you should only do this if your device is not under warranty.
Final Thoughts
Finally, you have learned about Why Is My Ninja Blender Blinking Red. Before taking any other action, you should read through our list of possible solutions for the power light to stop flashing.
If you are unable to fix the problem on your own, you can contact Ninja for assistance or visit your local appliance repair shop for assistance.
In this guide, we'll provide you with everything you need to know about how to stop a Ninja blender from flashing its power light as long as you follow all of these tips.
You should also take care of these issues as soon as possible because if they are not addressed, they could cause bigger problems later on. Always clean your machine after use and follow all instructions carefully!
Frequently Asked Questions
How Long Does A Ninja Blender Last?
You can expect your Ninja blender to last for about 2-3 years if you take care of it. In addition to crushing ice, the Ninja blender is extremely efficient and robust.
An 1100-watt motor easily crushes anything you put in it. It is also possible that this blender would not last a year if it wasn't maintained. However, it is necessary to maintain the Ninja blender to use it.
Are Ninja Blenders Worth Buying?
Yes, Ninja Blenders are worth buying due to their unique features. There are some components that are made of plastic, but their performance is not affected by this.
All of these qualities, including smooth blending, high speed, and a beautiful look, make it worth the money to buy. Additionally, a Ninja blender makes work easier, faster, and less cumbersome.
Why Is My Ninja Blender Not Spinning?
First, make sure that you have plugged your Ninja blender into the wall outlet. A blender that won't spin and has a blinking power light means the parts haven't been installed correctly. In order to prevent injury, the blender turns itself off when you turn it on.
Does The Ninja Blender Have A Reset Button?
There is no dedicated reset button on your Ninja blender. It is not possible to reset your blender by pressing a particular sequence of keys as you can with some other appliances in your kitchen.
How Do You Reset A Ninja Blender?
If you have a problem with your Ninja blender, let's say it's an internal issue. If that's the case, you can reset it by power cycling. This means unplugging the blender for five minutes and letting it sit for that time.
You can now use the appliance as usual after you have plugged it back in.
You will not be able to stop the Power light from blinking by resetting your Ninja blender this way.