A few days back, I was thinking of getting a blender suitable for blending hot liquids. Since a blender with a glass jar is most safe to use the hot items in, I was looking forward to having one like that.
But, the thing is, I didn't want to spend much on my purchase. And if you know, a quality product will always come with a decent price. Just then, I remembered that one of my friends had a blender with a glass jar, and I asked her about the model name and price.
It is the Hamilton Beach Power Elite Wave Action Blender. I immediately searched for the blender online to purchase, and when I saw the price tag, I was delighted as it fit my budget!
Now, the question is, was it a wise purchase for me? Well, if you wanna know my experience with it, then you are at the right place. Today, I am gonna share my review of Hamilton Beach Wave Action Power Elite Blender through this writing. Make sure to read each segment to know the worth of this blender thoroughly.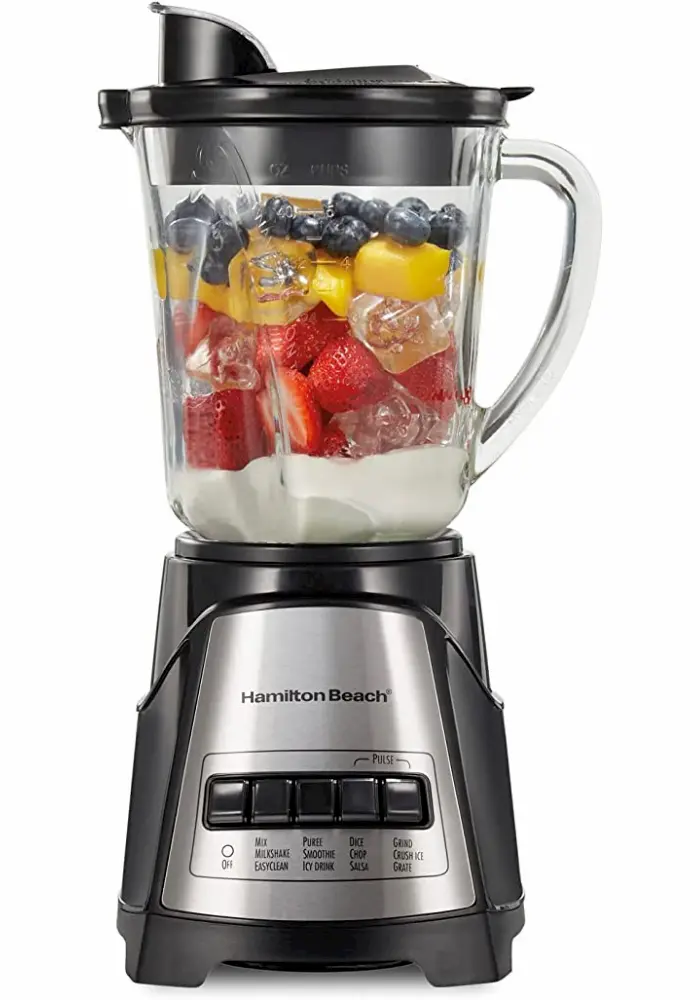 Outstanding Features At A Glance
First, let's quickly see this blender's most impressive features.
12 blending functions for the utmost versatility
Strong motor with 700 watts of peak power
Thermal-shock-tested glass jar
Patented, unique, no-mess pouring spout
Easy-to-read control panel
All these characteristics seem great, right? My next section will give you more insight into this product, as I have mentioned all the key specs there.
Key Specifications
Product Brand: Hamilton Beach
Item model number: 58148A
Color Available: Black and stainless
Jar Material: Glass
Jar Capacity: 40 ounces
Motor Power: 700 watts
Power Source: AC
Material Type Fress: Lead free
Special Feature: Multiple speeds
Number of Speeds: 12
Control types: Button
Blade Material: Stainless Steel
Is Dishwasher Safe: Yes
Recommended Uses: Blending
Product Dimensions: 14.69 H x 6.5 W x 8.66 D
Item Weight: 5.62 pounds
Warranty: 3 years limited
What I Like About It
✅ Ultra-smooth blending results because of patented wave~action system
✅ Suitable for blending hot ingredients
✅ Easy to clean with dishwasher-safe lid, jar, and blade
✅ Multi-functional
✅ Budget-friendly
This Hamilton Beach 1.2 litre wave action power elite blender is truly an excellent choice for blending hot ingredients. I was amazed to see that it could blend my soup in perfect consistency.
The best part is that it blends fibrous veggies like broccoli and kale quite smoothly. And the reason for such a result is because of their patented wave action system that continuously pushes ingredients toward the blade.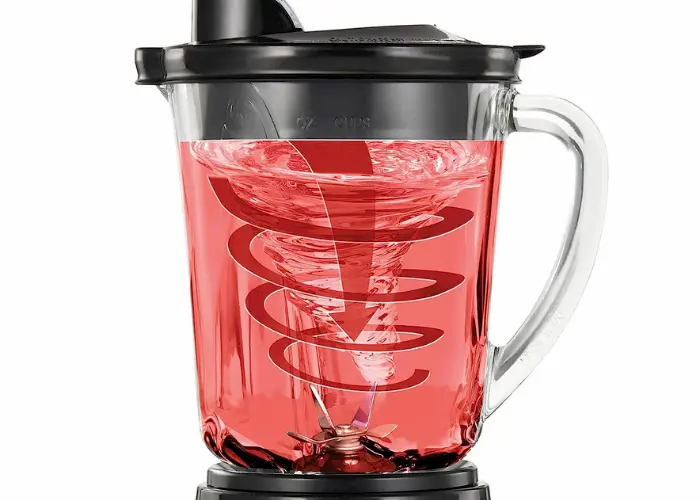 Another fact that I liked most about this blender is its versatility. It offers 12 functions that are controlled by 5 simple buttons. It can crush ice for smoothies, milkshakes, puree, chop, dice ingredients, etc.
Besides, this blender is easy to clean. You have the option of using a dishwasher or cleaning by hand. And, of course, it comes at an affordable price while offering all these advantages.
However, there are a few things that I don't like about this Hamilton Beach blender. So, check them and see whether you will consider those downsides or not.
What I Didn't Like
❌ Pretty loud
❌ Not so good for blending nut butter
❌ Plastic used for the motor body doesn't seem durable
Unfortunately, this Hamilton Beach 58148A Power Elite blender is pretty loud. If you easily get irritated by loud noise, this blender isn't right for you.
Also, it is not a decent choice for people who like to blend nut butter. It does an okay job if you combine it for an extended period, but still, it won't provide the perfect consistency that all nut butter lovers prefer.
Ohh, another thing you should be aware of is that it doesn't crush ice into a snow-like consistency; instead leaves tiny chunks. Since I like to have tiny ice chunks in my smoothies, I have no complaints about this matter. But of course, you may not like such things; hence I mentioned it here.
By the way, if you want a blender that can crush ice into snow and has a powerful motor that doesn't make a loud noise, you may check out the Ninja NJ601AMZ Professional Blender.
Now, you can't judge a blender by its few cons. Nothing in this world is perfect. Hence, I suggest you learn about its durability, the capabilities of the blade, whether it is easy to control, and all the other functionalities before deciding on your purchase.
And you will find all of these details in my next section.
Hamilton Beach Power Elite Wave Action Blender Review
After ordering this blender online, I was eagerly waiting for the package to arrive. I was especially curious to see the overall quality since this blender is the most inexpensive one I have ever purchased.
And when I received the delivery, it was time to examine each and everything it came with. So, here is what I got in the box.
What's In The Box
Motor base
40 oz glass jar
Lid
Collar
Cutting blade assembly
And instruction manual
These are all the things that you will find. Now, there is a misunderstanding happening with this model, which is that some people think that this particular model comes with a mini chopper.
Well, if you have the same thought, I want to clarify that this is model 58148A, and there is another Hamilton Beach Wave Action Power Elite Blender and Chopper, which is model 58149. And the chopper attachment one cost a few bucks more. So, be careful while purchasing. If you want the one with a chopper attachment, make sure to match the model number.
Anyway, I will move on to my review. So, the first thing I always look for in a blender is the build quality. I mean, I can't stand a blender that is not durable, and I think you may too. Let's see.
Build Quality
This blender's pitcher is made of thick glass, and it seems pretty durable. Additionally, it is dishwasher-safe, free of BPA, and less prone to discoloration and scratches than plastic. I am totally satisfied with the glass jar as I knew it would fulfill my initial intention of buying this, which is for blending hot liquids for soup.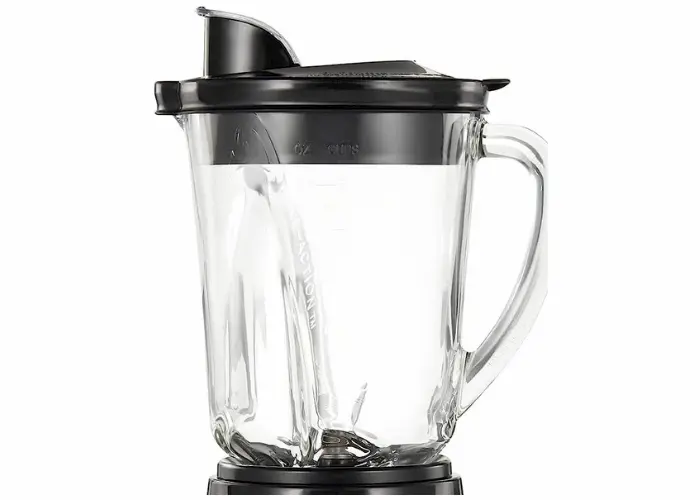 But disappointment hit me when I took the motor base in my hand. It is made of thin plastic, which is not very durable. I felt like it would wear out soon, especially the area where the jar docks onto the base seem weakly built. In addition, the collar, lid, and transmission are all made of plastic.
Well, Since I have been using different types of blenders for years, this plastic motor base built is totally understandable. With this kind of budget, they just can't provide high-quality components for every single part of a blender.
Hence, if you want something with high-quality materials for every part, you have to move on to a blender that is much more expensive than this.
Jar Capacity
The jar can hold 40 ounces, which is a modest amount for a full-size blender. You can make a couple of smoothies, shakes, or drinks at once. And if you want to serve a large number of people, you have to make several batches.
About Blades & Lid
This blender has four s-shaped blades, two of which stick straight up. You can remove the blade assembly, which I find a bit unique for a full-size blender.
Speaking of the lid, it has a spout to pour out the contents from the pitcher. Also, you can use it to add food to the blender. The lid has a vent opening, and that's the reason you can safely blend hot food in this jar.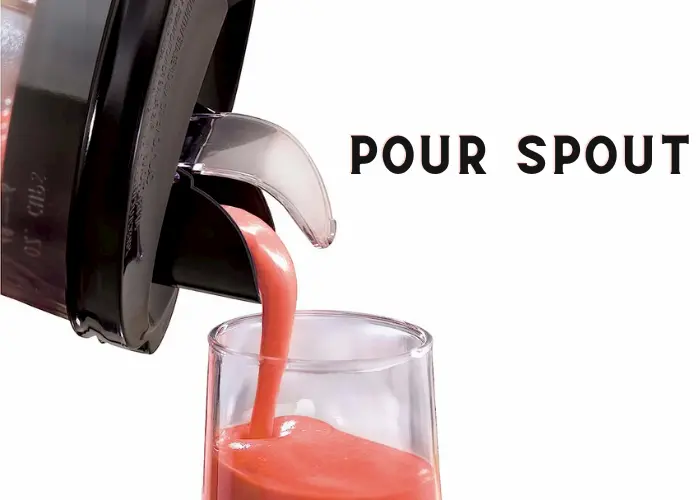 Power & Speed
Despite not being an expensive premium model, this Hamilton Beach Power Elite Blender offers an impressive 700 watts of power, which is decent for doing household blending jobs. With this much power, you can easily blend smoothies, frozen drinks, protein shakes, etc.
This blender comes with a pretty short cable. If you will use a countertop outlet, the length of the cord won't be a problem. Additionally, it incorporates a stowaway compartment for storage when not in use.
While talking about speed, it has a limited range of speed options. There is no huge difference between the highest and lowest settings. Hence, you can't gradually increase the speed or use a low setting for thicker mixtures to prevent over-blending.
But what matters is that the fastest speed is sufficiently quick to make smoothies with fibrous ingredients and smooth soups.
Is It Bulky?
If you compare this blender with other countertop blenders, it's not that bulky. It's not very heavy either and won't take up much space on your countertop. If you remove the lid and detach the jar from the container, you may also store it in your cabinet.
How to Set Up It?
Setting up this blender is quite easy. First, you need to attach the collar and blade assembly to the pitcher. Then lower it onto the motor base and twist it until it is locked in its place. Now, fill the container with foods or liquids you want to blend. Secure the lid and connect the power cord, and it's all ready to blend.
How to Use This Blender? (Controls & Programs)
There are five buttons on the Hamilton Beach Power Elite Blender. Although the product's manufacturer claims it has 12, there are actually just four modes, and each mode is recommended for three different uses. You can't make minor speed modifications because there are only 2 speed presets for manual blending, and both of them are quite speedy.
The pulse modes, however, pulse continually when the button is hit just once, which you may prefer to buttons that need to be continuously held down or repeatedly pressed.
By the way, here is what the four buttons do.
Mix/Milkshake/Easyclean: Continuous blending at low-speed.
Puree/Smoothie/Icy Drink: Continuous blending at high-speed.
Dice/Chop/Salsa: Low-speed pulse mode.
Grind/Crush Ice/Grate: High-speed pulse mode.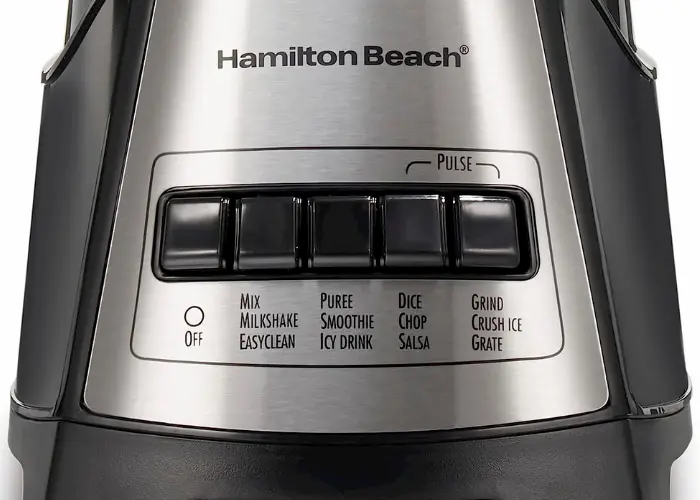 Blending Hot Liquid with This Blender
While blending hot liquids in this blender, you need to open the lid's vent opening and close any other openings in the lid for pouring. Make sure the hinged cap is secured in place.
During blending, hot liquids could force the jar's cover off. That's why avoid overfilling the blender container beyond the 3-cup (710-ml) mark to prevent potential burns. Put one hand on top of the lid using an oven mitt or a thick cloth as protection. Remove any exposed skin from the lid and then begin blending with the slowest setting.
Is It Easy to Clean?
Yes, this blender is quite easy to clean. First, disconnect the power cord before cleaning. Do not immerse the motor base, cord, or plug in water or other liquid. For cleaning blender's control panel, base, and cord, use a damp cloth or sponge. If there are stubborn spots, you can use a mild, nonabrasive cleanser to remove them.
And for other parts, you can use the dishwasher or the EASYCLEAN function on the blender. Here I am describing each process below.
Using EASYCLEAN Function
Pour 2 cups (about 473 ml) of warm water into the jar, then add 1 drop of liquid dishwashing detergent. Run the blender's EASYCLEAN setting for about 10 seconds. Throw away the soapy water and use clean water to rinse.
By the way, this function is for a quick rinse of the jar. So, never use this feature to blend anything that contains eggs, milk, or any other dairy products, meats, or seafood. Only rinse the blender between batches of processing the same food using the Easy Clean function.
After processing a single type of food is done, you need to disassemble the blender part by part and thoroughly clean it with your hand. All the parts can be cleaned with hot, soapy water. The cutting blade assembly should be handled with caution because it is quite sharp. Thoroughly rinse and dry. Avoid soaking.
However, if you don't want to clean by hand, you may use the dishwasher, which I will describe now.
Using Dishwasher
The lid, collar, blade, and glass container are all dishwasher safe. Before putting them inside, make sure you disassemble each part.
However, don't use the "SANI" setting while washing in the dishwasher because temperatures used during "SANI" cycles may harm your product.
Performance of Handling Difficult Ingredients
Well, you already know that this Hamilton blender is great for blending hot liquids. However, how does it perform when you let it do some of the most difficult blending tasks? Let's see.
Small Batches of Fibrous Ingredients
This blender is excellent at handling small batches of fibrous ingredients. But, it will take a bit longer to process compared to other high-end blenders. Even so, making a fairly smooth purée with ingredients like kale takes less than five minutes.
Note that some fibers can still be left in the final product, but they won't be grainy.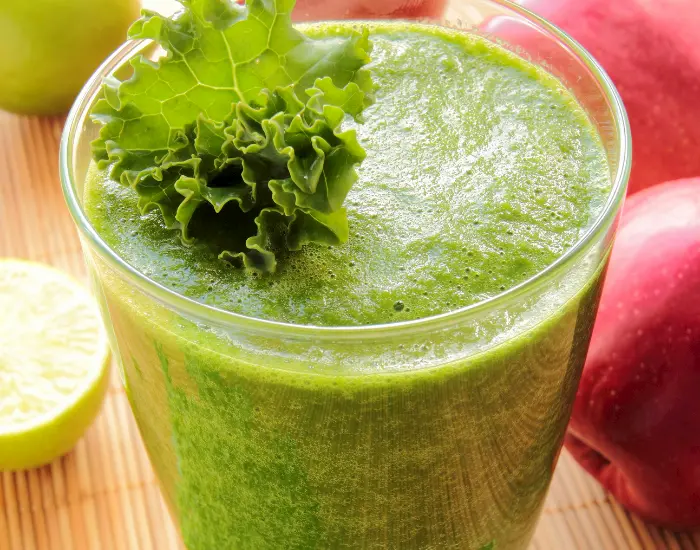 Using Full Capacity of Blender for Fibrous Ingredients
It also does an amazing job of blending fibrous items at full capacity. Just like the smaller batch, it will take longer to process. But, in the end, it still makes mostly smooth puree without large grains, while some fibers may still be visible.
Nut Butter
When I tried to make nut butter with it, it did a poor job. If you use the Dice/Chop/Salsa button, it will be able to crush nuts like almonds into an uneven rough powder. The blender struggles to create a vortex out of the ingredients due to the relatively weak motor for such a job.
Moreover, it takes a lot more time and manipulation, like shaking the jar and stirring between blending before the ingredients flow instead of clinging to the jar walls. At the most, it makes acceptable but dry and crunchy nut butter.
Few Blending Tips for This Model That Will Help You
To add ingredients to the container when the blender is running, open the hinged pouring cap and add ingredients through the opening.
One cup (about 8 ounces/237 ml) of liquid is the minimum amount required per recipe for best results. If the meal isn't combining well, add extra liquid.
In case the blender stops in the middle of blending or ingredients cling to the sides of the jar, there might not be enough liquid in the jar to blend effectively.
Avoid trying to mash potatoes, beat egg whites, combine stiff dough, grind raw meat, or squeeze juice from fruits and vegetables in this blender.
Why Should You Buy This?
If you want to buy a less expensive full-size blender that has a high-quality glass jar suitable for blending hot liquids, this is by far the best choice, in my opinion. Besides this, this blender is also excellent for making smoothies, purees, dice, chop, milkshakes, and more.
The lid has a spout that allows you to pour the inside contents into your glass without spilling or dripping. Therefore, serving is simple and mess-free. Now, if all of these characteristics fit your requirement, you can go for this blender without worrying about anything.
In Which Case Should You Avoid This?
In case you are looking for a blender for professional use, this isn't the right choice. It has a plasticky build for the motor base, which isn't suitable for continuous daily use. Also, it struggles with difficult blending jobs like nut butter and doesn't crush ice into a snow-like consistency. Since there are only a few speed options, you can't really adjust the speed for various recipes.
Furthermore, it makes a loud sound while blending, so avoid buying this if you can't stand noise at all.
Is It Worth The Price?
If you will compare this Hamilton Beach Power Elite Wave Action Blender to other blenders with similar price tags, this blender is an absolute steal!
With the thick glass jar, dishwasher-safe parts, three-year limited warranty, 700-watt powerful motor, and all the other benefits at such an affordable price, this blender is worth every penny you will spend.
Where to Buy? 
So, if you are interested in purchasing this Hamilton Beach 58148A Power Elite Multi-Function Blender, you will find it on Amazon, eBay, Walmart, and other online shops. Since it's a popular model, you may also find it in nearby appliance shops.
Comparing with Other Similar Types of Blenders
This comparison segment will help you understand the difference between this blender and other similar blenders. And after that, you will be able to judge whether your purchase will be a wise decision or not.
Hamilton Beach Power Elite Wave Action Vs. Hamilton Beach Wave Crusher Blender (54220)
Both of these Hamilton blenders have almost similar features, a 40 oz glass jar, 700-watt power, patented wave action system, easy pour spout, and so on. The only difference is that the wave crusher has 14 blending functions, and Power Elite has 12.
But this small change is acceptable because Wave Crusher (54220) costs a few bucks more than the Power Elite one.
Oster Core 16-Speed Blender with Glass Jar Vs. Hamilton Beach Power Elite Wave Action
Oster Core blender has 16 different speeds, a food chopper attachment, an easy clean setting, and 700 power watts. On the other hand, Hamilton has 12 functions and no extra attachment, but there are similarities in easy cleaning and power.
However, like the Hamilton one, the Oster Core doesn't have a pouring spout and is a bit more pricey than Hamilton.
Since there is nothing to inform you regarding this topic, I will conclude this review here.
Final Verdict
Hopefully, you got every piece of information that you need to know from my Hamilton Beach Power Elite Wave Action Blender review. I put my whole experience here and have no regrets about buying this. Now it's time for you to think and decide whether you will go for it or not.