Soup is a part of my life and I cannot imagine my day without it.
Typically, I prepare my soup at home using a blender, but suddenly my blender was damaged. Therefore, I require a blender for the purpose of making soup.
I am looking for an immersion blender that will meet my needs. However, I am unable to decide which blender I should purchase as there are many options available in the market. I was then recommended to purchase the Kitchenaid khbv53er variable speed corded hand blender by my elder sister. The topic of my guide today is Kitchenaid Variable Speed Corded Hand Blender Review.
I find the KitchenAid Variable Speed Corded Hand Blender – KHBV53 to be a versatile and efficient kitchen tool that simplifies my cooking process. Therefore, I would like to share with you my personal experience with this immersion blender.
There are a lot of both positive and negative things I have experienced about this blender that I would like to share with you right now. Let's look deeper into each section in order to gain a deeper understanding of what each section has to offer.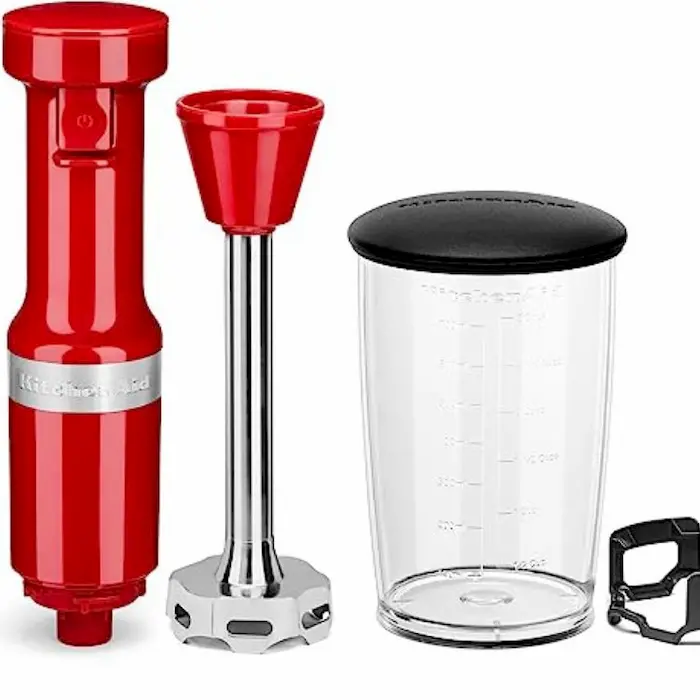 Impressive Features At A Glance
As a starting point, let me share with you which of the features of this immersion blender impressed me the most.
Huge color range & attractive design.
Design for perfect puree.
Easy-to-use variable speed trigger switch.
Removable 8″ Blending Arm, with 4-point stainless steel blade.
3-Cup BPA-free blending jar with lid.
US patent-pending removable pan guard.
Makes a reasonably smooth blend of fibrous ingredients.
It's time for us to take a look at the key specs of the blender now that we have a glimpse of its great features.
Key Specifications
Product Name: Kitchenaid Variable Speed Corded Hand Blender
Item Number: KHBV53ER
Brand Name: Kitchenaid
Material: Stainless steel
Material Type Free: BPA free
Color: 10 (Empire Red, Onyx Black, Contour Silver, Ink Blue, Matte Black, Blue Velvet, Candy Apple Red, Charcoal, Aqua Sky, White)
Style: Corded
Power Source: Corded Electric
Watts: 180 Watts
Height: 17.0″ (43.2 cm)
Width: 2.6″ (6.6 cm)
Weight: 2.44 lbs
Shaft Length: 8.0″ (20.3 cm)
Capacity: 1 liter
Product Dimensions: 2.5″D x 3.56″W x 16.3″H
Included Components: Juice Container
Is Dishwasher Safe: Yes
Blade Material: Stainless Steel
Special Feature: Detachable Attachment
What I Like About Kitchenaid KHBV53 Variable Speed Corded Hand Blender
✅ Sturdy stainless steel structure 
✅ Dishwasher-safe detachable parts
✅ Can blend hot ingredients
✅ Blending cup comes with lid
✅ Streamlined design
✅ Pan guard
✅ Affordable price
Due to the fact that I am searching for a blender for making soup, my desired KHV53 hand blender makes the process more convenient with plenty of outstanding features. From smoothies to milkshakes, soups, sauces and so much more, you can blend everything with the KitchenAid Variable Speed Corded Hand Blender.
From soft fruits to tough vegetables, KHBV53's stainless steel blending arm can effortlessly handle a variety of ingredients. Its 8-inch blending arm can reach deep into pots, bowls, and pitchers, so you can blend your ingredients thoroughly without having to separate them.
It features a 25-ounce beaker with a lid and is intended for hot blending in a pot or pan. In contrast to many immersion blenders, this one does not come with a whisk attachment. However, it does include a pan guard to protect non-stick cookware. When running, the blender is quiet and easy to clean.
Does everything about it appeal to me? Absolutely not! Taking a look at this, let's see what I think could be improved in it.
Where It Lacks
❌ No additional attachments like a whisk. 
❌ Not suitable for ice crushing.
One of the things that annoys me the most is accessories. It was my expectation that the package would include more accessories, but it did not. In comparison with other hand blenders available on the market, the Kitchenaid cordless hand blender variable speed may have a limited selection of accessories and attachments.
If you are seeking specific functions beyond blending, such as chopping, whisking, or slicing, you may find this to be a disadvantage.
In some cases, there may not be enough space in the blending container that comes with the hand blender to accomplish certain tasks. It has a capacity of only 1 liter, which is inadequate. In the event that more ingredients need to be blended, it would be more challenging.
You can move the Cuisinart smart stick variable speed hand blender if you need one with a larger capacity, such as 3 liters. Some users have found it challenging when blending large quantities of ingredients or using the blender for larger recipes.
You might find this limitation inconvenient if you prepare meals for a large group of people frequently.
In any case, with this much information, you are unable to make an opinion about this blender. In order to make an informed decision on whether to purchase this blender or not, you should be aware of all its aspects. Once you have read my entire Kitchenaid variable-speed hand blender – khbv53 review, you will find out all the features, benefits, and other details.
We will discuss everything one by one from here on. So, please stay with me until the end and decide whether or not you wish to try this immersion blender.
Kitchenaid Variable Speed Corded Hand Blender Review In Detail
In the world of cooking tools, KitchenAid is one of the best-known brands. Founded in 1919, it makes a range of kitchen appliances in different categories, including stylish immersion blenders.
I'm going to give you a brief overview of the cordless KitchenAid Various Speed KHBBV53 and its efficiency and usability. We bought this blender of our own accord and tested it for weeks to bring you a real and dependable review.
Since it is battery-powered, the Kitchenaid khbv53vb variable speed corded hand blender is more mobile than most other hand blenders. As a result, it increases your culinary space and maximizes the convenience of hand blending.
Designed with a smart, sensitive variable control button for easy sauces, soups, and dips, the KitchenAid Variable Speed Corded Hand Blender is KitchenAid's most powerful immersion blender.
Is it also your desire to know what I received in the package? Okay, let's take a look at what is included in the box.
What's in The Box
Whenever I review small appliances, I find that many come in excessive packaging that's wasteful and unnecessary. Despite this, the KitchenAid Corded Variable Speed Hand Blender came in a very small box, and most of the packaging was cardboard.
Motor body with integrated power cable
Blending shaft
Beaker with lid
Plastic pan guard attachment for blending shaft
Manual
This immersion blender includes a handle in Empire Red, a blending cup with a lid that can be removed for storage, and a blending arm that is covered by a pan guard.
There is no doubt that you will find a good use for this plastic cover, which you will not find with every immersion blender on the market, particularly if you use nonstick pans or have a precious Le Creuset cast iron pan.
Build Quality & Design
I am satisfied with the build quality of this product. As far as the blade shaft is concerned, it is made of stainless steel with a plastic top. On the other hand, the transmission is made from cheap-feeling plastic that has a cheap-feeling to it.
You can easily attach the blade shaft to the transmission by simply clipping it on. There is a trigger-style button on the handle of the product that increases the speed of the blender as you push the button harder.
Despite the fact that it is relatively small and compact if you are doing a lot of blending, it might become tiring to hold onto. In terms of material, both the beaker and the lid are made of thin plastic.
The KitchenAid KHBV53 is available in 10 different colors that include: 'Onyx Black', 'Aqua Sky', 'Empire Red', 'Ice', 'Matte Black', 'Matte Charcoal Grey', 'Passion Red', 'Pistachio', 'White', 'Ink Blue'.
It has been tested in the 'Empire Red' variant, but I am confident that our results will be valid for all the other color variants as well. The KitchenAid KHBBV53 has a cordless option as well, but it performs a little differently, and it was tested separately from the corded version.
Jar Capacity & Materials
As an immersion blender, it is intended to be used in pots and pans in order to blend the ingredients. However, there is also a 25-ounce beaker that comes with the kit that can be used to blend the mixture.
This beaker and lid have been made of BPA-free plastic that can be cleaned in the dishwasher. This jar has a rubber ring around its base in order to keep it from slipping around on your counter during use, which is a nice touch that helps to keep it from slipping around.
About Blades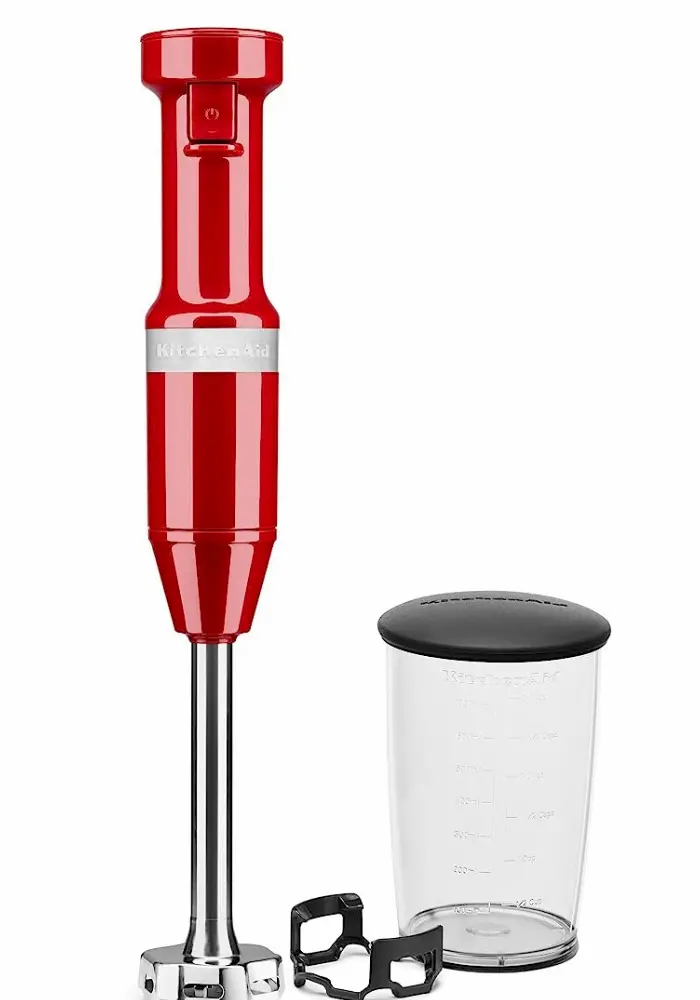 There are two horizontal blades in this blender, as well as two shorter blades in the center of the blade assembly that point upwards. In order to maintain the longevity of the stainless steel shaft, it should only be washed by hand.
How Powerful Is The Motor?
With 180 watts of power, this immersion blender can cut through vegetables and fruits, and froth up liquids quickly. The motor body has a trigger-like button that controls the speed, so you can push harder to blend faster, giving you greater control over the speed than with most immersion blenders.
A particular advantage of this model is its ability to blend fibrous ingredients in small batches, which results in a smoother blend. In the event that you would prefer a cordless hand blender, you may consider the Crux cordless hand blender.
Is It Noisy?
After each immersion blender was run on its highest setting for 45 seconds, we performed a taste test to determine which soup had the smoothest texture. According to our testing, the KitchenAid Variable Speed Corded Hand Blender produced an average sound level of 86dB, which is one of the quietest models we found.
Will It Take Lots of Space?
Since it has a long shaft, it is easily able to reach the bottom of most pots and dutch ovens. If you would like to store it more conveniently, you may want to remove the shaft. Moreover, I appreciate that the blending cup is fitted with a lid, which allows you to store homemade salad dressings and soups in the refrigerator.
How to Set Up It?
You can easily set up Kitchenaid – variable speed corded hand blender – empire red blender in a short amount of time. There is a trigger switch that allows you to control the speed of the blender by how hard you press it. In general, the harder you push, the faster it will go. If you wish to simulate a pulse mode, you may press the button in short bursts.
How to Use Kitchenaid khbv53er Variable Speed Corded Hand Blender?
The variable speed control is one of the most notable features of this hand blender. In my observation, many people have difficulty controlling their behavior. Therefore, I will explain how to control it step by step here.
Connect the Hand Blender to a grounded electrical outlet.
Place the Hand Blender into the mixture. To begin, press the variable speed controller. Ensure that the blending jar top is covered with your free hand in order to ensure better stability and prevent splashes. 
IMPORTANT: Do not immerse the motor body in liquids or other mixtures.
To move the ingredients within the jar, use the Hand Blender in a draw-up motion. Draw it slowly upwards against the side of the jar. Once the desired consistency has been achieved, repeat the process.
Using your wrist, draw the Hand Blender up slightly and let it blend again.
After releasing the variable speed controller, remove the Hand Blender from the mixture. Be sure to unplug the Hand Blender before removing or attaching any parts.
Cleaning & Maintenance Guide
There is no difficulty in cleaning this blender. It is possible to remove some of the debris from the blades of the blender by running it in soap and water. It is still necessary to wipe the outside of the blade guard and the blades with a sponge, but overall, the process is straightforward.
By going through this entire guide of Kitchenaid variable speed corded hand blender review you have learned more. Now let's know what type of food it can handle.
What Type of Food Can It Handle?
Soup
KitchenAid Variable Speed Corded Hand Blender is an excellent tool for making soup. It is designed for the processing of hot ingredients directly in a pot or pan, and it makes an acceptable blend with stubborn ingredients such as kale or broccoli, especially when you are working with smaller amounts. It comes with a pan guard that helps protect non-stick cookware. It is quiet when it is running and easy to clean.
Fibrous Ingredients (Small Batches) 
It is a good choice for small batches of fibrous ingredients. Because it is an immersion blender, it is not the most convenient method since you are required to hold onto the blender and move it constantly up and down in the mix. Yet, it performs well when it comes to processing fibrous ingredients like kale, producing a smoother blend than many immersion blenders we have tested.
Fibrous Ingredients (Small Batches) 
It is suitable for processing fibrous ingredients at full capacity. For larger amounts of ingredients, the process can take longer, and holding the blender for several minutes can be exhausting. In the end, it produces a relatively smooth blend, but some visible bits remain. When working with smaller batches, the blender produces a smoother result.
Why Should You Buy This?
If you need a durable corded hand immersion blender at an affordable price you may count on this KitchenAid khbv53vb variable speed corded hand blender without any doubt. This is an amazing product for making soup or other fiber ingredients.
The KHBV53 is a dishwasher-safe product that is very easy to clean. You may go with this hand immersion blender without any doubt.
In Which Case Should You Avoid This?
Are you looking for a hand blender for ice cruising, you should avoid this. This blender won't come with an additional wisk. Besides the KHBV53 is not great for making nut butter. You should also avoid this blender if you need a cordless hand blender.
Is It Worth The Price?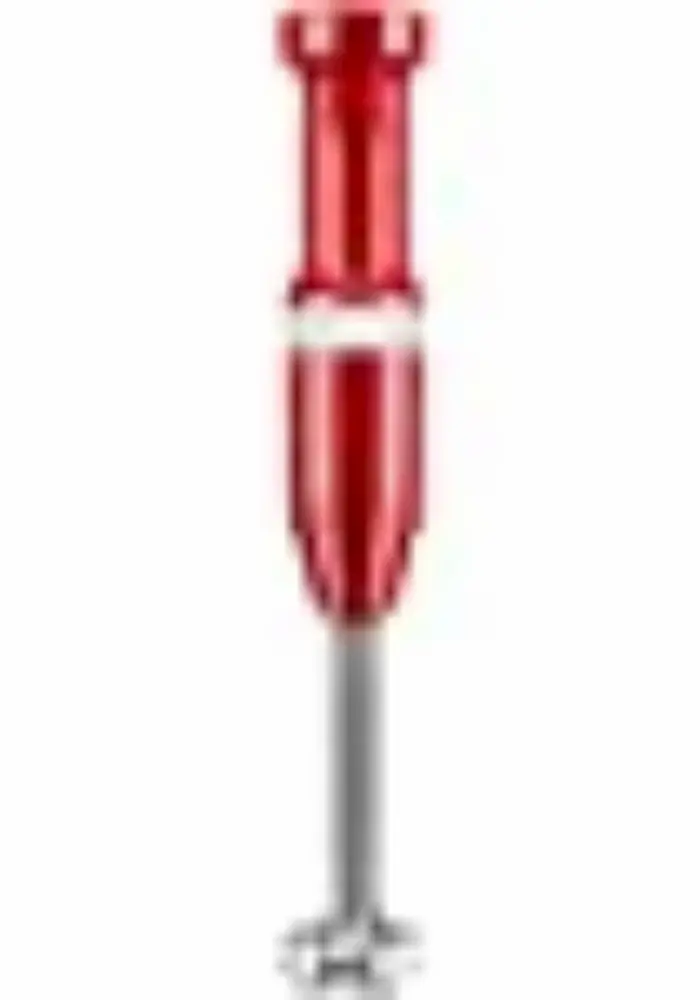 The KitchenAid Variable Speed Corded Hand Blender is a great mixer for those who do not require a multi-tasking appliance and are more concerned about making soup every winter and salad dressing every summer. Stylish and available in a variety of colors, it is a great addition to any kitchen.
Where to Buy?
According to my Kitchenaid variable speed corded hand blender review, if you intend to purchase it, there are several online shops you may want to consider. It is available on Amazon, eBay, and Best Buy.
You can also visit your local appliance store, search for this model there, and purchase it in person.
Comparing It with Similar Types of Hand Blenders
Now is the time to compare the Kitchenaid – variable speed corded hand blender – empire red with a few similar products. The purpose of this comparison is to provide you with a better understanding of this model.
Kitchenaid variable speed corded hand blender vs. Vitamix Immersion Blender
In most cases, the KitchenAid Variable Speed Corded Hand Blender is a better blender than the Vitamix Immersion Blender. Compared to a traditional blender, the KitchenAid produces a smoother blend when blending fibrous ingredients such as kale.
Compared to other blenders, this one is much quieter when it runs and comes with a jar that can be used for blending. In spite of this, the Vitamix has a much better build quality than the Cuisinart.
Kitchenaid variable speed corded hand blender vs. Bamix Mono M133
In comparison to the Bamix Mono M133, the KitchenAid Variable Speed Corded Hand Blender is a better product. It is much easier to make soups and smoothies with KitchenAid because it is much better at blending fibrous elements such as kale or blueberry skin.
The detachable blending arm makes cleaning and storing easier. Alternatively, a Bamix blender may be preferable if you require a stronger blender or if you wish to make whipped cream or mix batters with whisks and beaters.
Final Verdict
Here concludes the Kitchenaid variable speed corded hand blender review. I personally find it to be useful for my day-to-day blending tasks.
However, not everyone holds the same opinion, and you may not agree with it because of that. In any case, you now have a thorough understanding of what a hand blender is. At this point, you are free to decide whether you wish to purchase the product. It is my hope that you will be able to make an informed decision.