An affordable blender that comes with a glass jar, many blender users look for this combo. But, people often get confused about which one will be suitable as many options are available.
If you are also looking for this combo and don't know which blender to get, I have a suggestion. I have been using the Oster Blender Pro 1200 with Glass Jar for a while. And I think it might be the one you are looking for.
However, the features you are searching for in a blender may vary from me. That's why you need to learn every detail of a blender to make the buying decision.
To help you in this regard, I decided to share my Oster Pro 1200 blender review, where I mentioned every trait, pros and cons of this blender in detail. Check the entire writing and see whether it fits your necessity.
Impressive Features At A Glance
You can immediately tell this blender's strength by looking at its outstanding features. So, here are the most impressive traits of the Oster Blender Pro 1200.
7 speeds, including 3 preset options
Dual-direction blade technology for additional blending power
900 watts of ice-crushing power and 1200 watts of total power
Dishwasher-safe Boroclass glass jar
Dual-direction blade technology
Well, it's just a small preview of this blender's excellent traits. You can gain more information by viewing the key specs.
Key Specifications
Product Name: Oster Blender Pro 1200
Color: Brushed Nickel
Jar Capacity: 6-cup (48-ounce)
Jar Material: Boroclass glass jar
Dishwasher Safe: Yes
BPA-free: Yes
Total Power: 1200 W
Power Source: Electric
Recommended Usage: Blending
Voltage: 120 Volts
Number of Speeds: 7
Blade Material: Stainless steel
Product Weight: 7 pounds
Product Dimensions: 8 x 7.25 x 14.5 inches
Warranty: 3 years
What I Like About This Blender
✅ Excellent for hot blending
✅ Great for crushing ice
✅ Makes extremely smooth smoothies
✅ Easy to clean by hand
✅ 24-ounce smoothie cup attachment available
✅ Affordable
The Oster Blender Pro 1200 with Glass Jar 24 ounce is surely amazing for its multi-purpose use. As the name suggests, it comes with a 48-ounce main jar that is made of glass that can withstand thermal shock. That's why it is excellent for handling hot ingredients. You can process hot ingredients right from the pot or pan.
On the other hand, it comes with a 24-ounce personal jar. It comes with a to-go cover so you can carry it with you wherever you go. It's a great additional accessory for me because I like to quickly prepare my smoothie in the personal jar and drink it as I head to work.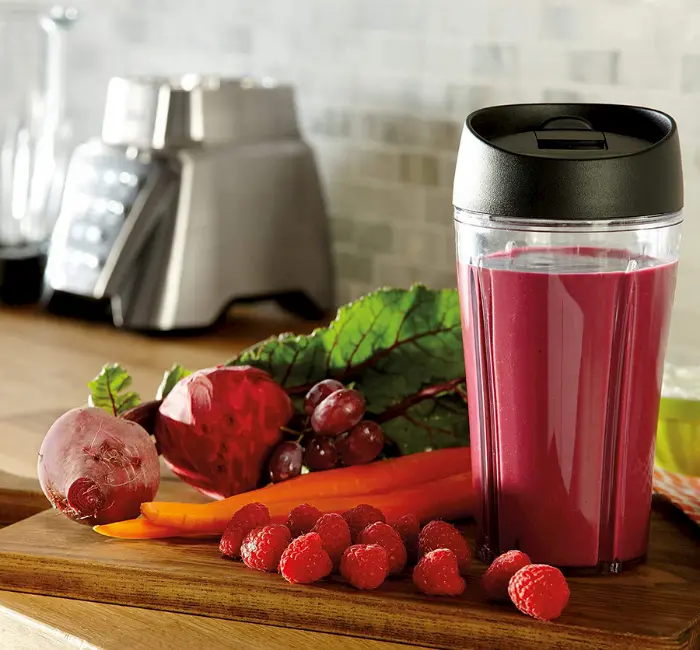 For any type of drink, crushed ice is like a cherry on top of a cake. Although this blender is not the finest on the market for crushing ice, it does well compared to many others, especially considering how affordable it is.
Now speaking of the smoothie, it does make a well-blended smoothie without any remaining fruit skin or leafy bits.
However, it does have a few drawbacks, just like any device. And knowing those is a must because who knows what you want the most in your blender is where this one lacks.
Where It Lacks
❌ Very noisy
❌ Blends only 6 ice cubes at once
❌ Struggles to  liquefy kale completely
Unfortunately, the Oster Pro 1200 is a loud blender. Even though most full-size blenders are quite loud, I have already used a blender that makes less noise at maximum speed. And that is none other than the Ninja NJ601AMZ Professional Blender. It is surprisingly quiet. So, if you don't like loud blending sounds, you may check this one over the Oster one.
Now, even though this blender can crush ice finely, the manufacturer suggests adding only 6 ice cubes in the jar at once for the greatest result. So, it is kinda restricting the amount of ice you can add. Although I don't see it as a disadvantage myself, your opinion may vary. That's why I mentioned this fact.
By the way, this information doesn't allow you to fully assess this blender's entire potential. You must consider many essential factors before making a final choice, including build quality, controls, blade speed, etc.
So, here is my part-by-part review of the Oster Blender Pro 1200.
Oster Pro 1200 Blender Review in Detail
This Oster Pro 1200 Blender with Glass Jar Plus Smoothie Cup was introduced in 2015 in the affordable to moderately priced blender industry. I have always heard about its superb performance.
When I finally bought this, I was excited to experience it myself. When I opened the box and looked inside, my hopes were very high. And I found the following items after opening the box.
What's In The Box
The motor base of the Oster Pro 1200 Blender
48-ounce (6-cup) Boroclass glass jar
Jar lid with filler cap
Extra wide 3.5" blade assembly
24-ounce smoothie cup with a to-go lid
Quick Blending Tips booklet
The box content is enough for such an affordable blender. The booklet is full of blending tips, which is necessary for someone with little to no knowledge about blenders.
Anyway, one of the most important buying factors of a blender is its build quality. Let's discover if this blender has a plus side in that regard.
Design & Build Quality
This blender has an average build quality. The motor base features vents to let heat escape, and the buttons on the front are clicky and simple to use. The main container is made of thick glass, and the handle feels sturdy enough.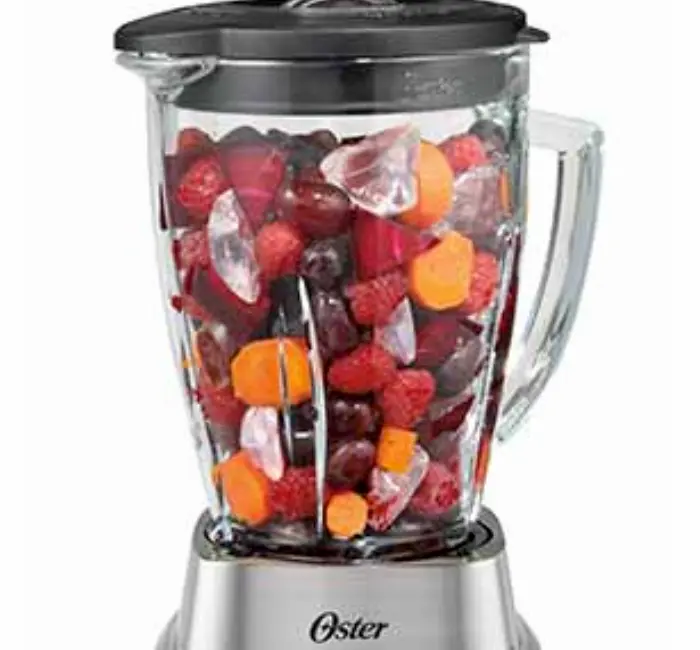 The personal jar has a resealable lid and feels decently built. However, the gear and blade assembly's design doesn't seem highly durable.
A star-shaped gear on the jar is compatible with a square gear on the motor base. Setting the jar on the motor base is more difficult because the parts don't fit together perfectly. Because of the increased friction created as the gears slide past one another, I feel like this design may cause the gears to wear out more quickly.
Now talking about the blade assembly, it feels a bit weak, and the build quality is moderate. Since it is a pro series blender, I expected the blade to be more sturdy. It includes a plastic tab that feels fragile and could snap under pressure.
When the assembly is not connected to one of the jars, the rubber gasket that holds the blades in place is the only thing keeping them in place. Additionally, there is a little gap between the blade assembly's metal plate and gasket, which might collect food debris. So, you have to pay a bit more attention while cleaning it.
However, removing the gasket makes it simple to remove the blade assembly from the jar, making it simple to disassemble the blender. But, it means that if the gasket is lost or damaged, you cannot use it safely.
In short, I am not 100% satisfied with the build quality. But, it is acceptable as balancing the price and quality is hard. And looking at its price, the build is pretty decent.
Jar Capacity & Materials
The main jar has a 48-ounce (1.4 L) capacity, which is rather on the smaller side for a full-size pro blender. The main advantage of the main jar is its material. As you already know, it is made of Boroclass glass, one of the top-notch materials.
Borosilicate Glass is a material that is more expensive than soda lime glass. Silica and boron trioxide are the two basic ingredients that go into making this glass. One of the benefits of this material is that it is highly resistant to thermal shock compared to any other common glass.
The jar is able to endure temperature changes. That's why you can blend hot ingredients in it without any issues. And I have to thank Oster for using such high-quality glass. It is one fact that makes the blender worth buying, especially if you want to make fresh hot soup.
Anyway, the blender also comes with a personal jar that is made of plastic. It has a capacity of 24-ounce which is sufficient to enjoy a single-serve smoothie on the go.
About Blades & Lid
It comes with an extra wide 3.5″ blade system with dual-direction blade technology for more precision chopping and grinding. It allows ingredients to flow down into the blade more easily for quicker and smoother results.
The blade assembly is removable and works with both the main and personal jars. It is secured in place with a rubber gasket. Therefore, it is easy to disassemble the blender for cleaning.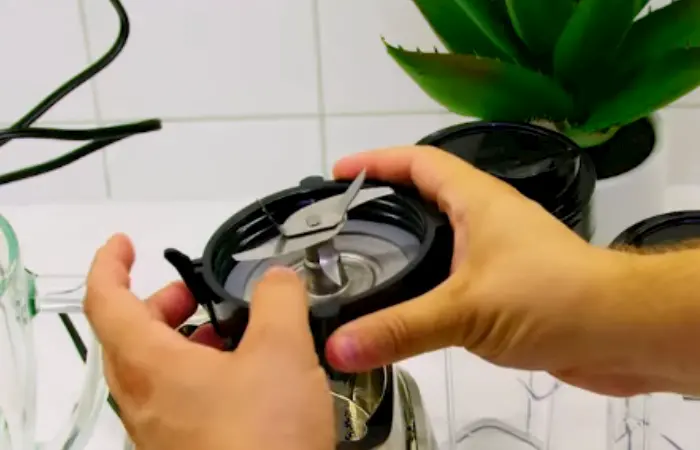 While talking about the lid, the main container comes with a two-part lid that has a clear centerpiece that can be removed. Hence, you can add ingredients during blending.
The personal jar has a resealable to-go lid that screws onto the jar. The lid has a spout for sipping. Unfortunately, the spout's cover feels fragile.
How Powerful Is The Motor?
It is advertised as having a peak of 1200 watts of total power and 900 watts for ice-crushing. With this much power, it can easily do heavy blending tasks. For example, it can make bar-quality crushed ice and smooth nut butter.
However, even though it is a pretty powerful model, I feel like the high power isn't consistent and does drop sometimes. I don't know if it happens only with my one or if other users have also experienced this. Still, the power is high enough, so don't worry about it.
About Power Cord
The power cord is about 2.6 ft long, which is not that long. It will reach a nearby outlet. But, if your outlet is far from the counter, you will have to use a multi-plug. Moreover, there is no storage space for the cord or a place to wrap it when not in use.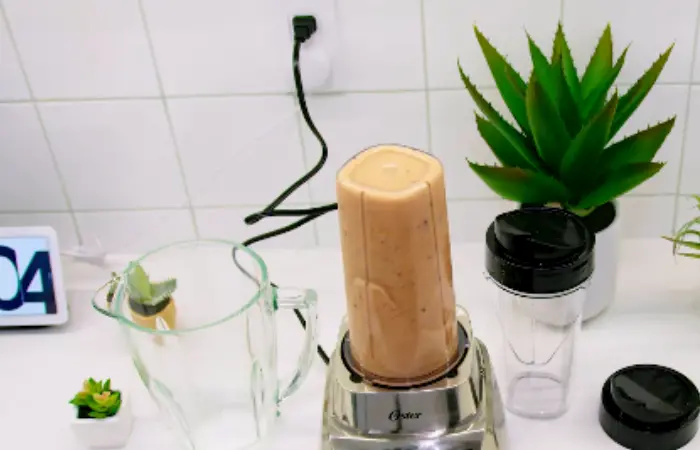 Is It Bulky?
No, the Oster Pro 1200 Blender isn't bulky at all. In fact, it is somewhat compact for a full-size blender. As a result, you can either leave it on your counter space or store it inside your cupboard. In both cases, it won't take much space.
How to Assemble This Blender for Use?
If you are used to a blender with blade assembly attached to the jar, you may find it a bit difficult to assemble. It's because this blender's blade is removable, and you have to set it for both use and cleaning.
Before using this product for the first time, you should separate the lid, filler cap, and blade from the jar. Wash them with warm soapy water or in the top rack of your dishwasher. Then rinse, dry, and you are good to go.
But don't worry! It's not a hard process at all. Here I am gonna describe how to assemble each part step by step. Just follow them, and you can set it up within a minute.
1. First, place the blade into the threaded jar bottom. Over the blade assembly, place the sealing ring. Then, press the sealing ring into the locking groove carefully.
2. Ensure the locking sealing ring is fully tucked in place, and the blade assembly is held to the bottom of the threaded jar.
3. Attach the jar to the integrated blade assembly. To tighten, turn clockwise. Before using, ensure the integrated blade assembly is securely fastened to the jar.
Make sure that the locking lever moves past the anti-rotation tabs on the blender jar or smoothie cup for appropriate installation onto the motor base. Do not use the blender if the locking lever is broken or missing; instead, you may call customer service to request a replacement.
4. Fill the jar with the ingredients. Close the lid and filler cap. Put the jar on the motor base. Connect the power wire to a nearby electrical outlet. You can now start your blending process.
Controls & Programs
After you plug in the blender, you have to press the On/Off button to turn on the blender. It's a great safety feature. The power light will blink, indicating the device is on and ready to use.
The motor base has three speed buttons: Low, Medium, and High. After pressing any of these buttons, if you want to stop, you have to press the Stop button. There is also a Pulse button which provides the fastest blending speed. That's why you may use the Pulse button for crushing ice or chopping food.
You can also select from the 3 pre-programmed buttons, which are Green/Frozen Smoothies, Food Chop/Salsa, and Milkshakes. After selecting any of these programs, if you want to change to another one, you need to press the Stop button followed by another pre-programmed button. But, if you continue, once the program is finished, it will automatically stop.
How to Clean?
The pitcher, lid, and blade assembly are all dishwasher safe. You can use the top rack of the dishwasher to clean them. You can also clean the parts with warm soapy water. Then, rinse well and dry. For the motor base, use a soft damp cloth to wipe off the dirt.
There is another process of cleaning which I personally follow. I like to run the blender with warm soapy water for around 20 to 30 seconds at Low or Medium speed. I use the High speed if the food residue is stubborn or sticky. Then, I rinse and dry it. Because I don't have to take the blender apart, this method saves me lots of time.
However, if there is still food debris left after cleaning without disassembling, you have to separate the part and give it a thorough hand cleaning with a sponge.
Performance with Different Types of Ingredients
How well a blender handles ingredients, especially tough ones, determines its genuine value. So, here I will share my experience blending fibrous ingredients, nut butter, and crushed ice with it.
Nut Butter
This blender is great for blending nut butter. But, to achieve the required consistency, you will have to stop the blender a few times, take off the lid and stir the ingredients to keep everything moving. Hence, it will take a bit longer than many other high-end professional blenders.
Still, I could produce the smooth, spreadable nut butter after 4/5 minutes of blending. Under the blades, there can be little unprocessed pieces left.
Fibrous Ingredients
Whether you want to process small batches or full capacity of fibrous ingredients, this blender will give you a satisfactory outcome. Making a single-serve smoothie is relatively easy when using the personal jar. It makes an incredibly smooth mix, even with tough ingredients like kale.
You can also make a big batch using the main jar. Filling at its full capacity, you can puree broccoli or kale smoothies with almost no grains or specks left over. One thing to note is that you can not completely liquefy kale. So, expect to have a few grains left.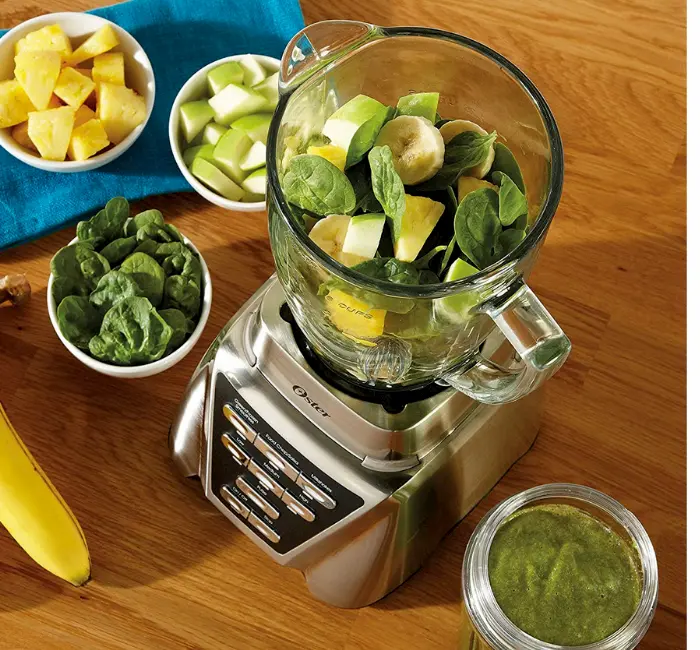 Crushed Ice
As I have already mentioned, this blender makes excellent crushed ice. Even though they suggest using only 6 ice cubes, I usually use 12. It's just my own preference since I am okay with some unprocessed ice in my drink.
Making bar-quality crushed ice takes roughly two minutes when using the recommended pulse mode and working in two batches of six ice cubes each. There can be a few unprocessed pieces. Still, the crushed ice will add a great texture to your cocktails.
Why Should You Buy This?
The Oster Blender Pro 1200 with Glass Jar is great for blending hot ingredients right out of the pot. The motor is powerful enough to pulverize any food. It features patented dual-direction blade technology that can blend in forward and reverse motion.
The smart setting and 7 speeds with 3 pre-programmed settings make it easier to blend according to the instruction. And the extra smoothie cup is always a plus for people who like to carry their drinks to the gym or workplace.
If all of these features are what you are looking for in a blender, this Oster Blender Pro 1200 will be the best option for you to purchase.
In Which Case Should You Avoid This?
This blender is quite loud and can be irritating when you blend for a long time. It makes a loud sound, especially when blending ice cubes or frozen fruits. And since it takes a bit long to process such tough ingredients, you will have to withstand such loud noise for at least 4 to 5 minutes.
If you think you can't endure such noise or you have other family members who get annoyed by loud sounds, you should skip this blender.
Is It Worth The Price?
Given its features, this blender is among the most reasonably priced professional blenders that are worth the selling price. This blender does almost every blending job finely. Despite being affordable, it has a 3 years lengthy warranty and a limited warranty of 10 years for Duralast all-metal drives.
I would strongly recommend it for anyone seeking a low-cost entry-level countertop blender that also functions as a personal smoothie maker.
Where to Buy?
If you want to purchase this Oster Blender Pro 1200 Blender online, you will find it on Amazon, eBay, and Walmart. Or you can buy it from a physical appliance store. 
Now, if you still can't decide whether to buy or not, comparing it with blenders of a similar type may help you understand its value more clearly. And that's why I have arranged my next segment.
Comparing with Other Blenders
Here I will compare this Oster Blender with a few other affordable blenders. The difference will help you understand which is more worthy and meets your requirements.
Oster Pro 1200 Vs. Ninja BL610 Professional Blender
The Oster one is more versatile than the Ninja BL610 Professional Blender. The Oster 1200 comes with a 48-ounce heat-resistant glass jar and a single-serve jar with a matching to-go lid. It can blend fibrous ingredients much more smoothly and is safe to blend hot liquid in, making it a better choice for smoothie and soup lovers.
On the other hand, the Ninja one is slightly better for crushing ice. It offers a better build quality, and the main jar has a bigger capacity of 72 ounces.
NutriBullet ZNBF30500Z Blender Combo Vs. Oster 1200 Pro
The Oster Pro 1200 is superior to the NutriBullet Combo for most purposes. The Oster can crush ice and handle tough ingredients like nut butter, which the Nutribullet lacks. It also offers a 3 years warranty which ensures its lasting durability.
Consequently, the Nutribullet has a 64-ounce capacity jar which is larger than the Oster. It also makes a smooth blend of fibrous items.
Conclusion
Hopefully, this Oster Pro 1200 Blender review was a great help for you to decide whether to buy it or skip it. It is a budget-friendly, good-performing blender. It's hard to find a better blender than this for this price. Now that you are aware of every detail of this blender, I hope you will choose wisely.