A couple of weeks back, my blender suddenly stopped working. And since I cook on a regular basis, I can't go even one day without a blender. Especially for breakfast, smoothies with fresh ingredients are a must for me and my family.
I started to look for a blender online, and that's when I found the Ninja TWISTi High-Speed Blender Duo – SS151. I always wanted to own a fancy-looking blender but couldn't find one in my budget. But this particular blender impressed me both in looks and price.
So, I immediately ordered it. And for more than one week, I have been using it for my regular blending job. After using it, I thought a review on this product would be a great help for those keen to buy it.
That's why I decided to write a Ninja SS151 TWISTi blender duo review so that you can get an insight into my user experience. Here, I will share every little piece of information that you should know about this product, so stay tuned with me till the end.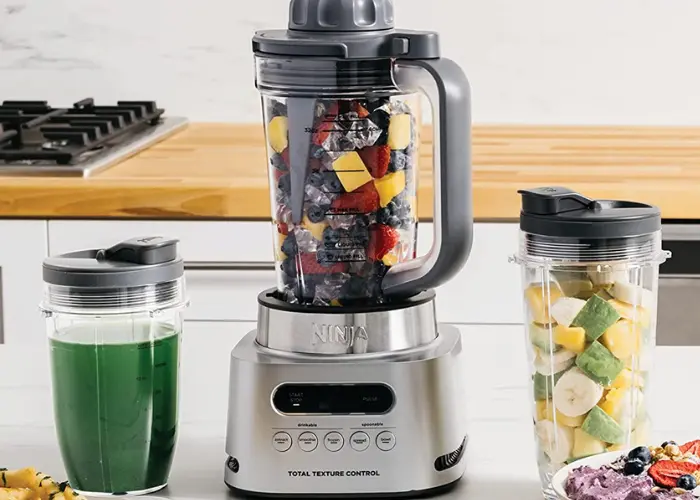 Remarkable Features At A Glance
Here are the traits of this blender that I find most impressive.
Built-in-twist temper for pushing ingredients toward the blades
Equipped with a powerful motor designed for heavy food loads
Intelligent preset programs
Easy control with 5 versatile functions
1600 peak-watt power
With all of these features, this blender can impress anyone who has been working with many blenders. Well, you need to see all the key specifications to learn more about it. So, here it is.
Key Specifications
Product Brand: Ninja
Item Model Number: SS151
Color: Gray
Main Jar's Capacity: 34 ounces
Extra Containers: 18 oz cup, 24 oz cup
Power Source: Electric
Cord Length: 2.6 ft
Number of Automatic Programs: 5
Voltage: 120 volts
Peak Wattage: 1600
Blades: Hybrid Edge
BPA Free: Yes
Is Dishwasher Safe: Yes
Item Weight: 7.19 lbs
Product Dimensions: 6.5 x 8.3 x 13.8 inches
Warranty: 1 year (limited)
What I Like About This Blender
✅ Excellent build quality
✅ Smoothly processes fibrous ingredients
✅ Convenient 2 personal jars and to-go lid included
✅ The Built-in temper features help with thicker mixtures
No matter how great a blender does with blending other ingredients, it's a no-no for me if it doesn't make smoothies perfectly. And this Ninja SS151 TWISTi blender duo hits the right spot, as it can blend smoothies nicely. It also performs well for blending fibrous ingredients into a smooth puree.
Well, the reason behind this smooth consistency is its built-in twist tamper. As you know, ingredients may get stuck between the tamper arms and the jar walls, leaving the unprocessed ingredients in your smoothie. So, rotating the tamper helps in preventing this.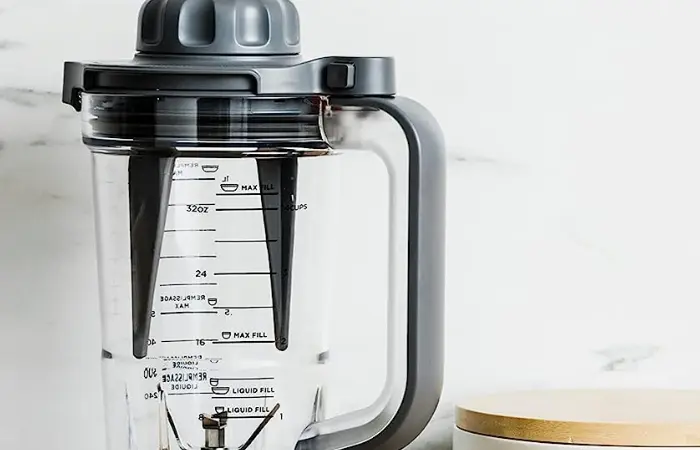 In addition to these, the extra two personal jars were what I appreciated the most because I often carry my smoothies with me. Moreover, this blender has excellent build quality.
Where It Lacks
❌ Not suitable for hot blending
❌ Loud
❌ The base moves slightly when blending at maximum speed
Unfortunately, this Ninja TWISTi High-Speed Blender Duo is somewhat loud. In particular, if you are sensitive to loud noise, the sound may start to annoy you after a few minutes of standing next to it.
So, if you don't want a noisy blender, it's not for you. Instead, I suggest you opt for a quiet blender like the Ninja NJ601AMZ Professional Blender.
Anyway, another downside of this blender is that it's not suitable for blending hot ingredients. And, also while operating, the base rocks a bit, so you will have to hold it.
Now, with this much information, you can't judge the overall performance of this blender. So, it's time for us to dive into the detailed review of this Ninja SS151 blender.
Ninja TWISTi High-Speed Blender Duo – SS151 Review in Detail
This Ninja TWISTi is a decent blender for multi-purpose use. It's well-suited for making smoothies daily. Except for this, there are many factors that need to be considered before buying a blender, such as its build quality, the versatility of controls, whether it is easy to clean, what type of food it can easily process, and so on.
And I have arranged this segment to give you all of these pieces of information. Let's start with what the box of this blender comes with.
What's In The Box
Ninja SS151 motor base
34 oz. pitcher
Pitcher lid with tamper
Blade assembly
24 oz. and 18 oz. Nutrient Extraction cups with spout lids
Instruction manual & recipe guide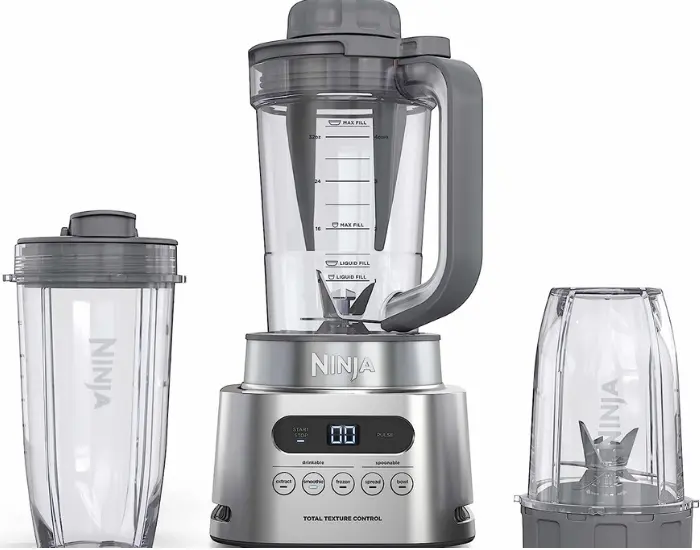 Build Quality & Design
The Ninja SS151 has great build quality. The main jar and the two extractions cups are made of thick plastic. Also, the lids are built using good plastic. And rubber is used for the transmission and gears.
The lid's flap is easy to use, and the suction cup fits under the motor base and also effectively holds the lid in place when blending. Regarding design, the motor base has a premium look because of the stainless steel color.
However, even though the motor base seems sturdy while looking, after touching it, my opinion changed. I feel like the motor base isn't made of high-quality material, and the push buttons may get stuck if pressed too hard. Although nothing happened as I have been using it for a while, so it's alright.
About The Jars & Lids
As stated before, the main container's capacity is only 34 ounces, less than most full-size blenders. Since the main jar will be used for most of the blending job, I feel it's a downside to having such a small capacity. To serve many people, you will have to blend several batches of smoothies or whatever you make.
However, the size of the additional two jars is perfect, one is 24 ounces, and another is 18 ounces. When you want a larger serving to take outside, you can take the 24-ounce one; when you need a smaller serving, you can switch to the 18-ounce one. These are highly convenient for those who like to carry their protein shakes, juice, or smoothies on the go.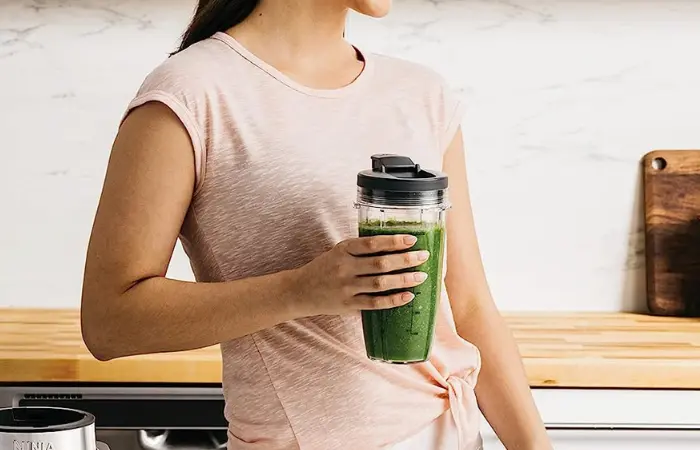 Now, talking of the lids, the main jar has a lid with a built-in twisting tamper. I will elaborately talk about it in my next segment. And for the personal cups, they come with spout lids, easy to sip on the go.
Details About The Twisting Tamper
As you may know, most premium blenders come with a separate tamper tool to remove the clumps of ingredients inside the jar. But, to use them, you usually have to stop the blender and remove the lid to stir the ingredients.
However, the Ninja TWISTi's main jar lid has a built-in knob with two tiny tampers that you may manually twist to stir contents without pausing the blender. Even if it only saves a little bit of time, if you frequently create sauces, dips, or smoothies, you will appreciate it.
The tamper also lets you blend with less liquid, as it will keep the dry and heavy mixtures moving till they are fully blended. The only ingredients that I struggled to reincorporate in the middle of the blending were sticky nut butter and thick honey or syrup that kept sticking to the sides of the jar.
About Blades
There is only one blade assembly that you can attach to all the working jars. The blades have hybrid-edge that can blend, crush, and chop at high speed in order to provide a better breakdown of whole frozen fruits, veggies, seeds, nuts, and ice. In short, the blade does its job excellently.
How Powerful Is The Motor?
This blender is equipped with smart torque technology. The power-dense motor is built for handling heavy food loads and maintains a high speed to perform consistently. In short, the motor is highly powerful and can easily handle tough ingredients.
The power cord for the Ninja TWISTi High-Speed Blender Duo is long (2.6ft) enough to reach a nearby outlet. However, there is no storage space for the cable or a place in the motor base to wrap it when not in use.
Now, despite having a 1600-watt motor, the SS151 is rather small compared to most other blenders with similar power. With the 34-ounce canister and lid attached, the unit stands just 14 inches tall and has a 6 by 6 inches base measurement.
And this unusual power-to-size ratio is exactly why this blender rocks a bit while running.
Is It Bulky?
The TWISTi is a compact blender. Although it's a full-size blender, its size and capacity are comparable to some personal blenders. So, it's not bulky at all, and wherever you store this blender, it won't take up that much space.
Controls & Programs
The Ninja SS151 has 5 preset programs, which implies that the program switches between blending and pulsing. Once you select a preset program, it will start running immediately and stop automatically once blending is complete. Hence, you don't have to keep an eye on it.
But if you want to stop blending before the program ends, you may press the currently active button again, and it will stop.
The blender cannot determine how much food is in the jar or which jar you are using. Therefore, you might need to run a program more than once or use the manual blending mode to achieve the desired results.
There is a button for pulse mode. For small pulses, use short presses, while for long pulses, use long presses. Also, you can press the Start/Stop button for manual blending, which runs the blender continuously for 60 seconds.
Anyway, to understand the functions of each button, you can read the instructions below.
EXTRACT: Ideal for fibrous, tough, or leafy whole fruits and vegetables with their skins, seeds, and stems.
SMOOTHIE: To make smoothies and protein shakes with your favorite fresh or frozen ingredients, powders, and liquids.
FROZEN: For crushing ice and frozen fruits to make restaurant-style frozen drinks.
SPREAD: Make anything, including spreadable nut butter, zesty sauces, and the perfect hummus.
BOWL: Create creamy frozen yogurt, thick smoothie bowls, and refreshing sorbets.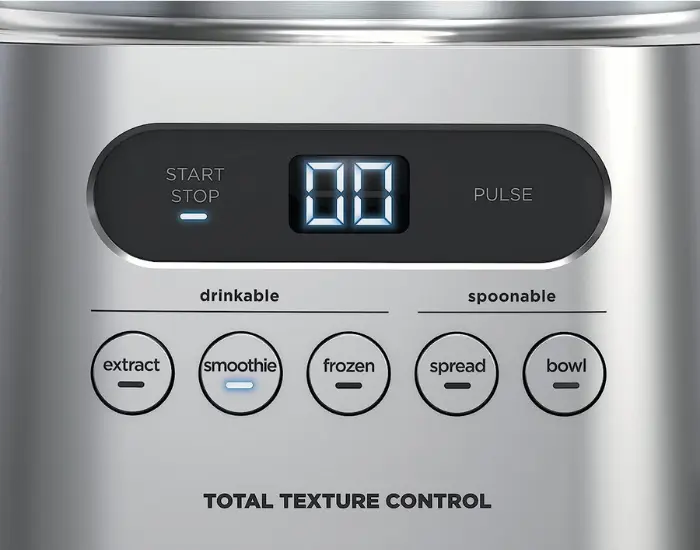 How to Use The Ninja TWISTi Blender?
Using this blender is easy if you follow the right directions. So, in this segment, I will tell you how to set up and use this blender. Let's start with the main pitcher.
Using The Main Pitcher
1. Place the motor base on a clean, dry, level surface, like a table or counter.
2. Now, screw on the blade assembly to the pitcher until it is tightly sealed. Fill the pitcher to the marked serving lines with the desired contents. If you will make a smoothie bowl for a single serving, fill up till the 16 ounces mark, and for two servings, use the 32 ounces mark.
3. Align the red rectangle on the lid with the red line on the top of the pitcher handle to attach it. To lock the lid into place, turn the lid clockwise.
4. Then, attach the pitcher to the motor base by lining up the tabs on the pitcher with the slots on the base. Turn the pitcher clockwise till it clicks into place.
5. Plug in the unit. The programs will illuminate when the unit is ready for usage. Now, select the program that suits your desired output.
The built-in tamper should be continuously rotated counterclockwise while processing thick ingredients. Keep the drizzle cap of the lid closed while blending liquids.
6. After you are done blending, remove the lid by pressing the tab's button until it opens and lift it up. Turn the pitcher counterclockwise, then lift it out of the motor base.
7. Pour into a Nutrient Extraction Cup, attach the Spout Lid to the top, and tighten the cover by turning it clockwise to enjoy on the go. Or pour it into your preferred reusable cup.
8. Remove the blade assembly by turning it counterclockwise. Never store blended contents with the blade attached. Handle the blade assembly carefully because it has sharp blades.
9. Lastly, unplug the device when you are done.
Using The Nutrient Extraction Cups
1. Fill the Nutrient Extraction Cup with the ingredients. NEVER go over the MAX LIQUID line.
2. Put the Hybrid Edge Blades Assembly on the cup's top and rotate it clockwise to seal.
3. Install the cup on the motor base by turning it upside down and lining up the tabs on the cup with the slots in the base. Turn the cup in a clockwise direction until it clicks. The programs glow when the machine is locked in place and is then ready for use.
4. Select the program according to your ingredients and process until the desired consistency is achieved.
5. Remove the cup from the base by twisting it counterclockwise and lifting it up. Then, remove the blade by rotating it counterclockwise.
6. Place the Spout Lid onto the cup and tighten it with a clockwise twist to enjoy it on the go.
Is It Easy to Clean?
It's easy to clean this blender's parts. You can choose between hand-washing and dishwasher.
Hand-Washing
Wash the pitchers, lids, and blades with warm, soapy water. Use a dishwashing tool with a handle to prevent coming into contact with the blades. Handle the blade assembly carefully because it has sharp blades. Then, thoroughly rinse and air dry them.
Washing Stuck-on Ingredients in The Pitcher
Pour 1 or 2 tiny drops of dish soap into the pitcher, then fill it with warm water up to the single-serve Liquid Fill line. Close the lid and run the blender on the BOWL program. While cleaning, rotate the built-in tamper continuously in a counterclockwise direction.
Dishwasher
All the accessories are top-rack dishwasher-safe. However, don't clean with a heated dry cycle. Also, remove the blade assembly and lid from the container before placing them in the dishwasher.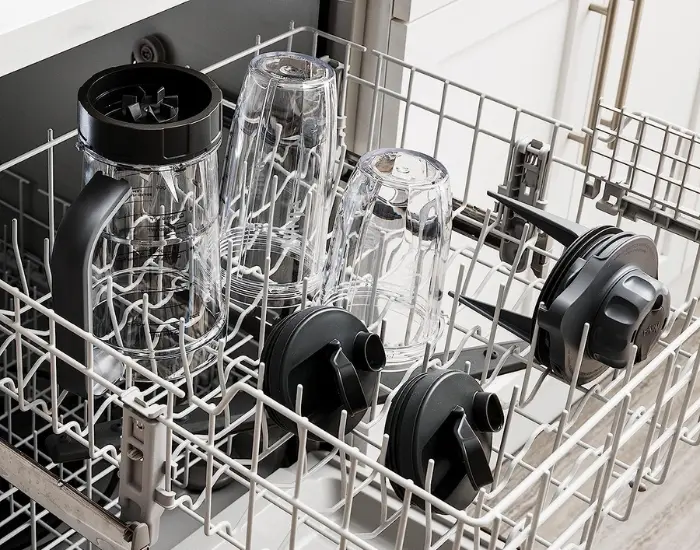 Cleaning The Motor Base
Switch off the appliance and unplug the motor base. Then, use a clean, damp cloth to cleanse any dirt on the motor base. Never use brushes, abrasive rags, or pads to clean it.
Performance with Different Types of Ingredients
After buying this blender, I blended different types of food, from nut butter, fibrous ingredients, and crushed ice to frozen drinks and cocktails. Here, I will share how well it performed with each ingredient.
Nut Butter
This Ninja blender is excellent for making nut butter using the main jar. For me, it took little time to produce spreadable, smooth nut butter. Every time I make nut butter, I am always satisfied with the consistency.
Under the blades, there could be some unprocessed dust. So, you have to spin the built-in tamper using the knob to get the perfect results.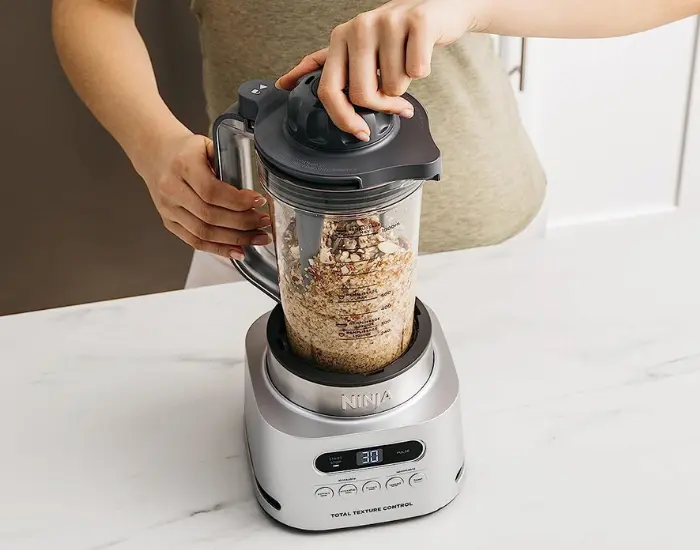 Crushed Ice
This blender does a fabulous job while crushing ice. I use long presses on the pulse button, which takes me about a minute to make the snow-like crushed ice. You can also use the FROZEN button for this job. And make sure to rotate the knob from time to time.
Since I always use about 6 ice cubes, the blending time was short. So, the time to achieve the perfect result also depends on how much ice you will use. But one thing is sure this blender is a great choice for crushing ice.
Smoothie Bowls
I have used a few other blenders with around the same price as this Ninja TWISTi. And I have to say that the TWISTi is the best for making smoothie bowls in its price range. The smoothie bowls prepared with the Ninja TWISTi are almost similar to those made with more expensive blenders.
Its powerful motor can produce thick smoothie bowls using the smallest amount of liquid.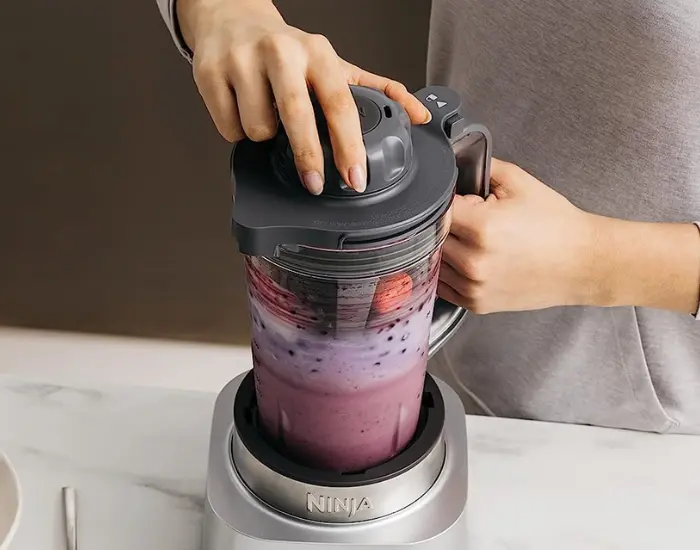 Fibrous Ingredients
If you choose the extraction cup for making a small batch of smoothies with fibrous ingredients like kale, it will make a smooth, silky puree. Although it's a little slower and leaves some specks behind, most users should be pleased with its processing power.
On the other hand, if you use the main jar, the result will be satisfactory too. It produces a very silky puree when using full capacity with items like kale.
But, compared to the 24-ounce cup, the process with the main jar requires a little more handwork as you have to turn the knob to use the built-in tamper. If you don't rotate the knob, some ingredients may get stuck to the sides of the jar and between arms.
Who Should Buy This?
Suppose you want a compact-size affordable blender suitable for blending smoothies both with fresh fruits and fibrous ingredients, frozen drinks, nut butter, and crushing ice into a snow-like texture. In that case, this Ninja SS151 TWISTi Blender Duo will be a great choice for you.
You also have the option to take your smoothies, protein shakes, or juice with you anywhere because of the two additional extractions cups that come with spout lids for sipping.
Who Shouldn't Purchase This Blender?
This blender is quite loud. So, if you don't like loud noises, you might skip this blender. Also, you can't blend hot liquids or ingredients for soup in this blender as it's not suitable for hot blending.
Therefore, if you intend to make fresh hot soups, invest in another blender than this one. Instead, you may opt for the Hamilton Beach Power Elite Wave Action Blender, which is suitable for hot blending and budget-friendly too.
Is It Worth The Price?
With 1600 peak-watt power, a built-in tamper, high-speed sharp blades that can cut through tough ingredients, 2 additional go-to jars, 5 versatile auto functions with manual pulse mode, a lid with a drizzle cap for adding ingredients while blending, dishwasher-safe accessories, this Ninja SS151 TWISTi has all of these fantastic characteristics in such an affordable price.
What do you think? Isn't it a superb deal? Yes, absolutely! All of its features are remarkable while being a budget-friendly option. So, after using it, I will say it's indeed a great deal for this price range.
Where to Buy?
If you are interested in buying this Ninja TWISTi SS151 blender, you will find it on their official website, Amazon, Best Buy, Target, and other online shops. To purchase physically, you may go to your nearby appliance store and look for this model there.
Comparing with Other Similar Types of Blenders
If you are still confused about whether to get the Ninja TWISTi, then comparing it with a similar blender with almost the same price may help you understand better.
Ninja SS151 TWISTi Blender DUO Vs. NutriBullet Rx
For most functions, the Ninja TWISTi is better than the NutriBullet Rx. The TWISTi has a resealable to-go lid for its own jar and does a better job in blending fibrous ingredients for recipes like green smoothies.
Additionally, it works better with tough ingredients such as making nut butter. If you want to use your blender to quickly produce a batch of hot soup, you might choose the Rx because you can heat the contents while they combine. Furthermore, cleaning the Rx by hand is easier.
Ninja SS151 TWISTi Blender DUO Vs. NutriBullet ZNBF30500Z Blender Combo
The Ninja SS151 has 1600 peak-watt power, a 34-ounce main jar, two additional 24-ounce and 18-ounce single-serve cups with to-go lids, and a one-year limited warranty.
On the other hand, NutriBullet ZNBF30500Z has a 1200-watt motor base, 64 oz main pitcher, 32 oz and 24 oz cups with to-go lids, and a 1-year limited warranty.
Thus, the Ninja one is better in terms of power but lacks a bit in terms of pitcher capacity.
Final Verdict
Finally, I finished my Ninja Twisti high-speed blender duo – SS151 review. Personally, I liked this blender. However, like any other appliance, it has a few cons that you already know. I suggest you list your priorities and see if this blender matches the most. If so, go for it, and if not, skip it.