Ninja BL610 is one of the first professional series models from the brand. It is commonly known as the Ninja Professional Blender 1000. Even though it's a pretty old model, I never used it as I was using a different professional blender.
But, a month ago, my blender wore out, and I decided to give the Ninja one a try as I have always wanted to check whether it was worth all the hype!
After using it for nearly a month, I now know every ins and outs of this blender. And it's the best time to share my experience with you. Therefore, my today's writing is about the Ninja BL610 Professional 72 oz Countertop Blender review.
If you plan to buy this blender, be sure to read the entire article because I listed all the advantages and disadvantages so you can get a complete understanding of it.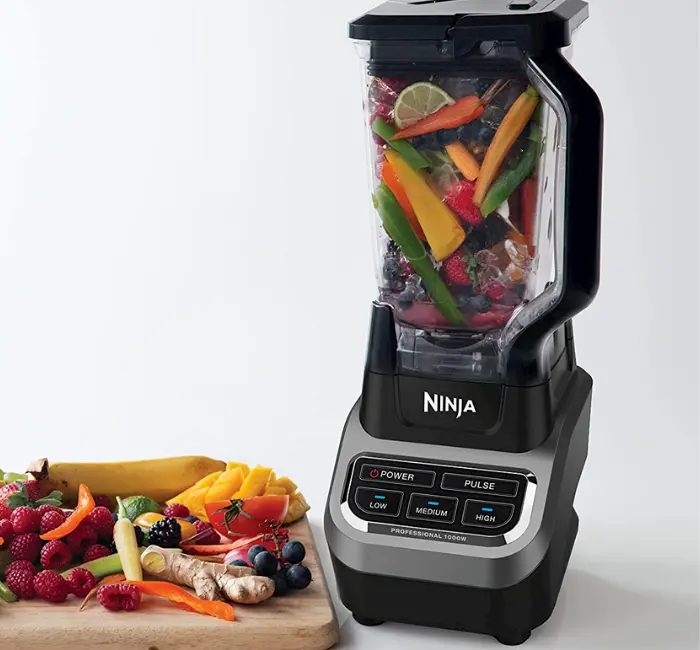 Notable Features At A Glance
This Ninja BL610 Blender can surprise anyone because of its low price and feature-richness. And here are all the characteristics that made this blender stand out.
Have a capacity of 72 ounces for large servings
1000-watt high-powered motor
Total crushing technology for crushing through ice
Simple lock lid with built-in pour spout
Three-speed settings with pulse
BPA-free pitcher and dishwasher-safe parts
Besides these, several other excellent features are available in this BL610 blender. Have a look at the key specifications to know further details.
Key Specifications
Product Name: Ninja BL610 Professional 72 Oz Countertop Blender with 1000-Watt Base
Color: Black
Jar Capacity: 72 Fluid Ounces
Jar Feature: BPA-free and Dishwasher-safe
Wattage: 1000
Power Source: With electrical power cord
Voltage: 120 Volts
Recommended Usage: Blending, crushing
Speed Settings: High, medium, low, and pulse
Blade Material: Stainless steel
Product Weight: 7.1 pounds
Product Dimensions: 9.5 x 7.5 x 17 inches
Warranty: 1 year (limited)
Alright, as you now know the key specs, now I will tell you what I like about this blender most.
Pros
✅ It can make snow like crushed ice
✅ Reasonable price
✅ Amazing safety features
✅ Elegant, minimalistic design
✅ Excellent build quality
✅ Labeled measurements on the jar
The Ninja BL610 Professional comes with total crushing technology, which is an incredible feature of it. And this is the reason that it can instantly crush ice into a snow-like consistency. So, if you want to crush ice for your frozen drink, this blender won't disappoint you.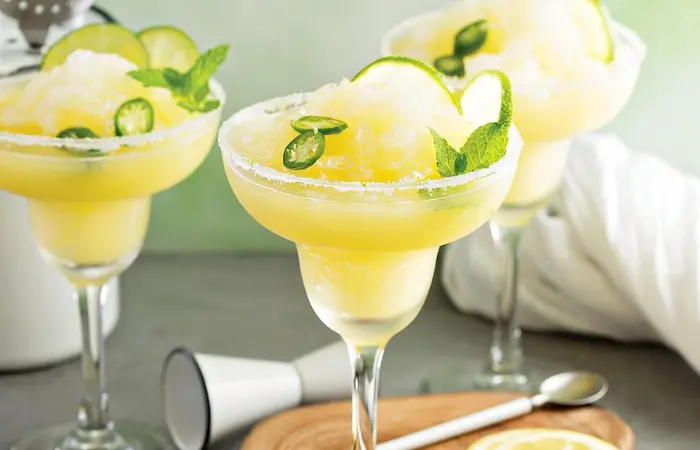 It can also blend frozen fruits, whole fruits, and vegetables to make smoothies. The design of the blender is sleek, and the build quality is up to the mark.
The most important feature that amazed me was the safety feature. You have to correctly lock the lid. There is a sensor in the blender that won't allow you to blend until it is attached properly. When the lid is properly locked, you will hear a click, and the blender will continue to function normally.
Now, the main selling trait of the Ninja Professional 72 Oz Countertop Blender BL610 is its affordable price. It is far more inexpensive than most other professional blenders.
But, obviously, there are a few things that were being sacrificed to achieve the price range. And those are its downsides.
Cons
❌ Not suitable for hot blending
❌ Loud operation
❌ No personal jar attachment
❌ A bit bulky
Although Ninja Professional Blender 1000 is decent for multi-purpose, it is not suitable for blending hot liquids. If you want to make soup, you will have to cool down all the ingredients and then blend them.
But, if you specifically want to blend hot liquids in your blender, avoid buying the BL610. Instead, you can opt for the Hamilton Beach Power Elite Wave Action Blender, which is excellent at handling hot ingredients and also comes at an affordable price.
Anyway, another downside of this Ninja 1000-watt blender is that there is no personal jar attachment. All you have is the 72-ounce large pitcher. Also, the blender is a little bit on the tall side, which isn't a bad thing. But, if you have a small space for storage, it will be a problem to fit it in.
Wait, wait, don't be disappointed by these few cons. This blender has much more to offer besides these. You can only judge it after you will learn everything regarding this blender.
So, here comes my in-depth review segment, where I have discussed every feature individually. Go through it and then decide whether it is worth spending money on or not.
Detailed Ninja BL610 Professional 72 Oz Countertop Blender Review
This blender has been around the market for a while, and many home cooks love this model. I heard a lot about its performance. So when I finally got the package, it was finally my time to experience it myself. Anyway, here are the accessories that are included in the box.
What's In The Box
Ninja BL610 Professional Blender 1000 motor base
72 oz pitcher
Blade stack assembly
Lid with locking handle and pour spout
Manual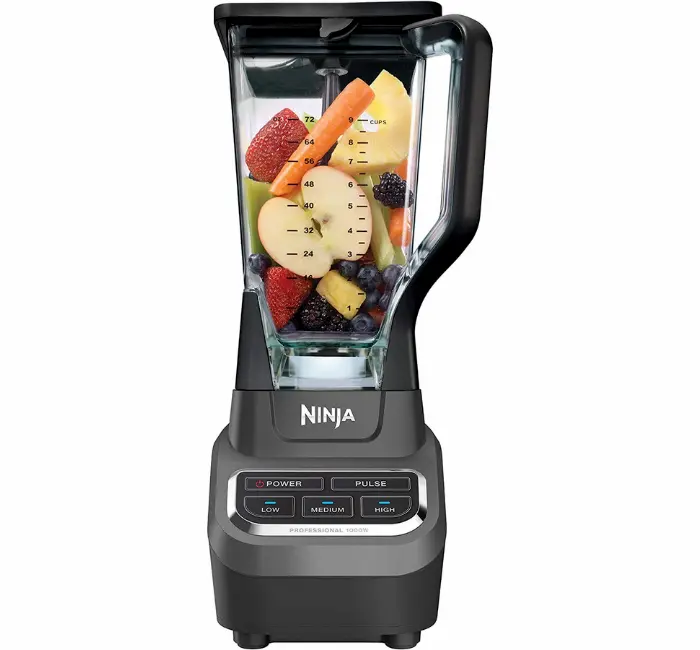 A recipe guide is also provided, which is packed with ideas for creating various dishes and beverages. It was a great help while blending and cooking.
Build Quality & Design
The Ninja Professional 72 Oz Countertop Blender BL610 has great build quality for the price. The motor base is formed of plastic that feels robust. It has rubber feet that prevent it from shifting around the counter.
The black plastic platform on which the jar sits also feels sturdy enough to keep it in place. Now, unfortunately, the control panel doesn't seem of good quality. When I pressed the buttons, sometimes they lacked proper clicky feedback. Especially the middle button bothers me, but thankfully it's not an often case.
The jar lid feels weak, which I feel is not acceptable since it houses the safety feature that stops the blender from starting without the lid on. And the plastic base of the pitcher has a fragile feel and appears prone to breaking if it bumps into something. Although I didn't face any problems with my device yet, a few users I know claimed that the jar's bottom is prone to cracking and started to leak with time.
Now talking about the design, I am very much satisfied with its stylish, sleek design. It does complement my kitchen counter. The blender has a modern look because of its stainless steel structure and sharp angles.
The control panel is easy to read and operate. And the LED display makes it easier to see what's happening during your blending.
Jar Capacity & Materials
There is only one jar which is of 72-ounce capacity. Hence, it's great, especially if you prefer to make big recipes and multiple servings. The jar is made of BPA-free plastic. Therefore, you can make delicious recipes without any sort of health risks from the pitcher's plastic.
Bisphenol-A is referred to as BPA. It is a substance used in industry to manufacture resins and plastic. It is a dangerous chemical for your health.
Although the jar appears to be made of glass, it is constructed of highly durable plastic. Therefore, it is lightweight and portable.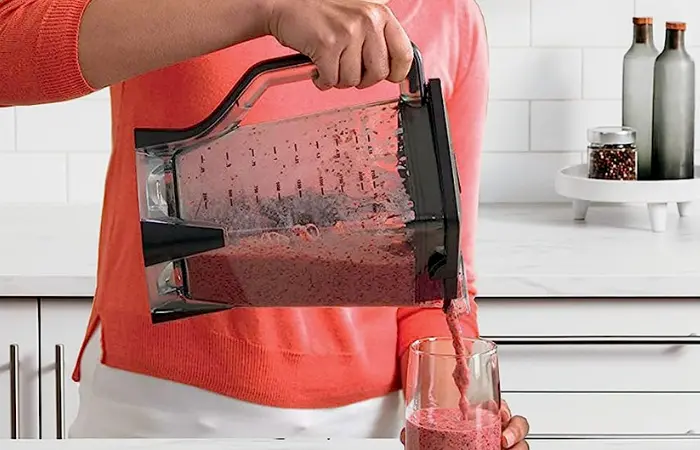 About Blades & Lid
The BL610 features six extremely sharp blades spiraling around the central column, which is typical of Ninja blade designs. You can easily remove the blade stack from the pitcher.
While speaking of the lid, it is made out of plastic that has a rubber gasket on the underside. It helps in pouring, but it is not regarded as a 2-part lid because the opening is too small to allow for adding ingredients in. Additionally, you cannot put a tool like a tamper through it to mix your recipe, despite the fact that using a tamper would be challenging due to the stacked blades.
Before the blender works, the lid must be secured to the jar. You must line up the triangle sign on the lid with the triangle sign on the jar's handle in order to lock it, then press down on the lid's handle until it snaps shut.
Motor Power & Speed
The base power for the Ninja BL610 blender is 1000 watts. Any food can be chopped or blended with this incredible power, and ice can even be turned into snow. Hence, it improves performance significantly. You will be able to make creamy, smooth drinks and desserts easily and swiftly with this much power.
There are three settings for the blender's speed. Low, medium, and high speeds are available. There is a pulse mode as well. Using the ideal setting, it allows you to prepare delicious dishes. And the pulse function allows you to make dense and fibrous textures.
Power Cord
The power cord for the Ninja Professional Blender 1000 is long enough to reach an outlet close to your counter. To keep the cable out of the way when the blender isn't in use, wrap it over the ridge surrounding the exhaust vents on the back of the motor base.
Is It Too Loud?
It's not extremely loud for a full-size blender. Still, it makes a lot of noise, just like most blenders. However, it doesn't become irritating as quickly as similar kinds of other professional blenders. Nevertheless, if you have sensitive hearing, the loudness might annoy you.
Will It Take Lots of Space?
The Ninja BL610 is a bulky full-size blender. You will have to store it on your kitchen counter or in a spacious cabinet. Since it is a lot taller, if you have a low-hanging or small cupboard, it may not fit. However, you may remove the jar from the base for easier storage.
Moreover, this blender is quite heavy. However, it is not overly heavy. The large motor on this professional blender makes the base a bit heavier. But the pitcher is lightweight. Therefore, the part that needs to be moved frequently is light, and you don't have to move the base regularly. Hence, the weight is not a problem.
Impressive Safety Features
Well, if you ask me what feature of this blender I adore the most is definitely its safety features. You already know that the lid has to be locked properly to start using it, which reduces any risk of unwanted mishaps. But there is more!
A key safety feature of this Ninja professional blender is the automatic shutoff system. If the blender is not used for a certain time, it will turn off automatically to prevent damage. In order to avoid accidents, the blender will also halt operating if the power cord has a problem.
Another crucial safety feature is its thermal protection system. This trait helps protect the device from overheating and avoid damage caused by excessive heat. This system also applies when you overload the appliance. Additionally, if the machine becomes stuck, it will shut off immediately to save anyone from getting hurt.
How to Set Up And Use It?
Here are the steps on how to assemble all the parts of this blender.
1. First, make sure to place the motor base on a dry, clean, level surface, such as a table or a counter.
2. Now, align and lower the jar onto the motor base. Turn it clockwise till you hear a click sound. The pitcher can be positioned on the motor base in one of two ways, with the handle on either the front left or right corner.
3. Place the Stacked Blade Assembly onto the drive gear inside the pitcher by holding it by the top of the shaft. Check whether the Stacked Blade Assembly is standing straight and is seated appropriately.
4. Next, add all of your ingredients to the container and make sure they don't go above the highest measured marking line on the pitcher's side. When blending any form of liquids, such as drinks or smoothies, do not go over the "Max liquid" indication (64 ounces) on the pitcher.
5. To turn it on, plug the power cord into the outlet and press the power button.
Note: If the pitcher and lid are not inserted properly, a safety feature will cause the power button to flash, and the motor won't operate. The power button will be solid when the pitcher and lid are correctly attached, indicating that the blender is prepared for use.
6. Put the lid on top of the pitcher while holding it by the handle in the upright position and lining up the arrows on the lid and pitcher's handle. Press the handle down till you hear a click.
7. Choose the speed to suit your requirements for blending. Processing and mixing should be done on the LOW setting. For blending and ice-crushing, use the MEDIUM setting. For liquefying and pureeing, use the HIGH setting. To chop and process things in a controlled way, press the PULSE button.
Note: I have described detailed control instructions in my next segment, which you may check later.
8. Once you have achieved the appropriate consistency, push the power button to switch off the appliance and wait for the Stacked Blade Assembly to stop spinning. Press the lid's release button, raise the lid handle to a 90-degree angle, and take the lid off. Rotate the pitcher counterclockwise and then lift it off the base.
9. Finally, empty the pitcher's contents. Be sure to disconnect the device while not in use.
Controls & Programs
The Ninja BL610 Professional Blender has simple controls, including buttons for three speed presets and a pulse mode. And there is a power button that serves as an on/off switch. Here are extensive instructions on how to utilize each button.
LOW (for processing & mixing): Use this button to scramble eggs, puree cooked food and raw fruit, mix thin batters, gravies, and marinades, and chop veggies for salsa and dips.
MEDIUM (for blending & ice crushing): Press this to grate hard cheeses, cream soups, beat dips, grind nuts, thorough chop, and blend sauces and spreads. You can also blend powdered drinks, mixed drinks, or milkshakes.
HIGH (pureeing & liquefying): Use this button to liquefy thick mixtures, blend whole fruits and vegetables, and create smoothies and frappes.
PULSE: Use for controlled processing and chopping.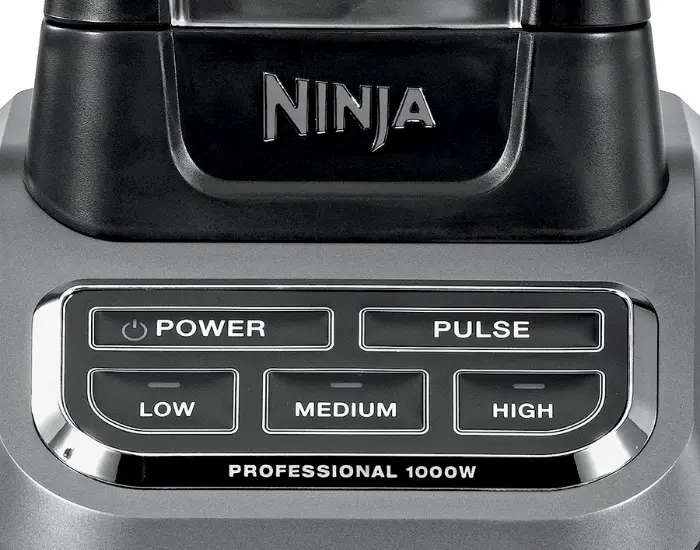 Is It Easy to Clean?
This blender is quite easy to clean. You can use the dishwasher. Or wash thoroughly with your hands. Now, I will describe each process for your better understanding.
Dishwasher
The pitcher, blade assembly, and lid are all dishwasher safe. The lid and stacked blades can be cleaned in the top rack of the dishwasher. By the way, before putting the container in the dishwasher, be sure the stacked blade assembly has been removed from it.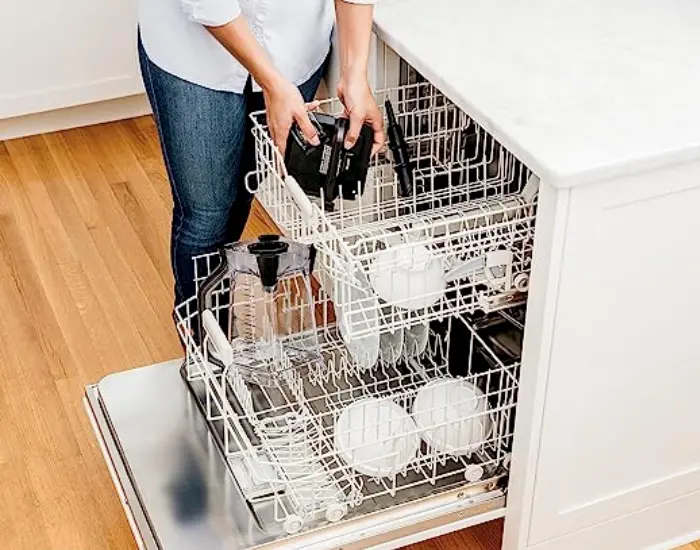 Before putting any attachments in or taking them out, or before cleaning, make sure the motor base is unplugged from the power supply. The motor base should never be immersed in water or any other liquid. And before cleaning, separate every part of the blender.
Hand Washing
This blender has extremely sharp blades making it a bit risky to clean using bare hands. Therefore, use a dishwashing utensil while handling to avoid direct contact with the blades.
Washing the jar and blades with soap and water will clean a good amount of residue. However, the blade assembly does have a tiny hole on one end that links to the locking mechanism of the lid. If you don't have anything long and thin, like a pipe cleaner, debris can build up there and be hard to remove.
To get rid of any leftover debris, you might also need to open the lid's spout cover and sponge-clean the lid's gasket. And lastly, clean the motor base with a clean, damp cloth.
Performance with Different Types of Ingredients
Since this blender has a quite powerful motor, it can handle almost every blending job. The blades are pretty sharp too. Hence, you can use it to chop or blend any veggies or fruit. The results with ice, fiber foods, and nut butter are shown here.
Crushed Ice
It can crush ice cubes easily into snow-like crushed ice. Using the 'Pulse' mode, it took me only 30 seconds to crush 12 ice cubes. I often make slushies with this blender, and the results are always satisfying. So, you can count on this blender in terms of this type of blending job.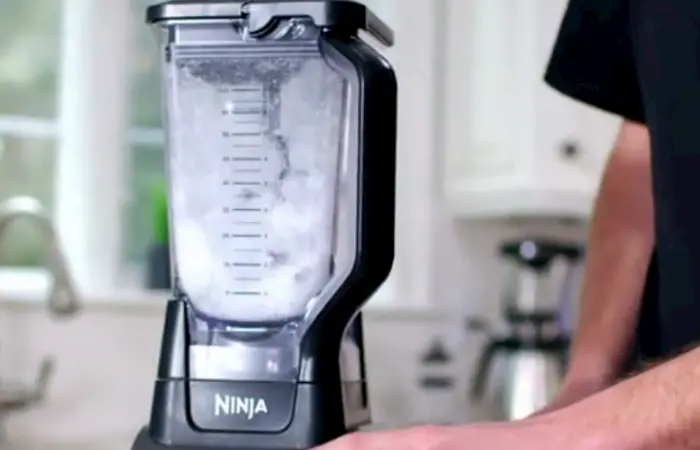 Nut Butter
I was most surprised after making nut butter in it! It did a fantastic job. I use the 'Pulse' button to break the almonds first and then blend at high speed. It makes smooth and spreadable butter each time. There can be some unprocessed bits, so make sure to use a spatula in between blending for better results.
Smoothies with Fibrous Ingredients
Even though this blender does a great job blending smoothies, when it comes to fibrous ingredients, the outcome may not satisfy you. With ingredients like kale, it produces a grainy puree, but the grains are small, and the texture is good overall. Still, to achieve this outcome, you will have to blend for a very long time.
Why Should You Buy This?
This one will be a great choice if you are looking for a powerful professional blender at an affordable price. Besides, it has quite a large pitcher, enough to serve a whole family.
The Total Crushing Technology offers unbeatable power with blades that rapidly pulverize and crush through ice, whole fruits and vegetables.
Moreover, the safety features and easy cleaning make this blender worth buying. So, if you want these benefits, you should definitely opt for this Ninja model.
In Which Case Should You Avoid This?
This blender isn't great at blending fibrous ingredients. Also, it's a bit loud, not ideal for blending hot soup and offers only one year of limited warranty. If any of these terms conflict with your requirements, don't buy this one.
Another fact is it doesn't include any personal jar. You may check Ninja Twisti High-Speed Blender Duo SS151 instead, which comes with two personal jars and to-go lids.
Is It Worth The Price?
The Ninja Professional Blender is totally worth the price. It is BPA-free, which is a great touch even if it is considered industry standard now. The accessories are dishwasher safe, and in case you do lose or break a part, like the locking lid, you can always purchase one of the many replacements offered. Considering all of its upsides, this Ninja BL610 blender is worth every penny.
Where to Buy
The Ninja BL610 Professional Blender is a popular model from the brand and has been a favorite among customers. That's why it's available in almost all online shops, such as Amazon, Target, and Walmart. You will find it in physical appliance shops too.
Comparing with Other Blenders
This comparison section will help you learn the characteristic difference between the Ninja Professional Blender 1000 with other similar blenders.
NutriBullet ZNBF30500Z Blender Combo Vs. Ninja BL610
Depending on what you are searching for, you can select either the Ninja BL610 or the NutriBullet Blender Combo because they both have different strengths. The NutriBullet makes better mixes with fiber ingredients and comes with a pair of personal jars with to-go lids for single-serve drinks. Its primary jar can also be used to blend hot ingredients for soup preparations.
On the other hand, the Ninja one doesn't have the above qualities. Instead, it is better suitable for difficult tasks like crushing ice and creating nut butter.
Oster Pro 1200 Vs. Ninja Professional Blender 1000
Compared to the Ninja Professional Blender 1000, the Oster Pro 1200 is more versatile. The Oster one comes with two glass containers: a 48-ounce one for smoothies and a smaller, single-serve container with a matching to-go lid. It also does a great job blending fibrous ingredients.
On the contrary, the Ninja blender is better for crushing ice, has much better build quality, and the main jar is much bigger than the Oster one.
Final Verdict
It's finally the end of my Ninja BL610 Professional 72 Oz Countertop Blender review. This one has benefits and drawbacks. However, considering the cost, I made a wise choice buying it. And I will recommend this to you if it suits your budget and requirement.
Surely, your preference may vary from mine as everyone has their own priorities. Now that you have learned everything about this model, I hope you can also make the right decision whether to buy or skip it.