Doing dirty dishes sometimes feels like a never-ending task! They keep piling up, right?
But when you have a dishwasher, it's a relief. Wait, wait, is it really?
No, not all dishes are meant to be cleaned in a dishwasher. That's how we always search whether this or that thing is dishwasher-safe. Among those, one of the most asked questions is whether a blender is dishwasher safe or not.
Generally, not all blenders are dishwasher-safe. And for those that are safe, some conditions still need to be followed.
So, go through the whole writing to learn the comprehensive answer to the questions, are blenders dishwasher safe, which popular brands can be put in the dishwasher, the easiest way to clean them, and some tips that will help you in many ways.
Can You Put Blender in the Dishwasher?
Usually, you can put some components of the blender in the dishwasher. In general, the container you use to blend the food is dishwasher safe. 
And depending on the brand, the blades might be possible to be washed in the dishwasher as well, but it isn't advised as there is a high possibility that the blades will become dull over time if washed in a dishwasher.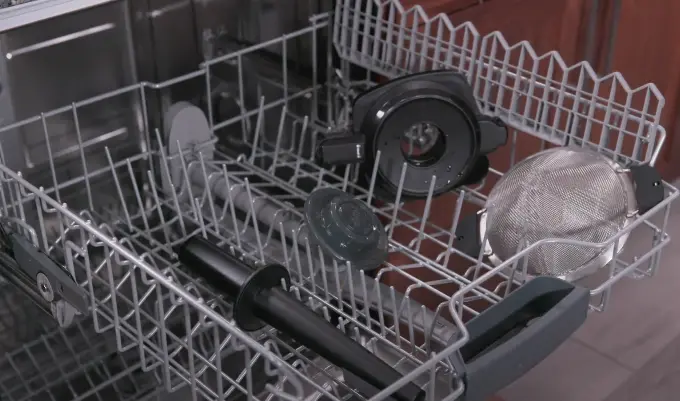 But, the entire blender is not dishwasher safe. And there are some other things that you should know too that I am gonna describe now.
Never Let The Electrical Components Get Wet
We are all being taught from the basic teachings of science that any components associated with electricity should never come into contact with water.
Hence, any part of the blender that is connected to electricity, particularly the base where the motor is situated, should never be put in the dishwasher.
This ensures that your blender continues to keep working and that you are protected from electrical accidents.
The Dishwasher May Affect The Quality of Some Parts of A Blender
A blender consists of several parts, such as a detachable metal blade, rubber caps, lids, etc. If you clean these parts in the dishwasher, the quality may degrade over time.
The metal blades get blunt if they are rinsed in a dishwasher repeatedly.
Even the blender container made of glass can break easily inside a dishwasher since it rattles against the other utensils.
Manufacturers Recommendation Regarding Cleaning
Manufacturers advise hand washing your blender rather than putting it in the dishwasher to ensure thorough cleaning. It's a safe way to keep your blender clean.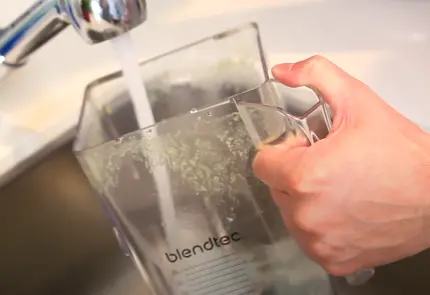 As we know, a good quality blender is quite expensive, so it's always better for you to follow the safest path when your money is at stake!
Now, there is a fact! Every blender brand is different, and each has different washing requirements. And if the manufacturer says that it's totally safe for your blender to be washed in the dishwasher, then why not, right?
That's why you should carefully read the user instructions.
Now, if you find it hard to understand whether your blender is dishwasher safe, here is a segment that will help you determine.
How to Know If Your Blender Is Dishwasher Safe?
You can easily find the answer to this query by going through the product guide provided with the blender. In the washing guideline, if it says that the blender is safe to wash in a dishwasher, you can do so without any concerns.
Besides you can also do the things below for added safety assurance.
First of all, check the label of the blender's container. If you see the word "Dishwasher Safe," then you are fully secure to do so. But, if you don't see this type of label, your container might not be designed for the dishwasher.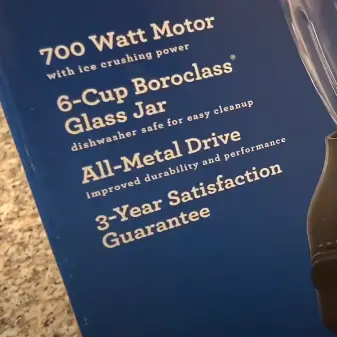 Except for the label, there are some things that indicate whether your blender is now safe to put or not. Here are those.
Check the bottom of your blender. Typically, there are two spots where food residue can be found: the base where the motor is placed and the blades. If any food residue is trapped between the parts, it may cause damage to the unit. Hence, look closely at these areas and ensure there is no residue before putting your blender in the dishwasher.
Lastly, look for any stickers or labels placed on the blender. If they are glued to the body of the blender, you should take them off before washing them.
After making sure your blender is safe to place in the dishwasher, there is another thing you must consider to avoid compromising the quality. To learn that, go through my next section.
Tips on Putting Blender in Dishwasher
Even if the manufacturer has labeled your blender dishwasher safe, there is one thing you have to ensure to protect the quality of your precious blender.
As you may already know, most dishwashers come with two racks, and the bottom rack is closer to the heating mechanism. So, this part gets the hottest water.
Because of that, you must be careful about putting items in there. And the heat could destroy the rubber gasket on the top or break the glass jug of the blender.
So, it is essential to place your blender on the top rack of the dishwasher in order to extend its life.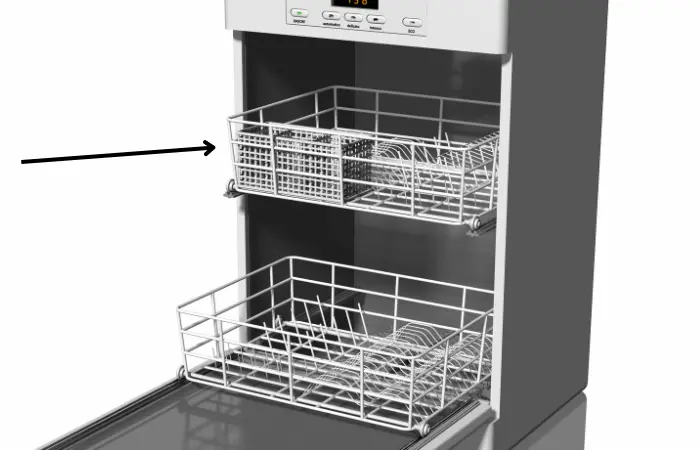 Anyway, till now, I talked about the topic in general. Now, it's time to know which brand's blender is dishwasher safe and which is not.
Are Blenders Dishwasher Safe? Depending on Different Brands
If I tell you specifically about different brands of the blender, it will be much easier for you to know whether yours is safe or not, right?
And when it comes to high-end brands, Vitamix, Ninja, and Nutribullet are indeed the most famous and beloved ones among users. That's why I am going to tell you whether these are safe to place in the dishwasher or not.
Are Vitamix Blenders Dishwasher Safe?
Vitamix is one of the best blenders on the market, and many people choose it over others because of its excellent quality.
But unfortunately, not all Vitamix blenders are dishwasher-safe!
Yes, only the S-series 20-ounce and 40-ounce containers are certified top rack dishwasher safe. Also, the new Ascent Series and Venturist Series blenders are safe to place in the dishwasher.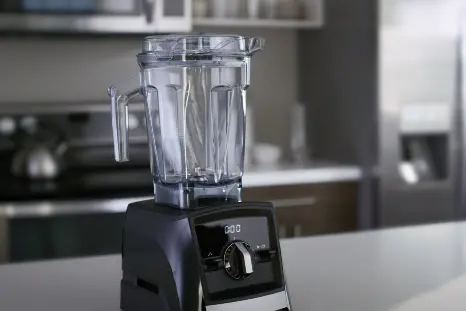 Vitamix said that all of their Legacy and Explorian series blenders should not be placed in the dishwasher. 
The Vitamix S30 containers, lids, seals, blade base, and tamper are all top-rack dishwasher safe.
So, if you don't have these specific models that I mentioned, you shouldn't put your Vitamix in the dishwasher.
Wait, wait, don't be disheartened! There is a good news for you!
Cleaning Vitamix blender blades, containers, and other parts are easier than you may have expected. Take a look!
The Easiest Way to Clean Vitamix Blenders
Many Vitamix blenders come with a pre-set cleaning setting which is not only the most efficient but also the quickest way to clean them.
To use this function, all you need to do is follow the below steps:
Step 1: Rinse the blender container with warm water right after use.
Step 2: Fill the container halfway with warm water and add a drop of dish soap.
Step 3: Attach the lid, select "Clean" mode, and then start the blender. Once the cycle is complete, the Vitamix will automatically turn itself off.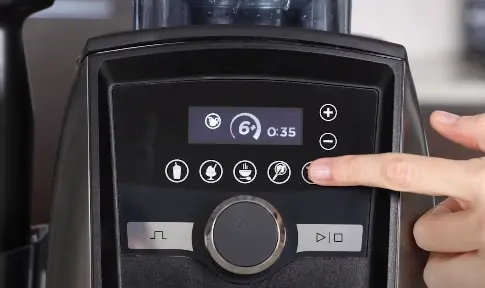 Step 4: Empty the container and rinse the container and lid thoroughly.
Step 5: Dry all of the parts with a towel, and you are done.
Isn't it easy and less time-consuming than putting in a dishwasher and waiting for hours? I bet you agree with me.
Now, even if your Vitamix model doesn't have this setting, you can just blend for 30 seconds instead, and the result will also be satisfying.
Anyway, let's move on to learn the answer to the question, are Ninja blender parts dishwasher safe or not?
Are Ninja Blenders Dishwasher Safe?
Because of the budget-friendly price, many people choose to have Ninja Professional blenders.
And if you own one, then you got lucky!
You can clean your Ninja blenders in the dishwasher. From containers to lids and blades are completely top-rack dishwasher safe.
Before cleaning, make sure your blender is unplugged. After that, you can dissemble all the parts and then put them in the dishwasher. 
After learning this fact, I think you can now freely blend your nut butter or make a tasty margarita without worrying about cleaning. Now, don't rush to your kitchen to make them because there are some safety tips you should learn.
Important Notes About Washing Ninja Blender's Blades & Base
First, you have to take off the lid. Then, make sure to remove the blades from the container before you place them in the dishwasher. Handle the blade carefully since they are extremely sharp and can easily cut you.
So, there are three components that can go in the dishwasher, which are the lid, container, and blades.
And as I said before, you should never immerse the blender's base in water. Instead, unplug it and wipe down all the dirt with a damp cloth.
Is It Safe to Put Nutribullet Blenders in the Dishwasher?
Nutribullet cups, blades, lids, and lip rings are all top-rack dishwasher safe. But make sure to rinse all the components before placing them inside the dishwasher. It will ensure that no food particles are left behind.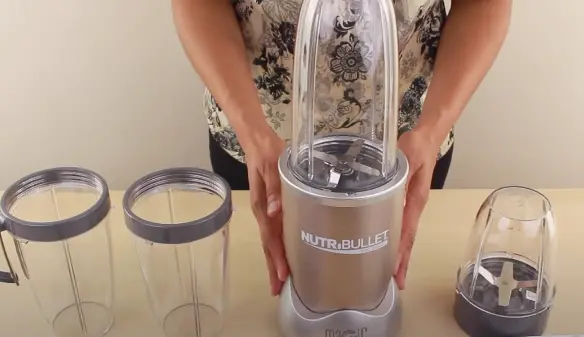 It's also important to remember that the sanitizing cycle should never be used to wash these components in the dishwasher because it could deform the plastic.
Check out more safety measures below.
Safety Precautions on Washing the Nutribullet Blenders
By any chance, if you experience a spill inside the power base, shut down and unplug the blender immediately to avoid any further damage. After you unplug the blender, remove the cup and blade, then clean up the spill with a damp towel or sponge.
Let the power base fully dry, and then you are allowed to use it again.
Alright, we are done talking about different brands. But what if you don't own any of these?
Well, in such a case, if you don't know whether your one is dishwasher safe or not, then there are alternative ways to clean them.
And that's what I will talk about now.
The Easiest Way to Clean A Blender
When you have a doubt about your blender being dishwasher safe, it's best to avoid that. Instead, you can follow these simple steps to wash them without taking any risks.
Step 1: Fill the blender's container halfway with lukewarm water.
Pouring steamed hot water into a blender container can lead to unwanted damage or mishap. So, it's suggested to use lukewarm or normal water.
Step 2: Add a small amount of dish soap to the water.
Step 3: Secure the lid and put the container back on the blender's base.
Step 4: Run the blender for about 10 to 30 seconds.
Step 5: Empty the container and rinse with fresh water.
Step 6: Leave the container upside down on your kitchen counter to air dry completely.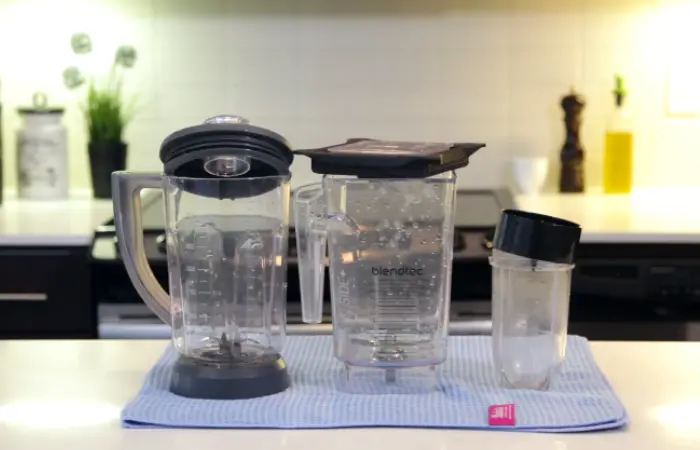 You can use this method to give a quick clean to your blender after making smoothies or soups. However, you still have to deep clean your blender from time to time, as sometimes food residues get stuck and don't go away with the quick cleaning process.
And my next section will help you in this regard.
Steps to Deep Clean A Blender
After using it for a long time, if you find your once crystal-clear blender pitcher cloudy or stained, then it's high time to clean it thoroughly.
Here I have prepared three simple procedures for you to follow. You aren't required to own any special cleaning supplies. All you need is a scrub brush, vinegar, and baking soda.
1. Give The Blender A Quick Clean First
There is no point in deep cleaning a blender with pureed foods all over inside the pitcher that is not even rinsed with water. Hence, you must clean your jar with fresh water first and remove the blade assembly (if your blender's blade is removable).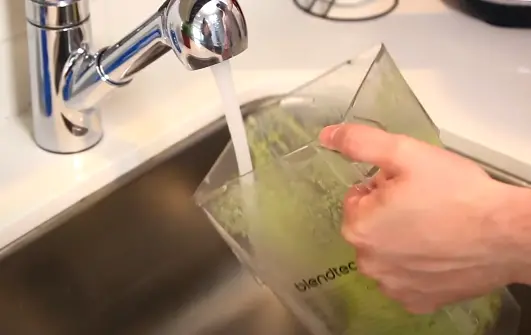 If you have a large blender, pour 4 cups of cool water and 4 cups of vinegar into the container.
On the other hand, if you have a small blender like the Nutribullet 24-ounce cup, you need to use 1.5 cups of water and 1.5 cups of vinegar instead.
2. Let It Soak for A While
Let this mixture soak in your pitcher for at least four hours. You may also soak the other components in vinegar and water, like the lids, seals, tamper, and blades. It will help disinfect them.
After doing so, you can run the blender for 30 seconds and rinse it out. If you have hard water, you can repeat this step every week; otherwise, it's okay to do it once a month.
3. Extra Deep Cleaning Process
After completing the first two steps, if you find your blender is not as clean as you wanted, you may follow this extra step.
Pour a little bit of baking soda into the container. Then, use a scrub brush to clean it properly. Be cautious while scrubbing the blades to avoid cutting yourself.
Finally, rinse your blender and allow it to air dry.
Note that you should not disassemble your blender's parts for deep cleaning if any of them are hard to remove. Not only might this permanently harm your blender, but it might also void your warranty. 
By the way, if you don't like the hazard of handwashing and are looking for some dishwasher-safe blenders to purchase, you may consider the ones I will mention in my next part.
Some of The Best Dishwasher Safe Blenders You May Checkout
Although many blenders in the market claim to be dishwasher safe, only a few truly are. Here are some examples that are labeled top-rack dishwasher safe by the manufacturer and proven by the users.
1. Hamilton Beach 58148A Blender to Puree
If you are looking for a budget-friendly dishwasher-safe blender, this is one that you may consider. Its jar, lids, and blades are safe to wash in a dishwasher, and even manufacturers have labeled it.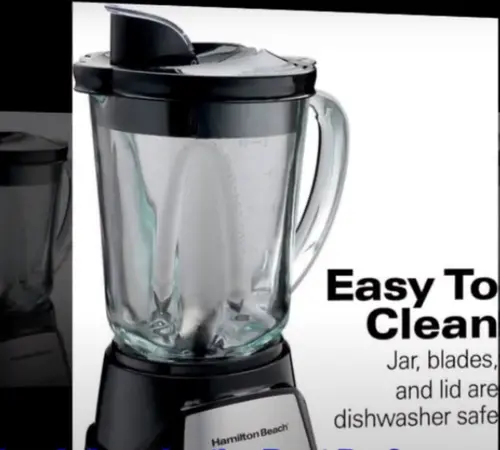 One of the significant advantages of this is that you can easily remove the blades for easy cleanup.
2. Ninja BL610 Professional 72 Oz Countertop Blender
You can put its pitcher and blade assembly in the dishwasher without any worry. Besides this, what I like about it the most is that its pitcher is BPA-free.
3. Ninja Fit Personal Blender
If you prefer to have a compact dishwasher-safe blender that can fit on any countertop and is travel friendly, this is it.
It's easy to clean, all parts are BPA-free, and it has a powerful motor base.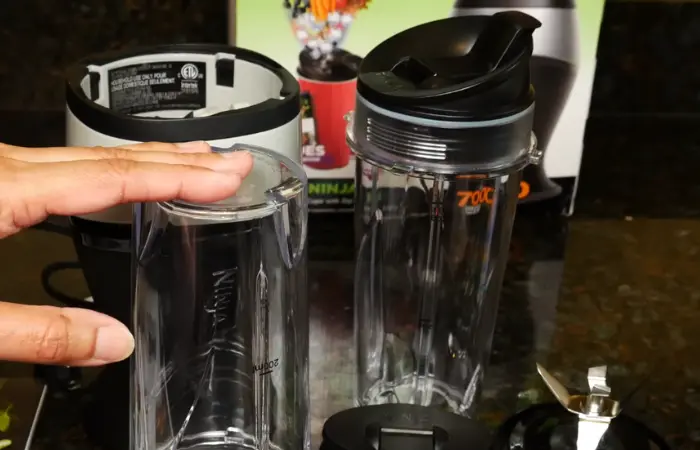 4. Nutribullet Personal Blender
You can remove its blade from the cup by simply twisting it. And then, use the dishwasher to clean all the non-electrical parts like lids, cups, blades, and gaskets.
Except for all the mentioned blenders, there are more available in the market. You may check those out too, but make sure they are genuinely dishwasher-safe.
I will suggest always going for renowned brands. In that way, you won't be scammed.
Few Maintenance Guides for Blenders
Whether cleaning in the dishwasher or another way, you need to follow some maintenance guidelines to protect the quality of your blender. So, here are a few.
1. Always check the manufacturer's manual for cleaning instructions. If it's not designed to fit in the dishwasher, then avoid doing so. Many users have damaged their non-dishwasher-safe blender by putting it in a dishwasher, which eventually broke over time.
So, it's better to be safe than sorry!
2. Don't load your blender in the dishwasher when hot water is running through the machine. You do not want the heat of the water to harm your blender, right?
Hence, only rinse the dishes with hot water once you have washed them in the machine.
3. Before putting different components of the blender, make sure you have detached all the removable parts like lids and blades. And if your blades are not removable, make sure they're not loose and attached firmly.
4. Try to wash your blender once a week at least. This will prevent clogs from forming inside the blender.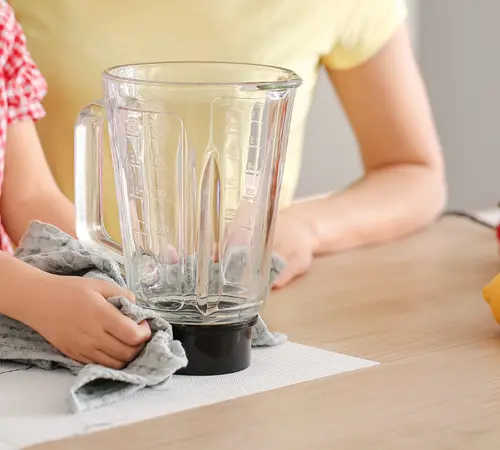 5. Never clean any appliance with soap, detergent, fabric softener, or bleach. These chemicals may damage the parts.
Well, I have nothing more to say regarding today's topic. So, here are my closing words.
Final Words
Hopefully my writing gave you a precise answer to your query: are blenders dishwasher safe?
You also learned that most of the top-brand blenders are dishwasher safe. And even if your blender is not dishwasher safe, you now know the tricks of how to clean them with minimal effort and time.
Lastly, I hope you will be benefited from all of our tips and tricks.
Frequently Asked Questions
Is Vitamix E310 dishwasher safe?
Unfortunately, the E310 cannot be washed in a dishwasher. If you chose to test it out, the dishwasher's heat would probably degrade its parts.
So, it's best to clean it by blending warm soapy water inside.
Are food processor parts dishwasher safe?
Usually, the bowl, lid, and blade are dishwasher-safe. But you need to check your machine's user manual to ensure if it's permissible to wash in the dishwasher.
If you don't find such instructions, you should avoid doing so. And if it's labeled dishwasher safe, make sure to put it in the top rack of the dishwasher.