A cup of bulletproof coffee is what makes you fully awake in the morning. It helps your brain to generate excellent ideas in the workplace and gives you the energy to spend the rest of the day.
In short, coffee is a great necessity to start your day. Now, if you want to try making it at home, the possible obstacle can be that you don't have a bulletproof coffee maker or a blender.
But does that mean you can't have it? Well, as long as we, the kitchenhappens family are here, you shouldn't worry at all.
Yes, there are many other options that you may try while having no blender at home. So, today's discussion will focus on how to make bulletproof coffee without blender.
First, it's essential to know about bulletproof coffee as it will help you understand the rest of the writing well.
What Is Bulletproof Coffee?
Butter coffee, commonly referred to as bulletproof coffee, is a caloric beverage with additional fats that are meant to energize your morning. It was developed by American businessman and author Dave Asprey, who also invented the Bulletproof Diet.
Low-carb dieters and those who follow ketogenic diets have both grown fond of the drink.
Generally, bulletproof coffee is made of high-quality coffee, unsalted butter, and a medium-chain triglyceride (MCT), like coconut oil. The ingredients are combined, served warm, and have the consistency of a creamy latte.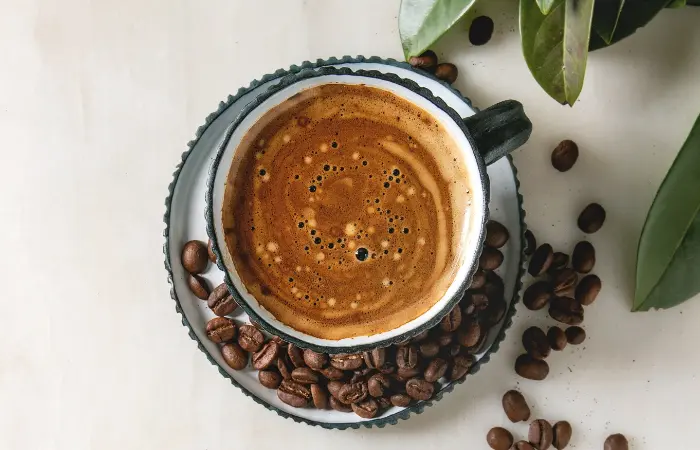 Besides being a great energizer, this coffee is also perfect for people who are weight conscious. Also, if you drink bulletproof coffee after workout, it will boost fat burning, help with muscle repair, and raise metabolic rate.
As this coffee contains MCT oil, it is said to control hunger, curb appetite, and provide the calories you need in the morning.
Alright, I think you now have enough idea about the basic things about bulletproof coffee. So, let's move on to the main topic.
Regarding today's discussion, you may have a question: Can I make bulletproof coffee without a blender? Therefore, I will answer this now.
Can You Make Bulletproof Coffee Without A Blender?
Yes, you can make bulletproof coffee without using a blender. There are many ways to blend without a blender. And in terms of making this coffee, you can use some tools that can be easily found in your kitchen.
Okay, let's proceed to learn bulletproof coffee recipes using other kitchen appliances instead of a blender.
How to Make Bulletproof Coffee Without Blender? Easy Solutions!
No blender, no problem! Here are some foolproof solutions and recipes you can try.
Now, get ready to make bulletproof coffee using the appliances below.
Using a Milk Frother
Milk frothers are little, incredibly portable kitchen gadgets. When you want to get almost the same consistency as a blender, a milk frother is one of the great choices. You can easily get a frothy top for your coffee with this appliance.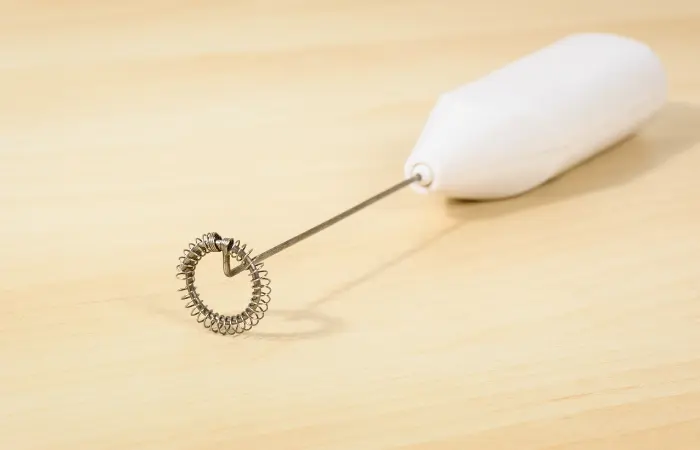 Required Ingredients
8 ounces of freshly brewed coffee
1 tablespoon of unsalted butter or ghee
1 Teaspoon of MCT oil
Syrup flavoring that you prefer (like cinnamon, vanilla, etc.)
Sweetener
Equipment Needed
Milk Frother/ Immersion Blender
14-ounce large cup
I recommend using premium ground coffee while making bulletproof coffee. It's also best to use medium roast coffee to prevent it from overpowering the flavors of your other ingredients.
Process
1. Combine freshly brewed coffee, butter/ ghee, MCT oil, your preferred flavoring combination, and sweetener in the large cup. Make sure to leave at least 2 inches of empty space in your cup to combine your ingredients.
2. Now, immerse the milk frother inside the cup at an angle with an upward-facing tilt. By doing so, the frother will be able to draw air in to make the ingredients whip.
3. Switch on the frother and move it up and down or in a circle. This will help in periodically breaking the coffee's surface to whip air into the mixture.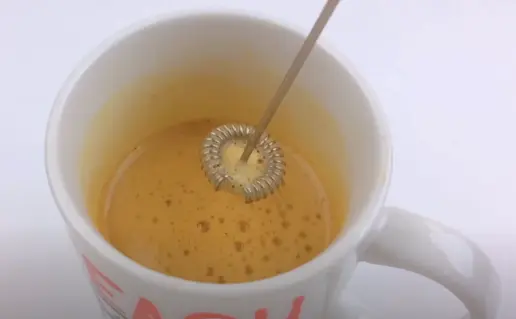 4. Keep whipping in this motion for at least 30-40 seconds. Continue mixing the ingredients in the cup until everything is thoroughly combined. When you see creamy foam on the top, that's when you should stop. And in any case, if the color is not uniform, then continue whipping until it is.
Using A Food Processor
A food processor is a wonderful alternative to a blender. Their blades can easily blend bulletproof coffee. Also, food processors can handle hot liquids pretty well.
While using a food processor, you won't get as much foam as you will get with a milk frother or immersion blender.
Also, a food processor is one of the common kitchen gadgets that everyone has, and if you own one, then it's time to use it to make your bulletproof coffee.
Required Ingredients
8 ounces of freshly brewed coffee
1 tablespoon of unsalted butter/ ghee
1 teaspoon of MCT oil
Your preferred sweetener
Equipment Needed
Food processor
Coffee mug/ jar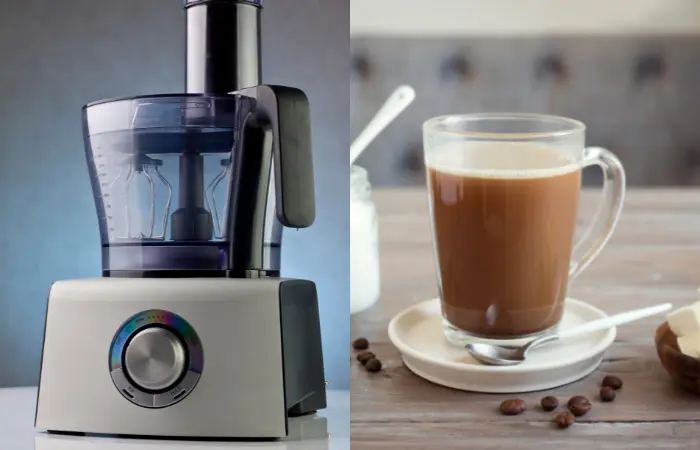 Process
1. Add brewed coffee, MCT oil, sweetener, and butter/ghee to the bowl of the food processor.
2. Then blend all the ingredients at a low-medium speed until you have a creamy and frothy café latte. You can add flavoring syrup of your preference and taste if you like.
3. After you get the desired consistency, take the food processor bowl out of the machine. Pour the coffee into a coffee mug and enjoy.
Using A French Press
The french press is considered by many people as one of the best tools for making coffee. Although it takes more effort than other methods to make bulletproof coffee, you will have your ideal cup.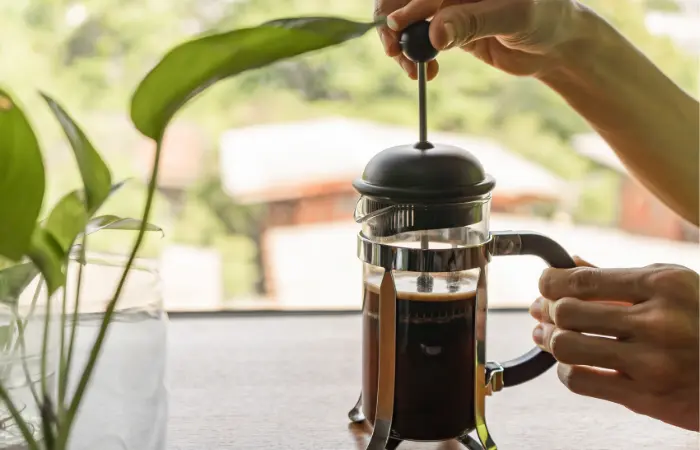 Required Ingredients
Bulletproof coffee from a good brand
Coconut oil
Low-fat unsalted butter
Sweetener
Equipment Needed
French press
Kettle
Milk frother
Coffee mug/ large cup
Process
1. For this method, you may either grind the coffee beans in a grinder or use ground bulletproof coffee beans of a good brand. After the coffee beans have been crushed, fill a kettle with water.
2. Now, take your french press and add a tablespoon of coconut oil and grounded bulletproof coffee into it. Once you see the water in the kettle reach its boiling point, pour the hot water into it and press to get a coffee decoction.
3. Add 1 tablespoon of low-fat unsalted butter to the large cup. Then fill the cup with the freshly brewed coffee.
4. Place a milk frother into the cup, then whisk it around for 40 to 60 seconds. Pour the cafe latte into a cup once you are happy with the color and consistency, then sip it and enjoy!
By the way, the whole process can be done without using the milk frother too. Here is a video that you may see to learn about that process.
Alright, here comes our last method.
Using A Mason Jar
If you need bulletproof coffee badly but don't have any of the other kitchen tools on this list, use this method. Note that the coffee made with this method won't be that creamy and frothy. But, at least, it will get the job done.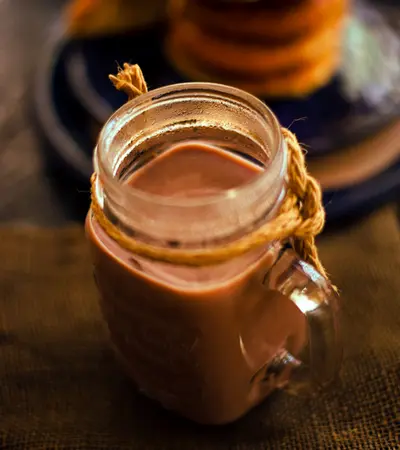 Required Ingredients
Freshly brewed coffee
1 tablespoon of coconut oil
1 tablespoon of low-fat unsalted butter
Equipment Needed
Process
1. In the mason jar, add the unsalted butter and coconut oil. Then, put the jar inside a microwave for a few seconds to melt the oil and butter.
2. Add freshly brewed coffee into the mason jar and attach the lid firmly.
3. Now shake the jar to mix the contents inside.
4. Keep shaking until they are mixed well.
You may drink the coffee straight out of the mason jar or pour it into a mug and drink.
Anyway, till now, you learned how to make bulletproof coffee without a blender. All of the recipes above were what we usually follow. But, if you want to do an experiment and try something new, here are some special recipe ideas. Take a look.
Some Special Recipe Ideas for Bulletproof Coffee
Just like different dishes' recipes keep e_volving and continuously give people a new taste, bulletproof coffee isn't an exception. When many people enjoy the ideal bulletproof coffee recipe, some want something out of the box.
So, if you are one of those who constantly look for a reinvented way to enjoy a cup of coffee, consider the below innovations.
1. Bulletproof Peppermint Mocha
This peppermint coffee is not only delicious but also has great nutritional value.
Ingredients
A cup of strongly brewed coffee
½ cup of milk (I use light coconut milk)
24 gm protein powder of your choice (I use bulletproof coffee collagen protein)
2 tablespoons of cocoa powder
1 tablespoon of agave
¼ teaspoon of peppermint extract
Pinch of salt
Instructions
Step 1: Mix all of the mentioned ingredients until smooth and creamy.
Step 2: Pour in a mug, and serve.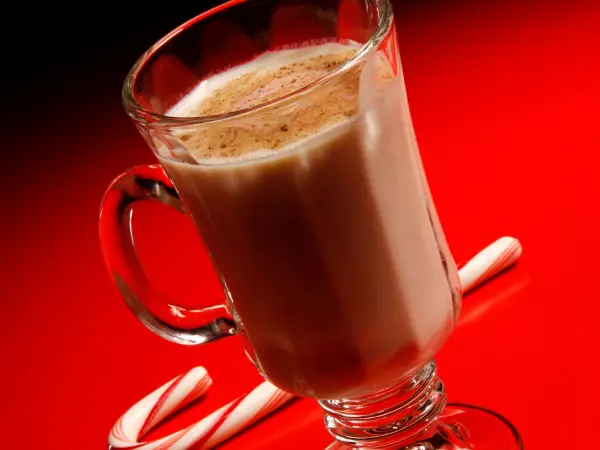 After drinking it, your first expression will be, "Wow, how is it so yummy!"
2. The Keto Friendly Bulletproof Coffee with Heavy Cream
The high-fat content of this Keto bulletproof butter coffee will help you feel full between meals. This delicious treat also goes well with a piece of low-carb cake.
Ingredients
1 ½ cup of brewed coffee
1 ½ tablespoon of unsalted butter
1 teaspoon of 100% pure erythritol by Now
¼ cup of heavy cream
¼ teaspoon of ground cinnamon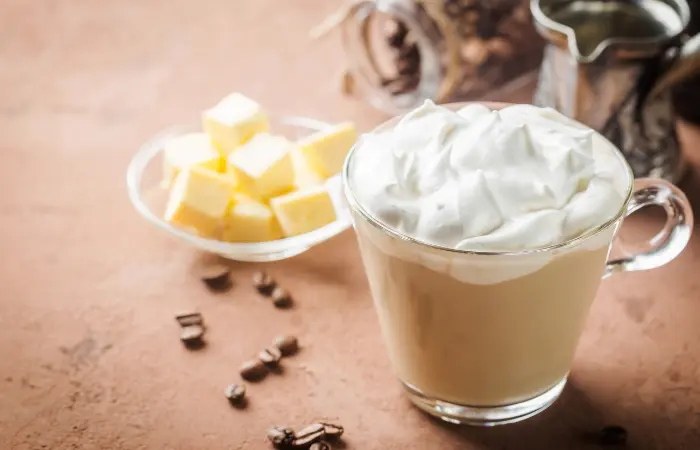 Instructions
Step 1: Prepare the cream first. In a bowl, add the cream and whisk well until it is thick and fluffy.
Step 2: To make your Keto beverage, fill a big mug with 1.5 cups of hot coffee. Then add butter and erythritol or another sweetener of your choice. Stir the coffee thoroughly to let the butter melt. Then use a frother to whirl the fats into the coffee until it is thoroughly mixed and foamy.
If you are sensitive to caffeine, you can use bulletproof decaf coffee for every recipe here. Decaf coffee can still be used to make bulletproof coffee, even when the caffeine has been removed.
Step 3: Add the whipped cream on top of the hot coffee. And sprinkle the ground cinnamon over and serve immediately.
3. Iced Bulletproof Coffee
If you want to keep yourself cool on a typical hot afternoon, then this iced bulletproof coffee can be your savior.
Ingredients
2 to 3 cups of extra-strong brewed coffee
2 to 3 tablespoons of grass-fed unsalted butter
1 to 2 tablespoons of MCT/ coconut oil
Instructions
Step 1: Make the regular bulletproof coffee with all the mentioned ingredients and refrigerate it immediately.
Step 2: After it cools, serve with ice.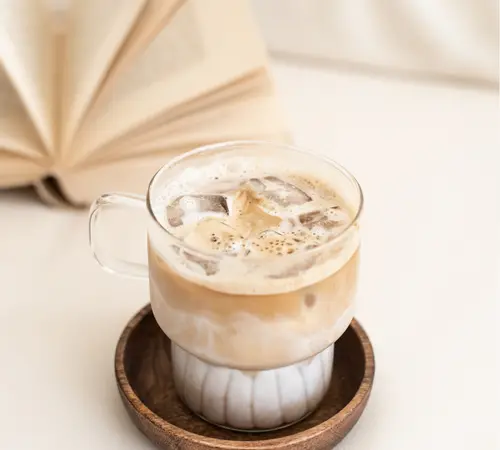 This coffee keeps me awake and productive during the afternoon in my office. As it's hard to make fresh bulletproof coffee in the office, I often make an extra cup of coffee in the morning, carry it with me, and place it inside the refrigerator.
And when I need a mental refreshment, I grab some ice and pour the coffee over it.
By the way, don't worry about the flavor because it remains great, especially if you brew the coffee a little stronger than usual.
4. Bulletproof Green Tea
If you are a tea drinker, you can still enjoy a bulletproof diet with green tea. And even coffee lovers can try it to get a refreshing cold tea brew.
Ingredients
2 to 3 tea bags of organic green tea
2 tablespoons of grass-fed unsalted butter
2 tablespoons of MCT oil or coconut oil
1 tablespoon of heavy cream
3 cups of ice
Instructions
Step 1: First, brew the tea. You have to brew the tea a bit stronger than usual.
Step 2: Add butter and oil to the tea and mix them thoroughly with the help of a frother or immersion blender. Let it cool for a few hours.
Step 3: Add ice cubes to the tea and top with cream. You can mix them if you want.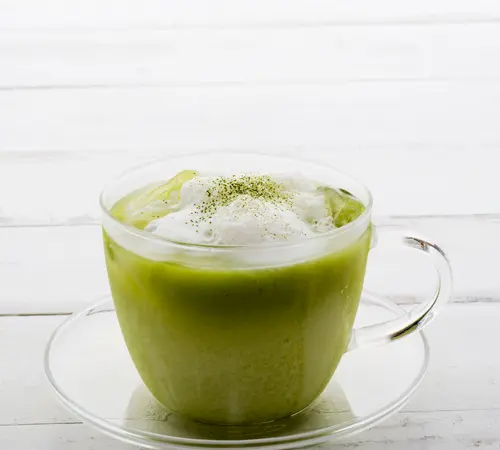 Alright, we are finally done with all the special recipes. Now, often during busy times, we don't have much time to gather all the ingredients for making coffee. In those times, the instant bulletproof coffee mix can help you.
Those are convenient, pre-portioned, and above all, you don't need a blender to make them. You will easily find those in the market.
And the process of making instant bulletproof coffee is so easy. Just add the instant mix to freshly brewed coffee and stir. For the best result, shake this mixture in a sealed bulletproof travel mug, and you are good to go.
Okay, it's time to learn some other important things related to bulletproof coffee. So, let's move on.
Benefits of Making Bulletproof Coffee Without a Blender
You know that blenders are a somewhat pricey kitchen tool. It consumes a lot of energy and takes up space.
Some of the techniques that I described in this article make use of standard kitchen tools. They are quite inexpensive and widely accessible. You can use a speedier method if you don't want to wait around for minutes to receive the bulletproof coffee.
For example, using a milk frother or a mason jar will take less than five minutes to prepare butter coffee.
Most importantly, there is no need for electricity. Also, you won't be left with a pile of washing to do, unlike when you use a blender. You only need to handle two or three pieces of simple equipment, and that's it!
Advantages And Disadvantages of Bulletproof Coffee
Just like other caffeine drinks, butter coffee has both benefits and downsides. First, I will tell you about bulletproof coffee benefits.
Why Is Bulletproof Coffee Good for You?
Without any doubt, bulletproof coffee is good for health in many cases. But, many butter coffee lovers don't know those facts.
So, if you do not know, take notes of what I describe below.
High levels of saturated fat are present in bulletproof coffee. This fat helps our body and brain to work efficiently.
Fat is very important for the health of every organ in our body, notably the brain. And bulletproof coffee can full fill the demand for fat.
The consumption of bulletproof coffee boosts stamina, mental acuity, mood, and strength.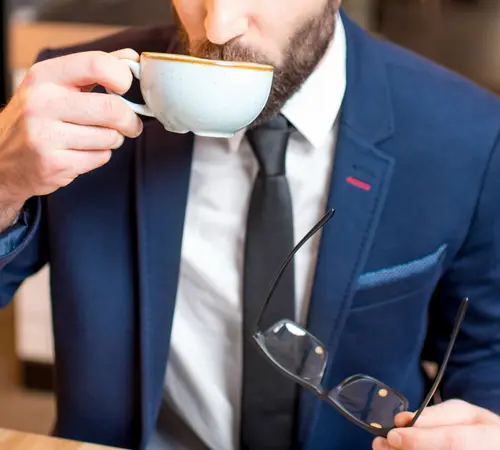 Bulletproof coffee helps you to lose weight if you consume it alongside a healthy diet.
It is especially beneficial for those who are on a keto diet.
It can increase HDL cholesterol levels and is an excellent source of calories and energy.
It helps to improve gut health and gives our mind freshness.
It significantly raises blood sugar levels.
Okay, it's time to learn why bulletproof coffee is bad for you.
In Which Case is Bulletproof Coffee Bad for You?
Each food has some negative effects. So, there are some negative impacts of bulletproof coffee as well. Here, I have listed some reasons.
Saturated fat is present in high quantities in bulletproof coffee. This fat raises LDL cholesterol, which is unhealthy and raises the risk of heart problems.
If you are dealing with high cholesterol, you should avoid drinking bulletproof coffee.
The fat in butter is much more harmful than the fat in other foods.
Some research indicates that drinking bulletproof coffee lowers nutritional intake overall.
According to several sources, oil is not good for health. Therefore, consuming MCT oil along with bulletproof coffee may give you a stomachache.
Our bodies require vitamins, minerals, carbs, fiber, and protein for proper nutrition. However, bulletproof coffee lacks these elements.
Drinking bulletproof coffee instead of having a healthy breakfast isn't good at all.
In short, drinking this particular coffee has both advantages and disadvantages depending on your lifestyle. It might be a good option if you're already following the Keto diet, but try to avoid it if you have health issues like high cholesterol.
Here we are at the edge of our writing. So, it's time to wrap it up.
Final Words
Hopefully, my writing on how to make bulletproof coffee without blender helped you in many ways.
Most likely, your kitchen already contains one of the alternative items that I mentioned. If not, each of these appliances is reasonably priced and accessible. So, grab what you have and make yourself a cup of bulletproof coffee now.
Frequently Asked Questions
Is bulletproof coffee organic?
The Bulletproof coffee isn't organic. Although the company refers to its coffee as "Passively Organic," the origin of the coffee beans is unknown.
Even though they buy the coffee beans from farmers who have earned Rainforest Alliance certification, there is no guarantee that pesticides and fertilizers were not utilized throughout the plant's growth and harvest.
Can you make bulletproof coffee with regular coffee?
Yes, any coffee can be used to make bulletproof coffee. However, to preserve the nutritional benefits, it is recommended to use premium coffee beans to make bulletproof coffee.
Can I drink bulletproof coffee twice a day?
Yes, you can drink bulletproof coffee more than once daily (up to 2 to 3 times). But, in that case, ketogenic bulletproof coffee will be the best option for you.
Can you reheat bulletproof coffee?
You can reheat your bulletproof coffee. Since it contains oil and butter, bulletproof coffee thickens when it cools down. It will obviously be unpleasant to try to drink or eat this. Thus, it is much preferable when it is served warm.
What does bulletproof coffee taste like?
When properly blended, bulletproof coffee has a flavor similar to a thick, creamy latte. Although you can always add more tastes to make it more unique, the drink is also delicious in its most basic version.
But, if you don't blend it for sufficient time, it can be a mess! You will end up with a cup of coffee that has a layer of fat on top of it.