Whether mixing up a protein shake or a smoothie, a blender bottle is a crucial piece of equipment.
It is inevitable that your blender bottle will be dirty when you use it for making your regular smoothies, shakes, and other drinks. You should clean your blender bottle frequently in order to keep it clean and keep it from getting contaminated by bacteria and food particles.
If you make your drinks with a dirty bottle, not only does it become a health hazard, but it also compromises your taste buds.
Therefore, you need to clean your blender's bottle immediately after you have used it. But how? Have you any idea how to clean blender bottle? In case you are not or want to know some super easy ideas, you are at the right place. Today I'm going to share the best way to clean blender bottle.
At the very beginning let's know something about what blender bottle is.
What Is A Blender Bottle?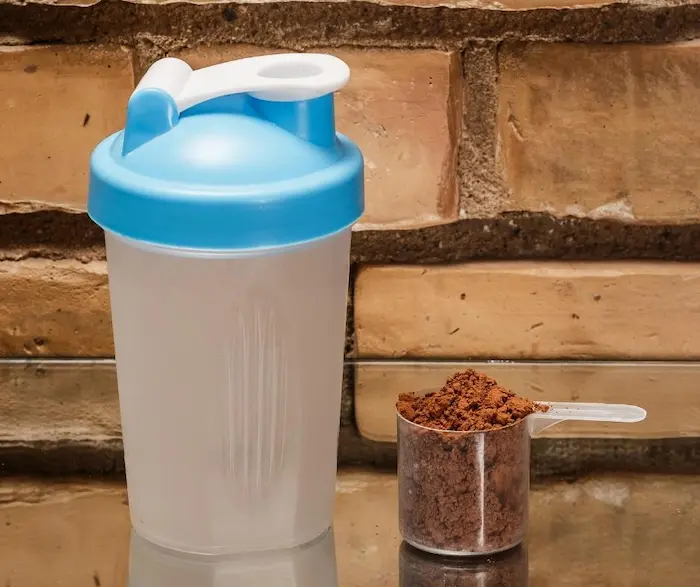 Typically, a blender bottle is a handheld device used to mix liquids such as drinks and smoothies together. Using a blender bottle to make smoothies or protein shakes is very easy.
The bottle is equipped with a BlenderBall wire whisk which allows you to mix ingredients quickly without the need for a blender and without diluting the ingredients too much.
When athletes need to mix protein shakes or supplements on the go, they often use blender bottles as portable.
Why Do Blender Bottles Get Dirty?
If you are like most people, you probably have at least one blender bottle or two in your kitchen drawer. But have you ever wondered why they get so dirty?
Protein shakes, and other supplements are often mixed in blender bottles, which can become coated with powder and other residues.
Fortunately, there are a few effective ways to clean them.
Why Do I Need To Clean My Blender Bottle?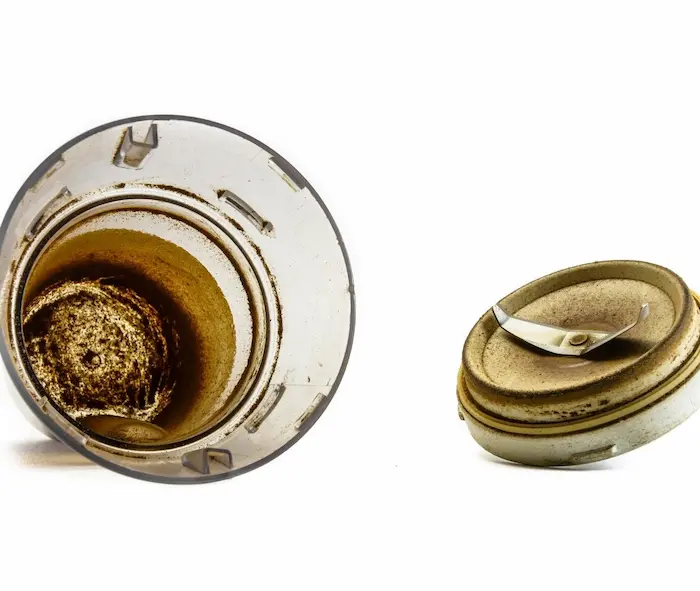 Dispose of Previous, Old Residues
This is the number one reason, and most people do not have any problem with it. However, it is recommended that you wash your blender regularly (after every use) to prevent residue from sticking to the walls or the bottom.
Remove Stubborn Odors
This happens to most people, especially if they use a blender with a plastic container. Usually, the smell can ruin new recipes as it can transfer from one to another.
Prevent Discoloration
In most cases, this results in a cloudy appearance, but if left undid, it could result in permanent discoloration of the bottle. Typically, it occurs when foods with dark colors (such as berries, spinach, and turmeric) are not thoroughly cleaned after consumption.
Maximize Performance
One reason your blender gets stuck is that the parts of the blade assembly are dirty. Especially if you make smoothies daily, the "sugars" in the ingredients can crystallize and form an extremely tight bond around the blades.
Ensure Long-term Durability
If your blender starts bogging down, the motor will likely burn out. Furthermore, discolored container walls can make blending more difficult and ruin the appearance of your blender. Therefore, you need to purchase another container.
Best Way To Clean Blender Bottle
The use of a blender is great for getting in your protein shake or morning smoothie, but what do you do when it's time to clean it?
When it comes to cleaning your blender bottle and don't know how to clean a blender bottle that smells, it can be hard to get all the gunk out, but with a little effort, you will have it looking and smelling great.
The following tips will help you clean your blender bottle:
Pour warm water into the bottle and add dish soap to it. Until all dirt and grime are gone, swish the soapy water around.
Fill the bottle with white vinegar after thoroughly rinsing it. Let the vinegar sit in the bottle for about 30 minutes before rinsing it off again.
Add baking soda and hot water to the bottle.
Besides these, there are 14 amazing tips that help for keeping blender bottle clean. Are you excited to know about these tips? Then, take a closer look at the below section to learn more about how to clean a moldy blender bottle.
14 Best Tips To Clean Blender Bottle
There are a number of reasons why it is important to clean your blender bottle. The bottle will remain in good condition and look nice as a result. This also prevents bacteria or other gross stuff from building up inside the bottle that could make you sick.
Furthermore, it makes the blender easier to use by removing any chunks or residue that may have been left behind. So learn some smart ways to clean blender bottle.
1. Using Baking Soda: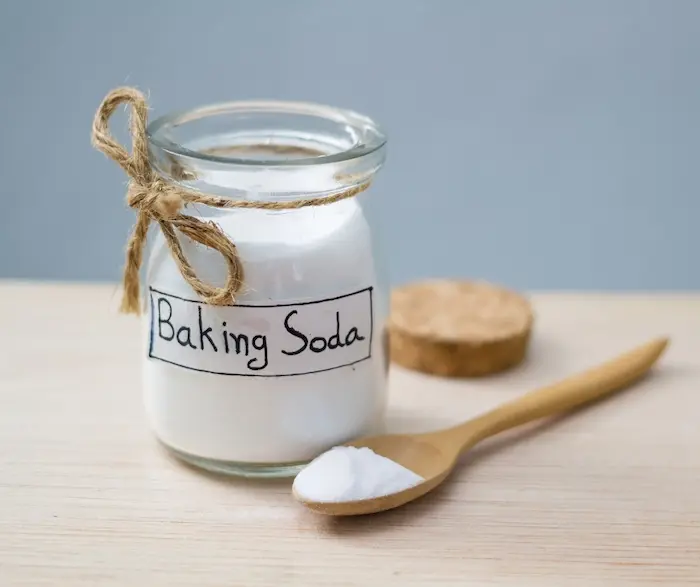 If you want to clean your blender bottle, you can use baking soda. Baking soda is a good natural cleaner for removing stuck-on food and residue from blender bottles. Baking soda can be used to clear blender bottle in the following ways:
Pour several tablespoons of baking soda into a cup of warm water.
Stir the mixture until the baking soda is dissolved, then pour it into the blender bottle.
Give the bottle a good shake and let it sit for a few minutes so that the baking soda can do its magic.
Then, rinse the bottle thoroughly with warm water and let it dry on its own.
2. Using Vinegar
As far as keeping your Blender Bottle clean is concerned, you do not need to use harsh chemicals or expensive cleaners to do it. Just a little bit of vinegar will be enough to get the job done instead.
Mix half vinegar and half water in the bottle and give it a good shake.
Next, you need to pour it out and give it a good rinse.
In the end, the vinegar will break down any residue and leave your bottle clean and smelling fresh.
3. Using Newspaper or Paper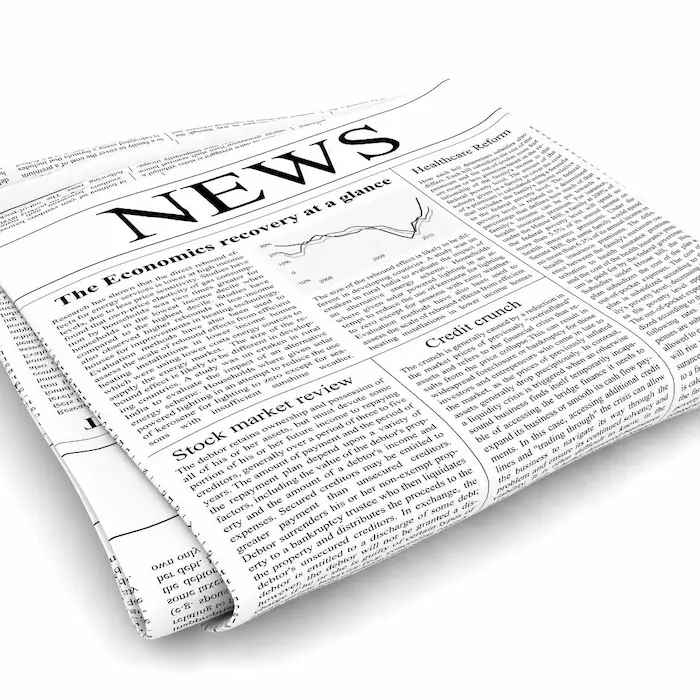 Do you know how to clean smelly blender bottle without using harsh chemicals? In that case, you're in the right place.
You can use some newspaper or paper for this purpose. It is simply a matter of crumpling up some newspaper or paper and placing it in the blender bottle.
Next, add some hot water and allow it to sit for a few minutes. You should then remove the newspaper or paper from the blender bottle and rinse it with warm water after removing it.
4. Using Soap And Water
Do you make protein shakes and other healthy concoctions with your blender bottle? If that is the case, you will need to clean it regularly to avoid bacteria from building up on it.
The best way to clean a blender bottle is to use soap and water – that's all it takes.
As a first step, you will need to remove the blade assembly from the bottle and wash it in hot, soapy water. After rinsing, allow the air to dry completely.
After that, wipe down the inside of the bottle with a damp cloth. Before using again, ensure that you rinse thoroughly.
5. Using Dishwasher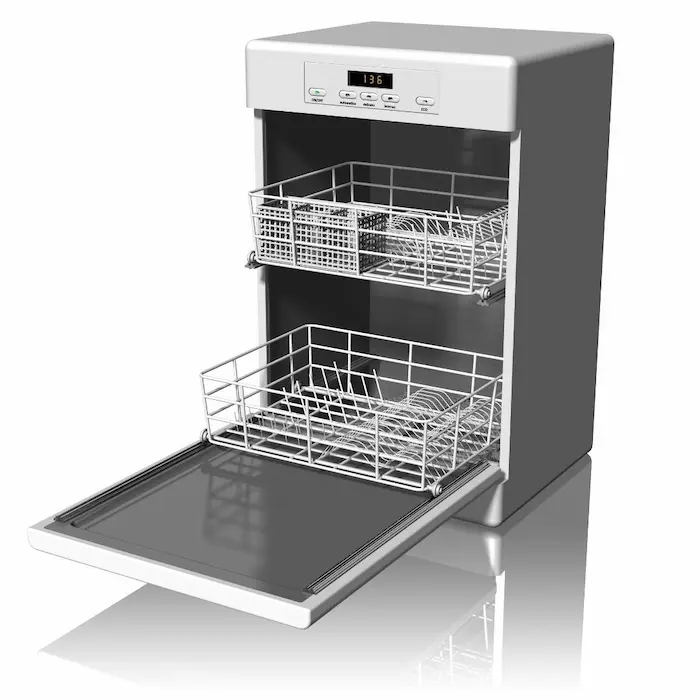 You can easily clean a blender bottle if you have a dishwasher. You simply need to place the blender bottle on the top rack of the dishwasher and let it run for a while.
The dishwasher will remove all of the gunk from the bottle.
When you don't have a dishwasher, you can clean the blender bottle by hand.
Put the blender bottle in a sink or bucket filled with soapy water. Scrub the bottle with your hands to remove any dirt or gunk. Dry the bottle with a towel after rinsing it with warm water.
6. Using Vanilla Extract
The truth is that there are a lot of household chores that can feel like a pain to clean. One of those items is the blender bottle.
The good news is that there is a quick and easy way to clean it without much fuss – you just need to use vanilla extract!
Add a little bit of the extract to the bottle and shake it up. Let it sit for a few minutes, and then you can wash it out with some warm water afterward.
There is no doubt that the vanilla will help break down any residue and make the process of cleaning a breeze.
7. Using Coffee Grounds
The easiest way to clean a blender bottle is to use some coffee grounds. Coffee grounds have a natural abrasiveness that can be used to scrub caked-on food or residue away.
You just need to add a tablespoon or two of coffee grounds to the blender bottle, fill it up with water, and shake it vigorously.
If there is any stubborn residue, the coffee grounds will help break it down, and the water will help wash it away.
8. Using Warm Water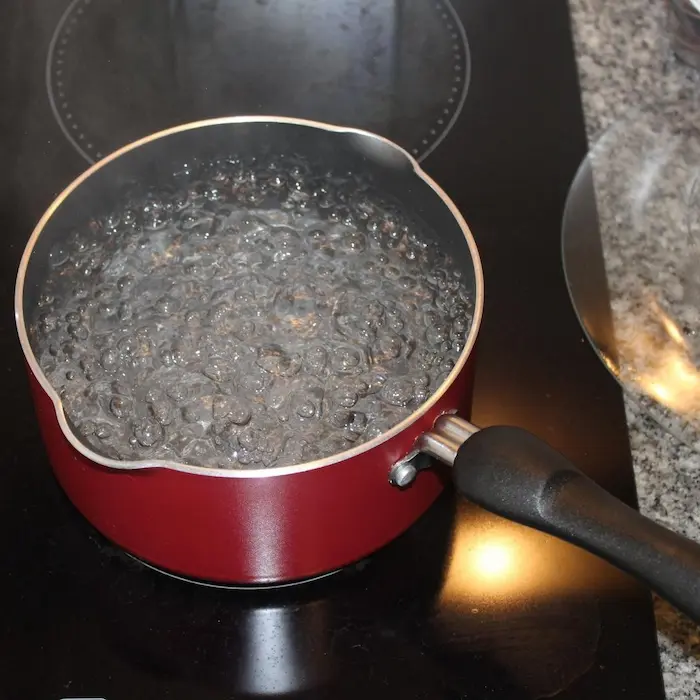 Can you clean blender bottles with hot water? This is a big question. But what is the answer? The blender bottle can become a breeding ground for bacteria if it isn't cleaned properly. The best way to clean a blender bottle is to use warm water and dish soap.
To remove any residue or bacteria, scrub every crevice and nook of the bottle. By rinsing with hot water, you ensure that all soap has been removed.
9. Using Tea Bags To Remove Odors
Do you know how to clean blender bottle so it doesn't smell? A simple solution to this problem is something you probably already have in your kitchen right now – tea bags.
Add warm water to the blender bottle and a few tea bags, then let it sit for a few minutes.
With the tea, you will be able to remove any unwanted odors or stains from your blender bottle, ensuring that it looks and smells as good as new.
10. Scrubbing The Lids
Are you looking for a way how to clean blender bottle cap? Cleaning up blender bottle caps is as easy as scrubbing them with a brush and some dish soap.
First, ensure that they are thoroughly rinsed and allowed to air dry. The blender bottle will be clean and ready to use in no time!
11. Rinse With Mouthwash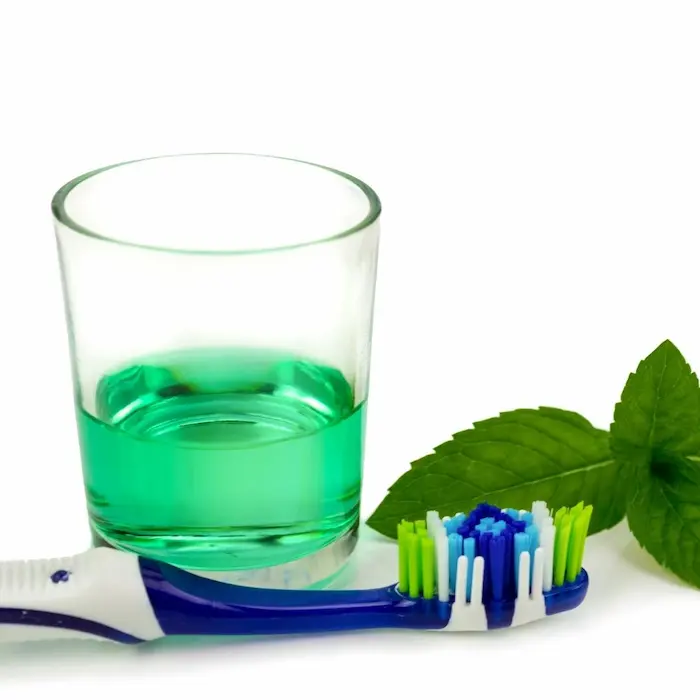 If your blender bottle has an odor, rinse it with mouthwash after each use to remove it.
It is important to know that mouthwash is a powerful antibacterial and antiseptic solution that will kill any bacteria or germs on the blender.
Moreover, it will remove any unpleasant smells from the bottle.
12. Using Rubbing Alcohol
Using rubbing alcohol to disinfect your blender bottle is an effective cleaning method.
Add a few tablespoons to the bottle, then add water and shake. Allow the mixture to sit for a few minutes, then shake it again and rinse it with clean water.
Using this method, you can also clean the straw and lid of your bottle. A few drops of rubbing alcohol will help clean your bottle's shaker ball. Shake the ball around in the bottle with a few drops of rubbing alcohol.
Before using again, rinse thoroughly with clean water and dry thoroughly.
13. Using Lemons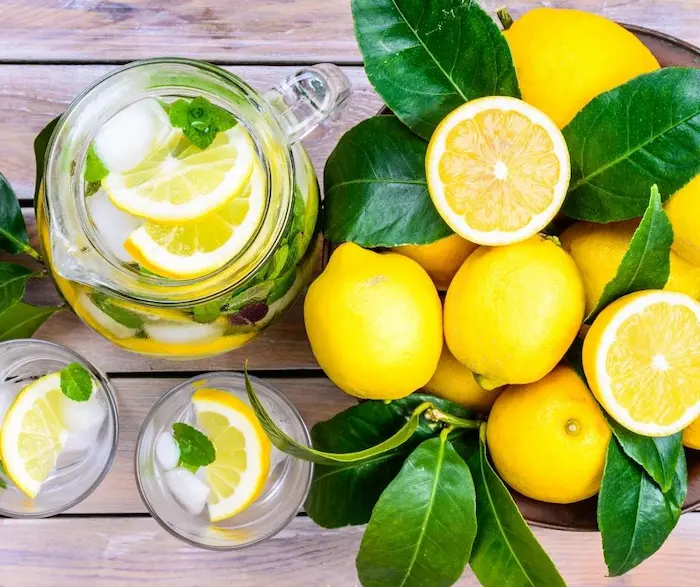 Lemons are a wonderful natural way to clean and deodorize blender bottles.
Slice a lemon in half, and put it in your blender bottle with water. Allow the mixture to sit for a few minutes, then rinse and repeat as needed.
If you want an extra boost of cleaning power, add a few drops of lemon essential oil to the mixture.
14. Using Hydrogen Peroxide
If you want to clean your blender bottle in a powerful way, try hydrogen peroxide.
Fill your blender bottle with equal parts water and hydrogen peroxide. Allow the mixture to sit for a few minutes, then shake it up and rinse it.
Your bottle will look much cleaner than you could have ever imagined.
Right now, you have got more exciting ways how to clean blender botle. However, I'm also sharing some tips and warnings that help to clean blender bottle without taking it apart. So, take a deeper look in the below section without any further ado.
Tips and Warnings on How to Clean a Blender Bottle:
It's imperative to plane clear bottle blender for many reasons. In the event that it is not cleaned regularly, it becomes a breeding ground for bacteria. For keeping your blender bottle clean all the time, here are a few tips that you can follow:
Tips:
It is important to clean your blender bottle after every use. It is the most efficient way to ensure better hygiene and prevent the build-up of odors in the blender bottle.
Always remember to wash the lids while you are washing the bottles. Shakes and smoothies will always be dried on the covers, so always clean them.
Keep the lid open after you have finished rinsing. Doing so will allow you to use the cup as soon as it is completely fried.
Whenever you clean your cup, you should use mild detergent. Ensure that every corner is covered with soapy liquid!
Warnings:
Be careful when you wash your blender bottle in the dishwasher. There is a risk of the bottle being damaged by high temperatures. Know the way how to use a dishwasher.
You should not use boiling water to clean your blender bottle, as this can also damage it.
When cleaning your bottle in a dishwasher, make sure you place it only on the top rack.
When cleaning a blender bottle, be careful not to use harsh chemicals or abrasive materials.
Final Words
By now, you should have an understanding of how to clean blender bottle, and you will find the process very straightforward. It may seem tricky initially, but you will soon realize it's something you can do in minutes!
However, it is always advisable to keep up with regular maintenance in order to prevent diseases. Therefore, if you wish to lead a healthy lifestyle, please remember to wash your bottle, as I suggested.
Frequently Asked Questions
How to Clean a Blender Bottle That Smells?
If you have ever had a blender bottle that smells bad, you know how unappetizing it is. The good news is you can get rid of that bad smell by cleaning it in a few easy ways.
With soapy water, scrub the inside of the bottle with a bottle brush.
Rinse the bottle thoroughly and then fill it with equal parts vinegar and water. Once it has sat for a few hours, rinse it thoroughly.
If the smell persists, soak the bottle overnight in a solution of baking soda and water. After that, rinse it well the next morning and allow it to air out.
Just a little effort can get rid of that bad odor and make your blender bottle smell fresh.
Can I Clean My Blenderbottle With Bleach?
It is safe to use bleach on your BlenderBottle. However, make sure you thoroughly rinse it afterward to get rid of any residue. You can clean your BlenderBottle with bleach by adding a teaspoon of bleach to a cup of water and swirling it around. Rinse it out thoroughly with water after it sits for a few minutes. Before rinsing out your BlenderBottle, you can add a few drops of essential oil to neutralize any lingering odors. It will help freshen up the bottle and remove any lingering odors.
Can Hot Liquids Be Kept In Blender Bottles?
Can you keep hot liquids in a blender bottle? Yes, you can. It is not recommended to keep liquids in the bottle that are hotter than 120 degrees Fahrenheit. As a result, the bottle may be damaged or burnt. Use a microwave-safe container if you need to heat up the liquid before putting it in the bottle.