A hot summer day and a glass of slushie are the perfect combination. But driving to a gas station or store just to get it is such a hazard. Isn't it?
Well, what if you could make it right now in your home? Yes, you can, and you only need some basic ingredients and a blender!
If you have ever tried to make homemade slushies in a blender but failed every time, then don't worry; I got you this time.
Today, I will share different easy recipes on how do you make slushies with a blender that are bound to work on the first attempt.
But, before, you need to gain some basic knowledge, such as what a slushie is and what it is made of. It will help you capture the later recipes and techniques instantly.
What Is A Slushie Made of?
A slushie (also spelled as slushy and slushee) is a popular beverage made of flavored ice and a drink, similar to granitas but with more liquid content. It is also commonly referred to as a slush, a slurpee, a frozen drink, or a frozen beverage.
The two types of slushies are carbonated and non-carbonated. It can also be found in a wide range of flavors, including iced coffee, caramel, chocolate, vanilla, and even fruit flavors like strawberry, watermelon, and pineapple. They can also be found in soda flavors like Coca-Cola, Sprite, and Fanta.
Omar Knedlik invented this drink in the late 1950s when one day, he stored his soda in the freezer since his machine stopped working. And when he took out the soda the next day, it became slushie. Then, he decided to sell the slush to the customer, and it quickly grew in popularity.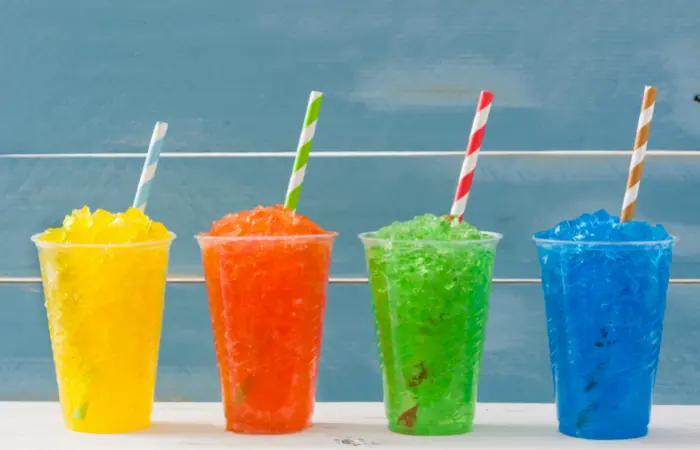 Knedlik later collaborated with John Mitchell to mass-produce the slushies in 1960. Now, it has become one of the famous cold beverages found in some supermarkets but mostly at fairs.
Types of Blenders Best for Making Slushies
There are distinct types of blenders out there, such as high-end blenders, immersion blenders, personal blenders, and inexpensive ones. In short, there is a blender for every type of need. But, for making slushies with a blender, is a specific type needed?
Well, any type of blender will do the job unless you are planning to run a business selling slushies out of your kitchen. You can use whatever you already have.
But, if possible, try to use a high-powered countertop blender that can crush ice smoothly. It will help your slushie to be extra smooth.
Personally, I suggest high-performing blenders like Vitamix or Ninja to gain the smoothest texture. Although any countertop blender will work, a weaker version might leave a few ice chunks behind.
Another excellent option is the Magic Bullet Blender, especially if you are preparing single servings or multiple flavors for a large group. A countertop ice maker can be something you want to take into account if you frequently create slushies because they require a lot of ice.
How Do You Make Slushies With A Blender? Explore Different Recipe
Making slushies with a blender is really easy. The entire process will take, at most, 5 to 10 minutes. There are different recipes, and each recipe has its own specialties and techniques of preparation.
Here, I will share the most popular recipes, which are also pretty easy to make. And my first one explains how to make slushies with soda using a blender.
1. Slushy With Soda
Slushies made with soda are the perfect way to beat the heat on a summer day. Now, quickly go through the ingredients you need and follow the instructions.
Ingredients
3 cups of soda (cola or any other soda that you like)
1 cup of ice cubes
Sugar (optional)
Cherry for decoration (optional)
Instructions
Step 1: Freeze the soda beforehand
Pour the 3 cups of soda into an ice cube tray or dish that's not too deep. After that, put the tray or dish in the freezer for about 4 to 5 hours. The soda should freeze after this amount of time. If this is not the case, freeze the soda for an extended time until it's completely frozen.
Step 2: Add all the ingredients to the blender
Pour the frozen coke or soda into your blender. After that, add all of the ice cubes. If you want it to be sweeter, you may add a little bit of sugar to it.
Step 3: Blend everything
Turn your blender to its highest setting and blend all the ingredients. Continue blending until you are satisfied with the texture. Remember that the best slushies have a super smooth frozen texture.
Step 4: Decorate it if you want
To give your slushy a little extra taste, pour it into a glass and top it with cherries. Additionally, add extra ice cubes to the mixture if you prefer a thicker texture.
Step 5: Drink it up immediately
It's time to drink your slushy! It is advised to drink it as soon as you are finished with the steps to get the maximum taste out of your drink.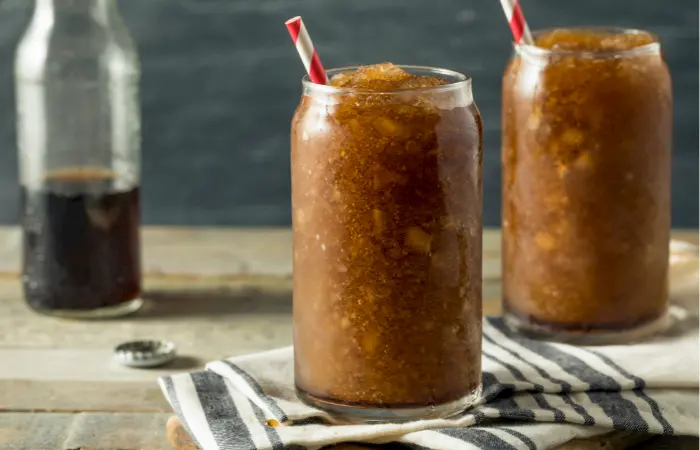 2. Juice Slushie
If you are not a fan of soda, then you can use juice instead. So, let's learn how to make a slushie with juice using a blender.
Ingredients
1 1/2 cups of juice
4 cups of ice
1/2 cup sugar (optional)
You can use any type of fresh juice for this recipe and make a healthier version without adding sugar. But, if you do love sweeter juice slushies, you can add some sugar to the juice before blending.
Instructions
Step 1
For this recipe, it will be best if you use refrigerated juice. Also, you may freeze the juice in an ice cube tray and later use it. By the way, how long the juice will take to freeze depends on the freezer. Typically, it will take two to four hours. 
However, if your juice is not refrigerated beforehand and you need to make the slushie immediately, note that normal-temperature juice is still okay. No big deal!
Step 2
Pour all the ingredients into your blender and blend them at low for 30 seconds and then at high speed until completely smooth. Pour in a glass and enjoy!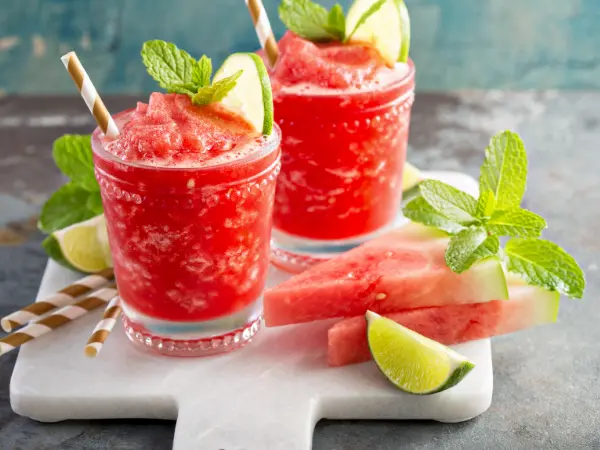 I love using lemonade, cranberry juice, or watermelon juice. You may use whatever juice you like.
By the way, this recipe makes around 4 cups of servings. So, feel free to adjust the ingredients according to your servings requirement.
3. Slushie with Kool-Aid (Or Your Favorite Powdered Drink Mix)
For this recipe, I used kool-aid powder. You can use other drink powders too. Starburst flavors, cotton candy flavors, and bubblegum are excellent choices of flavors to make kids happy.
Alright, let's get into the recipe now.
Ingredients
1 Kool-Aid packet
2 cups of cold water
1/2 cup of sugar (use more if needed)
4 cups of ice cubes (one full tray of ice cubes)
Instructions
Step 1
Add all the ingredients to your blender, secure the lid, and process the mixture at high speed for 1 minute.
Step 2
Stop the blender, stir with a large wooden spoon, and check for any lumps of ice that haven't been finely grated. If there are no chunks and the mixture is finely blended, then proceed to serve in a glass.
Step 3
If there are any ice cubes that are not diced, you might need to process the mixture for another full minute. The mixture will be thick, so serve it right away with a straw.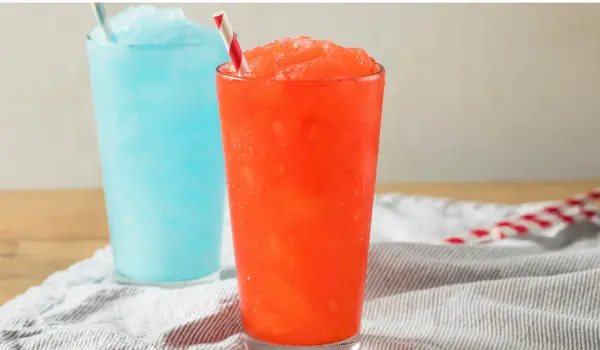 4. Fresh Fruit Slushie
Slushie made with fruits is another way to make this delicious drink a healthier as well as more enjoyable version of a traditional slushy. Fresh fruit provides nutritious fiber and gives the beverage a little healthier.
Any kind of fresh chopped fruit, including strawberries, pineapple, watermelon, mango, or a delicious combination of ice and sparkling water, is required for this recipe. It becomes much more delicious when sparkling water is added since it adds a slight effervescence.
Ingredients
4 cups of fresh fruit
4 cups of ice
1 cup of sparkling water
1/2 cup of sugar for added sweetness or fresh mint for added flavor (optional)
Instructions
Step 1
First of all, wash and peel the fruits you are going to use in the slushy. After that, chop them into small pieces to make the blending easier. You can add any fruit you like based on your preferences. You may also mix different fruits to have an enhanced flavor.
Step 2
Add the cup of ice and chopped fruits to the blender and mix them up. After mixing, add the sparkling water. You may use still water instead if you don't prefer sparkling water. It will be better if you use cold water as it ensures maximum freshness.
Moreover, sprinkle some mint leaves on top if you'd like to give it a special touch!
Step 3
Now, blend everything at low first and then switch to high speed and blend until the ice is completely crushed and each piece of fruit is blended. After that, you can add more water or ice cubes, depending on your desired texture.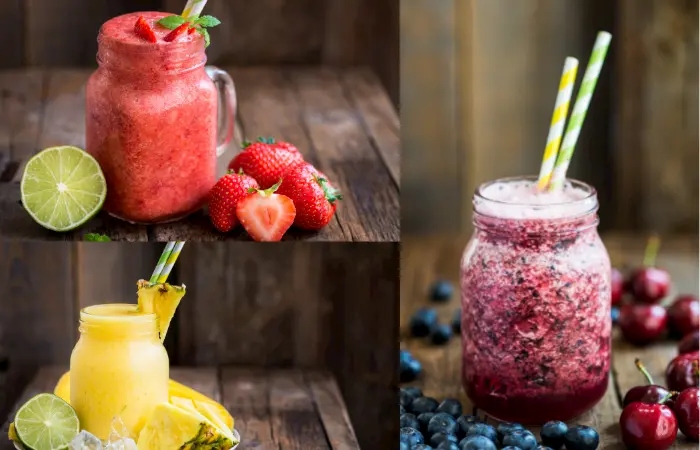 Here it is; your fruit slushie is ready to be enjoyed. Pour it into a glass, then sip it.
Can You Put Alcohol in A Slushie?
Yes, you can add a small amount of alcohol, such as vodka, rum, or tequila, to your slushie to make it more of an adult beverage. You may add one shot (1.5 ounces) of your preferred liquor to a 12-ounce slushy.
Tequila would be fantastic with a lime juice or grapefruit juice slushie. Rum or vodka are also great options for a fresh watermelon or lemonade slushie.
By the way, do you want recipes for alcoholic slushies? Well, then go through my next segment.
2 Popular Alcoholic Slushies Recipe With A Blender
Although there are a lot of alcoholic slushies, vodka and margarita are 2 of the most popular ones. Here, check them out.
Vodka Slushie
A large batch of frozen vodka slush with a citrus flavor that's simple to create and delightful to drink all year round! When you want to feel like you are somewhere tropical, you can make this slushie and enjoy your time.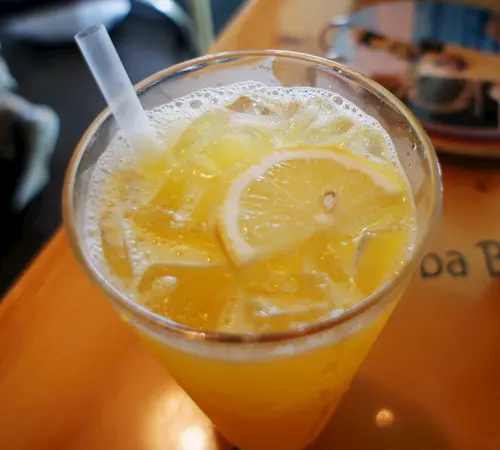 Ingredients
2 large cans of frozen orange juice
2 small cans of frozen lemonade
1/2 cup of sugar
6 large cans of chilled water
1 cup of vodka (of course, you can use more!)
Instructions
Put all the ingredients into the blender and blend at high speed. Once the ingredients have reached the desired slushy consistency, pour the mixture into glasses and top with berries or lemon slices for presentation.
Margarita Slushie
One of my favorite tequila drinks is a margarita. However, a slushie makes it even more soothing and refreshing. Although it feels like drinking an icy lemonade, the best thing is that a slushy takes longer to drink than a liquid margarita.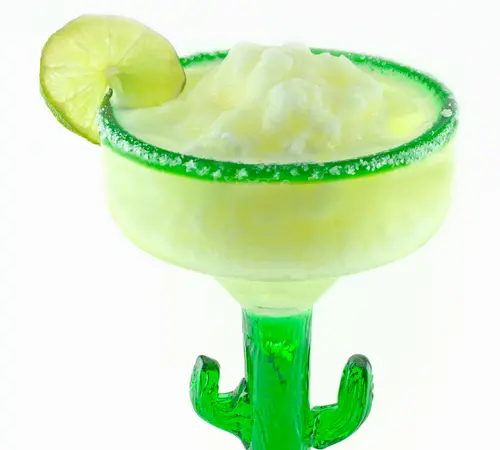 So you have more time to enjoy the tart, alcoholic flavors with the classic rim of salt.
Ingredients
For the Margaritas:
2 shots of tequila (1/3 cup or 100 ml)
1 shot of Triple Sec or Cointreau (50 ml)
1/2 cup lime juice
2 tablespoons of simple syrup (optional)
2 cups of ice
Lime slices for garnishing
For the Rim:
2 tablespoons of salt (approx.)
1 lime wedge
Instructions
Step 1
Take a small plate and pour salt over it. Then, rub a lime wedge over the rim of the glasses. Now, dip each of the glasses into the salt and put them aside. You may place the glasses in the refrigerator to chill if you want.
Step 2
Add the tequila, lime juice, triple sec, simple syrup (if using), and ice to the blender and blend until the ice is crushed and the mixture has a slushy consistency.
If needed, add more ice and serve in the glasses you prepared before.
Note: If you find this slushy too strong for your taste, then add 1/4 cup of lemonade to dilute the alcohol and also add some sweetness.
Alright, till now, you learned how to make slushies using a blender, but are there other ways to make them? Let's find out.
Other Ways to Make Slushies (Without Blender)
If your blender stops working for any reason, don't need to be stressed cause there are some other ways to make it. And for my first method, you just need to use your freezer.
Method 1: Freezer Slushie
Step 1
Take a large bowl, pour 4 cups of water and dissolve 1 cup of sugar in it. If you do this, your slushie won't taste grainy after freezing it. You can use 4 cups of your favorite beverage, such as soda, fruit juice, or chocolate milk, instead of the water and sugar mixture.
Step 2
Add 5 to 10 drops of food coloring and 1 ½ teaspoons of flavoring extract into the sugar mixture water and stir well. Taste the mixture and adjust the amount to suit your tastes. If you prefer a creamy slushie, add 1 or 2 tablespoons of cream to the mixture. This goes very well with vanilla or orange extract.
Try adding a teaspoon of lemon zest and a tablespoon of fresh lemon juice to make it a little fancier.
Step 3
Pour the mixture into a shallow freezer container or baking dish. The dish's sides should be a few inches high to prevent spills. Then, cover the dish with plastic wrap. If your dish has a lid, then make sure to seal it tightly.
Step 4
Put the dish inside the freezer for 2 hours, and make sure to stir it every 30 minutes. The produced frozen ice will be broken up every time you stir. This gradually produces the traditional slushie texture. Your slushie should be perfect after 3 hours of doing this.
Step 5
After 3 hours, finally, take out the mixture and scoop the slushie into glasses. This recipe will produce 2 large or 4 small slushies. Now, enjoy your tasty creation!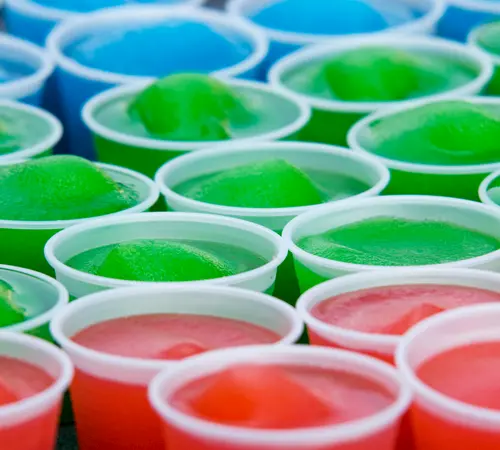 Method 2: Slushie with Ice Cubes (Instant Result!)
The second method is making slushies with ice cubes. With this technique, you can make instant slushies using juice, kool-aid, soda, or anything else.
For this, you will need the following:
1 cup of fruit juice or any cold drink
6 cups of ice cubes (or enough to fill half of a ziplock bag)
1 to 2 tablespoons of ice cream salt (table salt or kosher salt also work well).
2 plastic zip lock bags (1 quart-sized, 1 gallon sized)
Instructions
Put ice cubes and salt inside the quart-sized ziploc bag.
Pour the juice into the gallon-sized ziploc bag, remove all the air, and then firmly seal the bag. If the seal is not sufficiently tight, salt will seep in, and the food won't taste nice.
Now, place the juice bag into the large bag of ice and seal it. The larger bag now holds the ice, salt, and the bag of juice.
Shake the large juice bag for 3 to 5 minutes or until it becomes slushy. Use gloves or a dish towel to cover the bag if your hands start to get too cold and keep shaking.
Now, take out the slushy bag, pour it into a glass, and serve immediately.
Method 3: Using Ice Cream Maker
Follow the below steps to make slushie using an ice cream maker.
Step 1
Pour 4 cups of water into a bowl and put 1 cup of sugar in it. Stir the mixture until the sugar dissolves completely. Mix 1 1/2 teaspoons of flavored extract and 5 to 10 drops of food coloring into the sugar-dissolved water.
A few combinations idea are
Red food coloring, cherry, and vanilla extract.
Yellow and green food coloring combined with lemon and lime extract.
Orange food coloring mixed with orange essence.
Step 2
Pour the slushy mixture into your ice cream maker and let it run for around 20 minutes since you don't want it to become as solid as ice cream. Check the slushy mixture after 20 minutes to determine whether it has the proper consistency, and process longer if required.
Step 3
Pour your slushy mixture into glasses. To get the traditional sensation, sip on them through a straw!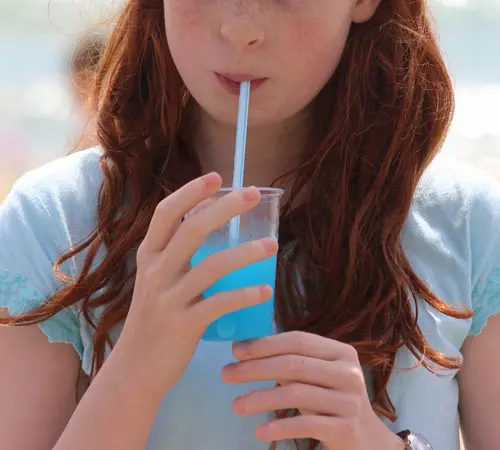 Few Additional Tips
Now that you have gained enough knowledge on making slushies, it's time to give you some additional tips.
Use Fresh Ingredients
Even though slushie is a frozen drink, you will still taste each ingredient you put in. If you want to use frozen fruits, it's fine. But fresh fruit will be best to use if you have the option.
Slushie Add-ins
Some add-ins in the slushie can make the flavor pop. If you are willing to use herbs, one or two leaves will do. And if you like sweet stuff, consider adding a tablespoon of honey. Here are some more add-in ideas.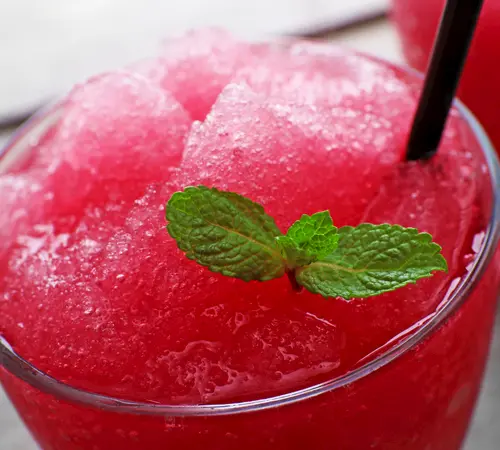 Mint: Pairs excellently with tropical fruits like watermelon.
Honey: Enhances sweetness, particularly when combined with tart fruits.
Basil: Gives a nice punch to berries.
Lemon: Any slushie tastes a little bit like frozen lemonade when lemon is added.
Lime: Pairs wonderfully with mango and almost everything.
Vanilla: Once, I added vanilla to my mango slushie, and it tasted amazing!
Try Layered Slushie
Not only kids but also adults love colorful drinks. And layering your slushie with different colors will give it a festive look and a fun experience to yourself while making it. So, how to do it right?
First, choose 2,3 or more colors and different flavors of Kool-Aid. Make a slushie with one color and place it in glasses. Then, make another color and layer it over the previous one.
Between each layering process, place glasses in the freezer. Continue adding more colored slushies until the glass fills almost and you get your desired look.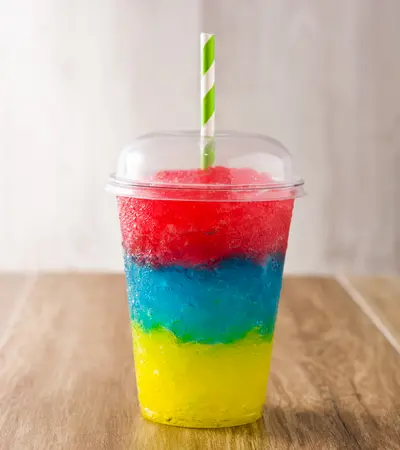 Storing
If you have leftover slushies, should you throw them away?
No! Although slushie tastes best when consumed right away after making them, if you make extra batches, you can definitely store the slushie in the freezer.
I store them in the freezer in three ways. First, I pour the slushie mix into ice cube trays. And when I want to drink it, I just pop the cubes, put them in the blender, and blend until they go back to the slushy consistency.
Another way of storing them is, putting them inside a strong plastic bag and mashing them into the frozen mix when I wanna drink again.
Lastly, I sometimes pour the slushy mix into icy pole holders and make my own icy poles.
Conclusion
So, how do you make slushies with a blender? I hope you got a detailed answer to your query and can now make this fun and delicious drink on your own.
Have fun and be creative while making this drink. Since drinking slushies is enjoyable, you should have fun making them as well. And make sure to always use fresh ingredients.
Frequently Asked Questions
Are slushies bad for your health?
If you make slushies with juices, they are not bad for your health at all. They include sugar that gives the brain energy by giving it adenosine triphosphate (ATP), which can reduce mental stress.
However, it can be bad for you if you excessively drink alcoholic or sugary slushies.
Can you make slushies with an immersion blender?
Yes, you use an immersion blender to make slushies. But make sure the blender is from a high-end brand and powerful enough to easily crush ice and blend them nicely. I have used a Cuisinart hand blender, and it worked quite well to get all the ingredients blended.